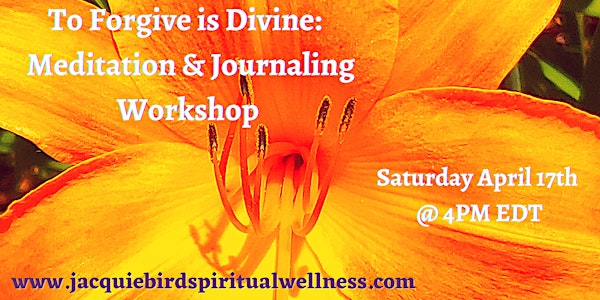 To Forgive is Divine: Guided Meditation and Journaling Workshop
Being able to Forgive sets you free from the chains of anger, pain and guilt. It's not for the other person, it's for YOU...
Refund Policy
Refunds up to 1 day before event
Eventbrite's fee is nonrefundable.
About this event
We sometimes get caught up on what exactly it means to forgive--we think it gives the offender a pass, that it absolves them of the actions that caused us pain, hurt and/or guilt. But no. Forgiveness sets YOU free, it does not condone the deed, it lifts your spirit and helps to make you feel lighter...it's a get out of mental jail card.
We carry so much STUFF. Hurts from the past and present, hurts that we imagine we will endure in the future, anger at ourselves for doing or saying something or NOT doing or saying something. It's a constant state of torment, because as we relive these events it's like they're happening all over again...forgiveness allows us let go, to be kinder and gentler on and to ourselves, to lift the anvil up off our minds of guilt.
"Guided Meditation is SAGE for Your Mind..." --Jacquie Bird, Spiritual Wellness
In this 90 minute online workshop, we will begin with a guided meditation designed to soothe, calm, center and ground as you receive stress and anxiety relief with my StressBusters Guided Meditation. To talk Truth to the page, you must start with a calm and clear head. Let go of mental stress, anxiety and worry as you immerse in the healing arts of Sound Healing, Visualization and Intention through the soothing tones of the Tibetan Singing Bowls, receive simple and clear instruction and glide upon the sound of my voice.
Then the focus shifts to writing. Going deep with questions as to why we hold on, as well as steps to begin to let go. Affirmations, mantras and visualization to help open you to the road of Forgiveness, to lift your Spirit. And talking to the pages of a journal is a sacred communion of self with Self. It is a way to get inside ourselves with insightful and probing eyes. In that practice, we can make changes if we chose to and can recognize where these changes need to be made as a result of having deeper insight. The guided meditation serves as a gateway to your self-communication on paper.
"When we Forgive, we allow for the gentle flow of Peace to enter our Hearts." --Jacquie Bird, Spiritual Wellness
You will need pens, paper or if you wish, a journal for future reference and updating. You can also use a device of your choice, but I strongly suggest the written word by your hand (even if your handwriting is hopeless, as long as YOU can read it that's all that matters).
We'll wrap up our workshop with another guided meditation leaving you feeling uplifted, calmer and in a good headspace to step forward with Purpose.
A laptop or tablet to access the session is suggested. If you're using your phone, make sure you either have a tripod or be very clear where and how you will prop it up prior to the workshop so that it is not a distraction to you.
"I'm not usually good at meditating, as I have trouble focusing and sitting still. Almost immediately, Jacquie's calming voice and presence made me calm yet alert. The visuals in her guided meditation were also extremely helpful, as they gave my creative mind an opportunity to paint a picture and ward off intrusive thoughts. I also liked the singing and meditative tones. It was a beautiful background for the visuals. Overall, Jacquie helped me reach a place of calmness and peace that I haven't felt in a long time. I would definitely follow her again!" --Allison Abrams
"Loved my StressBusters Guided Meditation session with Ms. Jacquie Bird! I used meditation apps on my phone, but apps can't compare to the personal guidance Jacquie provides to take your spirit to a place where you feel so grounded and complete. The sound of her voice and hearing live singing bowls is so restful and healing. It's better than a vacation and exactly what I needed. Thank you so much Jacquie!" --Rene Mason
More reviews are below and on my website
***TICKET SALES CLOSE 30 MINUTES BEFORE SESSION TIME***
You will need a comfortable place to sit or lay down on. Comfortable clothes and a blanket nearby if you get chilly. Also adjust your lighting if possible so that is sets a mood of calm and relaxation.
I encourage if you have it, to burn sage or Palo Santo at least 30 minutes before or during the session if it isn't too strong for you. Essential oils are also excellent, if you don't have sage or Palo Santo. Or use anything you dig the scent of to set the mood to help deepen your experience.
And if you are into crystals and gemstones, have at least one nearby to use.
You can find out more about me and my products and services on my website