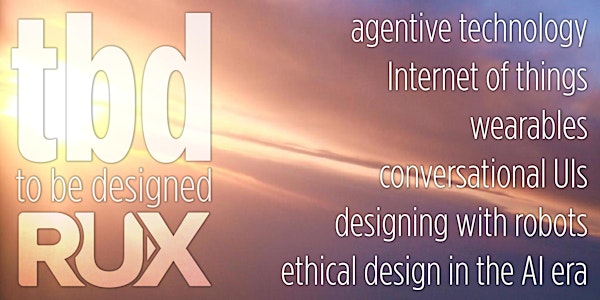 To Be Designed [Local Viewing]
When and where
Location
Gather 409 East Main Street #200 Richmond, VA 23219
Refund Policy
Contact the organizer to request a refund.
Description
Once again, RichmondUX will host a local viewing of a Rosenfeld Media virtual conference. As with our previous viewings, those who attended thought watching the online sessions together—and networking before, during and after—featured all the benefits of a larger one-day conference, minus the travel.
It's been a while since our last meetup, and even longer since our most recent programming. Seating at Gather is limited, so grab your tickets before they go. Whether you are able to join us for the conference or not, please plan to meet up with us afterward starting at 5:30 at a place, well, to be determined. ;-)
See below for more details:
What is the "near future" of design? It's the stuff that's far out enough to be fascinating, but not so far out that you can't imagine ever working on it.
To Be Designed features six fantastic speakers who will take you on a tour of six "near-future" topics: the Internet of things, agentive technology, wearables, conversational UI design, designing with robots, and ethics for designing in the AI era.
Our program was created by you. Many thanks to the 331 of you told us what topics to cover and who you wanted to learn from! (Yes, we do our user research!)
What You'll Get
Presentations: 6 practical, comprehensive presentations (40-45 minutes each).
Discussions: Short Q&A sessions with speakers after each presentation.
Recordings: Lifetime access to the recordings.
Speakers include: Cennydd Bowles, Carla Diana, Giles Colborne, John Maeda, Mike Kuniavsky, Liza Kindred, and Chris Noessel. For presentation synopsis, please visit the Rosenfeld Media event page.