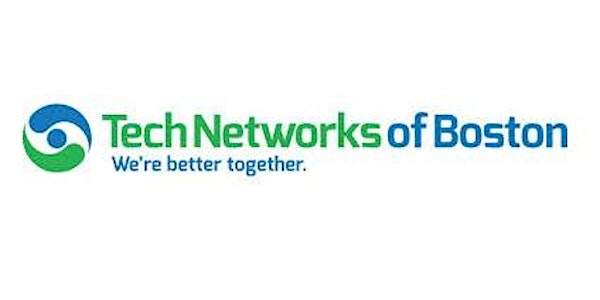 TNB Roundtable: Nonprofit Collaboration & Constructive Conflict Resolution
Location
Boston NonProfit Center
89 South Street
Boston, MA 02111
Sales Have Ended
Registrations are closed
Thank you for your interest in Tech Networks of Boston's Roundtable series! We are sorry to inform you that this TNB Roundtable session is currently booked to capacity. We strongly urge you to add yourself to the waiting list; we have a very good track record of finding seats for nonprofit professionals on the waiting list.
Description
Dear Colleagues and Friends,

Tech Networks of Boston (also known as TNB) is pleased to invite local employees of nonprofit organizations to a Roundtable session on nonprofit collaboration and constructive conflict resolution. Our featured guests will be Janet Grogan and Eben Weitzman from The Mediation Group.

Here's what Eben and Janet have to say about this TNB Roundtable session:

Collaboration between nonprofit organizations can be hard, and can be fraught with painful conflict, but it doesn't have to be. Giving a little thought ahead of time to creating the conditions for effective collaboration can make all the difference. In fact, there are important lessons to be learned about collaboration from the practice of constructive conflict resolution. Working from a perspective of constructive approaches to conflict, this Roundtable discussion will address:


Anticipating differences between collaborating organizations (material interests, business processes, cultural assumptions, organizational structures) and where and how those differences can cause conflict.


Anticipating conflicts inherent in group dynamics and power issues.



How to head these conflicts off in advance: clarifying strategic intent of the collaboration, establishing clear communication, clarifying roles, and more.

Here's a bit more about Janet:

Janet Grogan joined the staff of The Mediation Group after many years of collaboration. She has over twenty years of human resources and organizational development experience dealing with a range of issues such as work place conflicts, employee training and development, benefits, leadership and recruitment. She has developed policy, conducted training, facilitated and implemented strategic planning, and has a track record of mediating disputes and creating effective solutions for internal resolution. The large majority of her work has been with nonprofit organizations in Massachusetts.

Here's a bit more about Eben:

A social and organizational psychologist specializing in conflict resolution, Eben is the director of the organizational practice at The Mediation Group—a firm helping people and organizations resolve tough conflicts with a caring, interdisciplinary approach. He was the founding chair of the Department of Conflict Resolution, Human Security, and Global Governance, and is now the director of the graduate programs in Conflict Resolution at UMass Boston. He focuses on conflict within and between groups, emphasizing organizational and cross-cultural conflict. Eben does conflict resolution and organization development work with organizations in education, government, law enforcement, social services, business, labor, and the courts. He is currently engaged in interfaith conflict resolution work in Nigeria and Israel, and building collaborative relationships between federal law enforcement and the Muslim and Sikh communities in Massachusetts.

Please note:

1) In keeping with the spirit of the TNB Roundtable series, this session will NOT be a sales pitch for any product or service. This will be a professional development opportunity for nonprofit professionals who want to learn with and from their peers in other organizations.

2) This session is for employees of nonprofit organizations. It is not designed to meet the needs of vendors, volunteers, students, consultants, job-seekers, and others.

3) Priority in registration will be given to those who are employed by nonprofit organizations that hold full membership in the Massachusetts Nonprofit Network.

4) Participation in this session is free of charge for nonprofit professionals. However, you must have a confirmed reservation in order to attend.

5) If this session is booked to capacity by the time you seek to register for it, please go ahead and put yourself on the waiting list. We have a good track record of finding seats for nonprofit professionals on the waiting list.

We hope that you can join us for a vigorous and informative conversation, in which you will be welcome to share your knowledge and experience with your peers.

Best regards from Deborah

Deborah Elizabeth Finn | Senior Strategist
Tech Networks of Boston
1 Wadleigh Place | South Boston, MA 02127
Phone: 617.504.8188 | Fax: 888.527.9333
deborah@techboston.com | techboston.com
We are a Certified B Corp! | Visit our Boston Techie Blog
Follow us on Facebook, LinkedIn and Twitter!