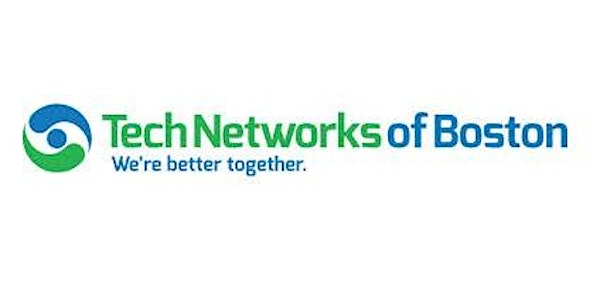 TNB Roundtable: Integrated Services and Emerging Technologies for Nonprofit...
Location
Boston NonProfit Center
89 South Street
Boston, MA 02111
Sales Have Ended
Registrations are closed
Thank you for your interest in Tech Networks of Boston's Roundtable series! We are sorry to inform you that this TNB Roundtable session is currently booked to capacity. We urge you to add yourself to the waiting list; we have a very good track record of finding seats for nonprofit professionals who want to participate.
Description
Dear Colleagues and Friends,

Tech Networks of Boston (TNB) is pleased to invite nonprofit professionals to a Roundtable session on integrated IT services and emerging technologies for nonprofit organizations. Our featured guests will be Eric Harris and Amen Adonon of Tech Networks of Boston, and Scott Blackman of ROCA Inc.

Here is what Eric says about this session:

"Nonprofit organizations are uniquely susceptible to operational struggles due to inadequacies in their available tools, services, and human capital. Advances in technology have led to efficiencies and workflows that can address these exposures and advance the capacity of nonprofit entities to further their missions and serve their constituents. The aim of this session is to foster a discussion that will raise awareness and inspire insight into collaborative integrated services concepts and models, and that will showcase the exciting emerging technologies on the horizon."
Here's a little more about our featured guests:

Eric Harris
Director of Collaborative Technology Programs – TechNetworks of Boston
Eric Harris is an experienced professional, with over 15 years of experience specializing in information security, cybersecurity, privacy, compliance, operational risk, enterprise infrastructure, and operations for clients in the noprofit, financial services, manufacturing, healthcare, e-commerce, publishing, and distribution industries. Eric has assisted small and mid-sized organizations in preparatory compliance reviews of information security topics in regulatory examinations materials. He is imbued with passion for creating greater awareness of new and emerging technologies that can lead to individual economic, educational, and social empowerment.
Chief Financial Officer - ROCA Inc.
Scott Blackman has over 25 years of international financial and operational experience across a number of industries. He is a results-focused analytical strategic leader and business partner skilled in creating actionable plans and driving results in fast-paced manufacturing and service industries. He has achieved significant operational improvements using Kaizen, Six Sigma, and
LEAN techniques as well as implementation of directed analysis, measurements, policies, and procedures. He brings extensive experience with offshoring, including building international financial staffs.
Desktop Support Technician - TechNetworks of Boston
Amen will be completing the two year DST program with Tech Networks of Boston this year; his job performance has won high praise from both nonprofit clients and TNB staff members. He is pursuing a specialization in network security and systems management, and has completed certification during his tenure to this end. Amen lives in Winthrop with his wife and daughter.

Please note:

1) In keeping with the spirit of the TNB Roundtable series, this session will NOT be a sales pitch for any product or service. This will be a professional development opportunity for nonprofit professionals who want to learn with and from their peers in other organizations.

2) This session is for employees of nonprofit organizations. It is not designed to meet the needs of vendors, volunteers, students, consultants, job-seekers, and others.

3) Priority in registration will be given to those who are employed by nonprofit organizations that hold full membership in the Massachusetts Nonprofit Network.

4) Participation in this session is free of charge for nonprofit professionals. However, you must have a confirmed reservation in order to attend.

5) If this session is booked to capacity by the time you seek to register for it, please go ahead and put yourself on the waiting list. We have a good track record of finding seats for nonprofit professionals on the waiting list.

We hope that you can join us for a vigorous and informative conversation, in which you will be welcome to share your knowledge and experience with your peers!

Best regards from Deborah
Deborah Elizabeth Finn | Senior Strategist
Tech Networks of Boston
1 Wadleigh Place | South Boston, MA 02127
Phone: 617.504.8188 | Fax: 888.527.9333
deborah@techboston.com | techboston.com

We are a Certified B Corp! | Visit our Boston Techie Blog
Follow us on Facebook, Twitter, and LinkedIn!