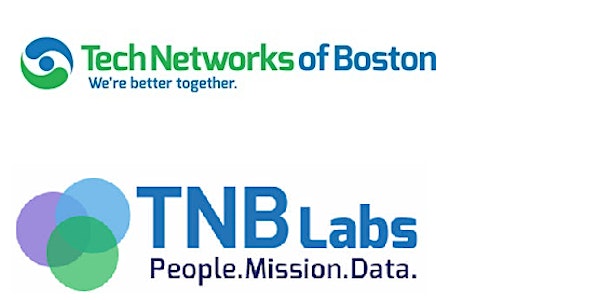 TNB Roundtable: How nonprofits can use Facebook to broadcast their impact​
Location
Boston NonProfit Center
89 South Street
Boston, MA 02111
Sales Have Ended
Registrations are closed
Thank you for your interest in Tech Networks of Boston's Roundtable series! We are sorry to inform you that this TNB Roundtable session is currently booked to capacity. We urge you to add yourself to the waiting list; we have a very good track record of finding seats for nonprofit professionals who want to participate.
Description
Dear Colleagues and Friends,

Tech Networks of Boston (TNB) and TNB Labs (TNBL) are pleased to invite nonprofit professionals to a Roundtable session on how nonprofits can use Facebook to broadcast their impact and engage supporters. Our featured guest will be John Haydon, the author of "Facebook Marketing for Dummies."

Here is what John says about this session:

Facebook Live lets any person, brand, or nonprofit live-stream events, reveals, celebrations, and more. The Humane Society, the White House, the MET, and many smaller nonprofits are broadcasting news-as-it-happens, museum tours, and even feeding time for baby raccoons!

Although Facebook Live is simple to use (just tap the live broadcast icon while publishing an update from your mobile device), many nonprofits are understandably hesitant about this new form of unscripted content marketing. This TNB Roundtable session will show you how to get started with Facebook live, and answer these common questions:


What are we going to talk about?


How should we respond to commenters?


How long should we broadcast?


Will anybody actually tune-in?


What should we do with the recording?


Here's a little more about John:

John Haydon helps nonprofits engage more donors and supporters with smarter communications. He is a part time marketer and part time human being based in Cambridge, MA. He specializes in strategic coaching for nonprofits who want to get more from digital communications and online fundraising.

John has served as a featured speaker at the Nonprofit Technology Conference, New England Federation of Human Societies, New Media Expo, BBCon, Social Media 4 Nonprofits, AFP New Jersey, Boys & Girls Clubs, SAWA and many other conferences.

He is also the author of the 4th edition of "Facebook Marketing For Dummies."

Please note:

1) In keeping with the spirit of the TNB Roundtable series, this session will NOT be a sales pitch for any product or service. This will be a professional development opportunity for nonprofit professionals who want to learn with and from their peers in other organizations.

2) This session is for employees of nonprofit organizations. It is not designed to meet the needs of vendors, volunteers, students, consultants, job-seekers, and others.

3) Priority in registration will be given to those who are employed by nonprofit organizations that hold full membership in the Massachusetts Nonprofit Network.

4) Participation in this session is free of charge for nonprofit professionals. However, you must have a confirmed reservation in order to attend.

5) If this session is booked to capacity by the time you seek to register for it, please go ahead and put yourself on the waiting list. We have a good track record of finding seats for nonprofit professionals on the waiting list.

We hope that you can join us for a vigorous and informative conversation, in which you will be welcome to share your knowledge and experience with your peers!

Best regards from Deborah


Deborah Elizabeth Finn | Senior Strategist
Tech Networks of Boston
1 Wadleigh Place | South Boston, MA 02127
Phone: 617.504.8188 | Fax: 888.527.9333
deborah@techboston.com | techboston.com

We are a Certified B Corp! | Visit our Boston Techie Blog
Follow us on Facebook, Twitter, and LinkedIn!