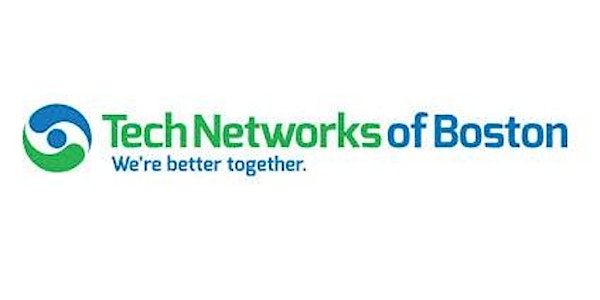 TNB Roundtable: Defining Ourselves - Data Analysis within Nonprofits
When and where
Location
Boston NonProfit Center 89 South Street Boston, MA 02111
Description
Dear Colleagues and Friends,

Tech Networks of Boston is pleased to invite nonprofit professionals to a Roundtable session on data analysis within nonprofit organizations. The featured guests for this session will be a distinguished panel of nonprofit data analysis professionals: Shane Culliton (Codman Square Neighborhood Development Corporation), Annie Fletcher (St Francis House), Matan BenYishay (Pine Street Inn), Blessing Dube (Institute for Community Health), and Gavin O'Brien (Community Servings).

Here's what our panelists have to say about this TNB Roundtable session:

"We've all heard that data can revolutionize impacts in the nonprofit world - making nonprofits smarter, leaner, and more effective. But can these benefits be realized without a real understanding of the proper use of this data? Most likely not.

"The truth about data is that it only has real value if it changes the way organizations act and think. And yet, while many nonprofits recognize that they need a data-driven strategy to boost impact, maximize capacity, and build better relationships, a recent study shows that more than 56% of respondents said their nonprofits don't have any staff dedicated to data strategies.

"The availability of data by itself isn't enough. In order to have a an effective data strategy as a whole, nonprofits need to be able to define the questions they're trying to answer with data, why they're asking those questions, how exactly they will use the answers to become more effective, and how the organization navigates the changes necessary to arrive at a "data culture." Who are the staff members that do this data work? How will they work as part of your team? What can you expect from them and how should you expect to support them? And who might already be using data at your agency without being aware of it?

"This roundtable series will bring together several nonprofit data professionals to discuss their experiences and recommendations around these very realities.

"This session is recommended for people involved in nonprofit data analysis as well as staff and leadership interested in bringing this culture to their organization."

Here's a bit more about our panelists:

Shane Culliton joined Codman Square Neighborhood Development Corporation in April of 2014 as their systems and data manager. Over the last couple of years, he has been guiding the staff through the processes of pertinent data capture, analysis, and impact measurement. His past positions include project manager of the Choice Neighborhood Planning Initiative and program manager of the Woonsocket Main Street Program at NeighborWorks Blackstone River Valley. He holds an undergraduate degree in International Affairs from Northern Arizona University, and an MBA from Webster University."

Annie Fletcher joined St. Francis House in June of 2014 as the database and program evaluation manager. St. Francis House is a day shelter in Boston that provides an array of basic need services including food and clothing, vocational rehabilitation, and permanent, supported housing for individuals experiencing poverty and homelessness. Annie works with other members of the leadership team to strategically design and build data collection methods agency-wide. As part of her role, Annie manages data input into the client-based ETO data collection system and analyzes information in relation to agency goals and program key indicators. Annie also trains staff on database usage, protocol, and the value of program evaluation. Annie Fletcher holds a MSW from Boston College, where she specialized in macro practices.

Gavin O'Brien is the programs data analyst at Community Servings, an organization that delivers medically-tailored meals to people with critical illnesses. He manages a client database, tracks progress toward meeting organizational goals, and reports on program outcomes. Prior to joining Community Servings in 2014, Gavin received a Master of Public Policy from Brandeis University and worked in state government at the Maine Ethics Commission.

Blessing Dube is a data analyst at the Institute for Community Health; a research and evaluation nonprofit organization that utilizes participatory research and evaluation to improve community health. She drives quantitative solutions for multiple projects by applying statistical modeling and optimizing processes to analyze public health data for project implementation, research and evaluation. She believes that "data without use is data without value," and she is passionate about translating effective interventions for improved healthcare delivery and outcomes. Blessing received her BSc. in Health Education and Health Promotion from the University of Zimbabwe and her MPH from Tulane University's School of Public Health.

Matan BenYishay joined Pine Street Inn Housing in September 2014 as the data collection and reporting coordinator, and now holds the title of administrator of systems and performance management. Pine Street Inn is dedicated to ending homelessness by, among other things, providing supportive housing for chronically homeless people. Matan manages data collection and outcomes measurement for the Supportive Housing Department, with close to 120 staff. He analyzes trends, builds reporting tools, trains staff, and attempts to transform evaluation culture by "democratizing data." Prior to Pine Street Inn Housing, Matan worked for Metropolitan Boston Housing Partnership, where he managed a longitudinal survey project of participants who lost rental subsidies. Matan holds a B.A. from Wesleyan University and a Master of Public Policy degree from the Brandeis University Heller School for Social Policy and Management.

Please note:

1) In keeping with the spirit of the TNB Roundtable series, this session will NOT be a sales pitch for any product or service. This will be a professional development opportunity for nonprofit professionals who want to learn with and from their peers in other organizations.

2) This session is for employees of nonprofit organizations. It is not designed to meet the needs of vendors, volunteers, students, consultants, job-seekers, and others.

3) Priority in registration will be given to those who are employed by nonprofit organizations that hold full membership in the Massachusetts Nonprofit Network.

4) Participation in this session is free of charge for nonprofit professionals. However, you must have a confirmed reservation in order to attend.

5) If this session is booked to capacity by the time you seek to register for it, please go ahead and put yourself on the waiting list. We have a good track record of finding seats for nonprofit professionals on the waiting list.

We hope that you can join us for a vigorous and informative conversation, in which you will be welcome to share your knowledge and experience with your peers.

Best regards from Deborah

Deborah Elizabeth Finn | Senior Strategist
Tech Networks of Boston
1 Wadleigh Place | South Boston, MA 02127
Phone: 617.504.8188 | Fax: 888.527.9333
deborah@techboston.com | techboston.com
We are a Certified B Corp! | Visit our Boston Techie Blog
Follow us on Facebook, LinkedIn and Twitter!