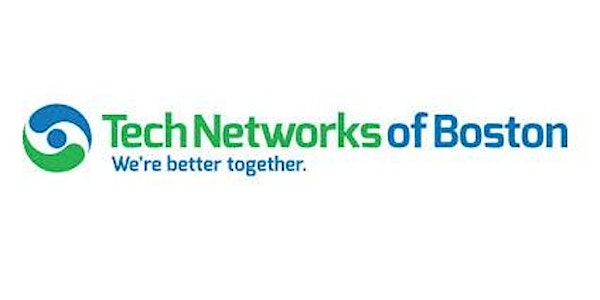 TNB Roundtable: Advocacy Evaluation for Nonprofits - Uses, Tools, and Tips
Location
Boston NonProfit Center
89 South Street
Boston, MA 02111
Sales Have Ended
Registrations are closed
Thank you for your interest in Tech Networks of Boston's Roundtable series! We are sorry to inform you that this TNB Roundtable session is currently booked to capacity. We strongly urge you to add yourself to the waiting list; we have a very good track record of finding seats for nonprofit professionals on the waiting list.
Description
Dear Colleagues and Friends,

Tech Networks of Boston (also known as TNB) is pleased to invite nonprofit professionals to a Roundtable session on evaluating the effectiveness of your nonprofit organization's advocacy. The featured guests for this session will be two distinguished consultants: Kathleen Sullivan and Bonnie Shepard.

Here's what Kathleen and Bonnie say about this session:

"Many nonprofits recognize that the issues they work on - such as homelessness, chronic unemployment, and disparities in education and health – cannot be resolved in a lasting way by only serving individuals or families. Increasingly, nonprofits have expanded their missions to include advocacy focused on the political, economic, and socio-cultural drivers of the problems faced by their clients.

"Advocacy goals can take years to achieve, and nonprofits often find it difficult to report results to their supporters. For a program to get the increased investment it seeks, how can it know that it's making progress toward this goal? The right evaluation system can help a nonprofit's supporters to understand progress in work that is often complicated and messy. In this session, we will introduce the basics of advocacy evaluation and share resources that we have found particularly useful in our advocacy evaluation practices."

Here's a little more about Bonnie:

Bonnie L. Shepard is an independent consultant and researcher with more than 30 years of experience in program evaluation and strategic planning. She brings a gender and human rights perspective to programs that promote sexual and reproductive health, and women's and young people's rights. She specializes in conducting portfolio evaluations for donor agencies, in advocacy evaluations, and in helping a variety of NGOs, foundations, and U.N. agencies design mixed-method monitoring, evaluation, and learning systems for complex programs.

She is the author of "Running the Obstacle Course to Sexual and Reproductive Health: Lessons from Latin America" (Praeger: 2006), a book of advocacy research and program case studies, as well as several peer-reviewed articles and book chapters. Currently, she works as the monitoring and evaluation consultant for EMpower, a global foundation supporting programs for vulnerable youth. She is on the board of directors of Our Bodies Ourselves, and the Center for Sexual Pleasure and Health.

Here's a little more about Kathleen:

Kathleen M. Sullivan has been an independent consultant since 2010. She provides evaluation, planning, and strategic research services for policy-advocacy organizations and leading philanthropic foundations in the civil rights, human rights, civil rights, and migration sectors. Previously, she held management positions at several national human rights and law reform organizations. These included Cambridge-based Physicians for Human Rights, where she oversaw investigations into health professionals' participation in national security-related detention and torture, and shortcomings in health care provided to asylum seekers in immigration detention. Earlier in her career, Kathleen represented low-income immigrants in deportation proceedings, taught immigration law as an adjunct law professor, and served as Counsel to Sen. Edward M. Kennedy on the staff of the US Senate Immigration Subcommittee.

Please note:

1) In keeping with the spirit of the TNB Roundtable series, this session will NOT be a sales pitch for any product or service. This will be a professional development opportunity for nonprofit professionals who want to learn with and from their peers in other organizations.

2) This session is for employees of nonprofit organizations. It is not designed to meet the needs of vendors, volunteers, students, consultants, job-seekers, and others.

3) Priority in registration will be given to those who are employed by nonprofit organizations that hold full membership in the Massachusetts Nonprofit Network.

4) Participation in this session is free of charge for nonprofit professionals. However, you must have a confirmed reservation in order to attend.

5) If this session is booked to capacity by the time you seek to register for it, please go ahead and put yourself on the waiting list. We have a good track record of finding seats for nonprofit professionals on the waiting list.

We hope that you can join us for a vigorous and informative conversation, in which you will be welcome to share your knowledge and experience with your peers.

Best regards from Deborah

Deborah Elizabeth Finn | Senior Strategist
Tech Networks of Boston
1 Wadleigh Place | South Boston, MA 02127
Phone: 617.504.8188 | Fax: 888.527.9333
deborah@techboston.com | techboston.com
We are a Certified B Corp! | Visit our Boston Techie Blog
Follow us on Facebook, LinkedIn and Twitter!