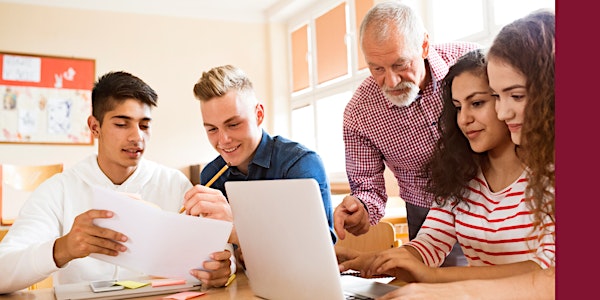 Tips for preparing different levels of Cambridge English exams in one class
Discover tools, tips and classroom management strategies to help you prepare mixed-ability classes for Cambridge English exams.
Date and time
Wednesday, June 28 · 8 - 9:15am PDT
About this event
1 hour 15 minutes

Mobile eTicket
Diversity in the classroom is unavoidable and often beneficial, but when it comes to exam preparation classes, students need bespoke learning solutions. In order for mixed-ability students sitting in one classroom at the same time to flourish and achieve exam success in their respective exams, teachers need to develop ways of delivering the right level of challenge to individual students regardless of level.
This online workshop aims to help teachers do just that. Learn from an experienced teacher, who will present tools, provide tips and offer classroom management strategies which have helped him prepare mixed-ability classes for Cambridge English exams over the years.
Why attend?
You will get information about (and chances to use) a range of online tools for teaching and testing, websites which enhance learning and Cambridge English examination preparation material.
You will also get tips on how to store, organise and deliver these resources to make your and your students' time in the classroom more enjoyable.
Importantly, you will get the chance to ask questions and compare and share some of your own experiences and ideas with peers in a friendly and supportive forum.
Workshop facilitator
John Robinson
Master of Advanced Studies for Secondary and Higher Education (MAS SHE)
Dipl TEFL (DELTA, CELTA, SVEB)
Born in Essex, UK, English teacher and Faculty Coordinator with over 20 years TEFL experience in England (IH London & Torquay), Germany (University of Constance, VHS) and Switzerland (SBW Talent Campus Bodensee, Klubschule Migros), C1 English teacher training (Pädagogische Hochschule Thurgau), specialising in mixed level teaching and Cambridge English Exam preparation at secondary school level, KV and teacher training (Sek 1).
Swiss Exams
Peter Kaithan ( CEO of Swiss Exams)
Pete holds a Bachelor's Degree in Political Science from Millersville University of Pennsylvania and a Master of Science Degree in International Relations from the London School of Economics. Pete engaged in further education over the years which got him diplomas in Business Administration, Corporate Communications and Leadership. His experience with and his dedication to Cambridge Exams earned him a "Medal of Outstanding Contribution to Cambridge English Language Assessment" at the 100 Year Centennial Celebrations in 2013. 
Agenda
I7:00 - 17:05 About Swiss Exams with Pete Kaithan (CEO)
17:00 - 17:20 Swiss Exams Academy online programme consisting of interactive training, live lectures, and exercises addressing all sections of the Cambridge English exams
17:20 - 18:10 Workshop with John Robinson
More information about the event
Registration is free
If you have any questions about logging in on 28.06.2023 please send a message to: events@swiss-exams.ch
About the organizer
Swiss Exams ist die führende Organisation im Prüfungsmanagement in der Schweiz. Swiss Exams ist ein autorisiertes Cambridge Assessment English Platinum Center, ein offizielles Prüfungszentrum des Goethe-Instituts, ein offizielles IELTS Test Centre, ein TCF Prüfungszentrum und ein autorisierter Linguaskill Agent. Swiss Exams bietet auf ihrer Website Swiss Exams Skills marktrelevante, moderne Fähigkeiten an, welche heutzutage im Arbeitsmarkt benötigt werden.