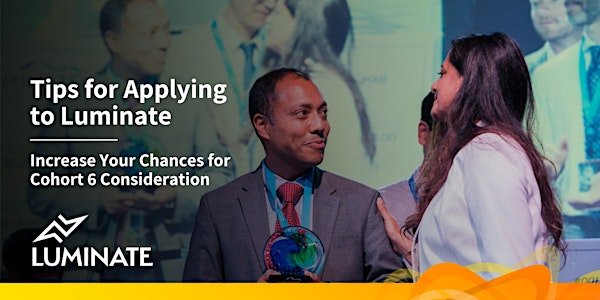 Tips for Applying to Luminate: Increase Your Chances for Consideration
Luminate is now recruiting startups for cohort 6. Get tips for a strong application.
About this event
Thinking about applying to Luminate?
Luminate is looking for its sixth cohort of startups who are solving industry challenges with technologies that use optics, photonics, or imaging components. Not sure if you're a fit? Questions about the process?
Register for this info session with Luminate Director of Operations, Andy Simon, who will:
Give a brief overview of the accelerator program and how you can benefit from participating.
Walk through the application process in the F6s platform and provide tips for a strong application.
Address FAQs and answer your questions live.
Can't make the live info session? Register to receive a recording, and click here to see other sessions with Luminate.
About the Speaker
Andy Simon, Luminate Director of Operations
Andy identifies new startups and ensures their success in the Luminate accelerator. Prior to joining NextCorps Luminate, Andy has an extensive background in startups and the digital space, including as founder of Dogways Inc., a venture-backed mobile app startup; and President of Toontrack Music USA, launching the Swedish music software firm in the U.S. and leading it to #1 in the world in sales.