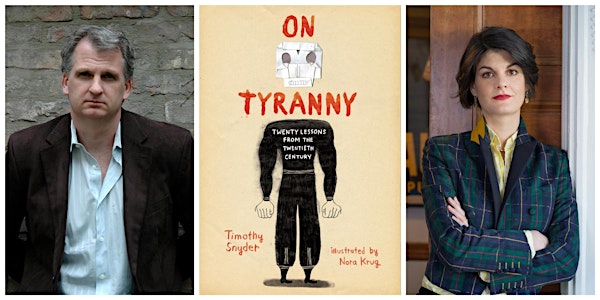 Timothy Snyder and Nora Krug, On Tyranny Graphic Edition
Historian Timothy Snyder and Artist Nora Krug discuss "On Tyranny Graphic Edition" in conversation with Paul Constant
About this event
Along with our friends and colleagues at the Goethe Pop Up here in Seattle, we are enormously grateful to present this virtual programming highlighting one of the most crucial, vital, essential books published in recent years, historian Timothy Snyder's utterly powerful On Tyranny: Twenty Lessons from the Twentieth Century, now in a new illustrated edition (Ten Speed Press), with artwork by award-winning German-American artist Nora Krug. "Timothy Snyder's On Tyranny is already an essential read, but the book's analysis of the mechanics of authoritarianism, fascism, and other forms of tyranny is even more potently delivered in its graphic edition, illustrated by Nora Krug. Krug's playful but powerful and evocative drawings and diagrams amplify the important ideas in On Tyranny and serve as the sugar to help the reader digest the medicine of the book's cautionary look at threats to democracy. We are often told to visualize things that are crucial to commit to memory. In the graphic edition of On Tyranny, Nora Krug has visualized and rendered some of the most valuable lessons of the 20th century which will serve all citizens as we shape the future."—Shepard Fairey. "It is impossible to overstate the urgency of Timothy Snyder's handbook for recognizing and resisting the normalization of barbarism. Nora Krug illustrates with soulful beauty and the moral clarity of an artist who never flinches. The combination is as hopeful as it is devastating. Krug's illustrated edition of On Tyranny is more than an instant classic. It is an act of resistance—and a gift of love."—Joshua Oppenheimer.
Timothy Snyder is Levin Professor of History at Yale University, and the author of Our Malady, The Road to Unfreedom, and Black Earth, among other works. Nora Krug is a widely published illustrator, artist, and author whose books include Kamikaze and Belonging: A German Reckons with History and Home, which received a National Book Critics Circle Prize. Paul Constant is a co-founder of the Seattle Review of Books and a fellow at Civic Ventures, a public policy incubator based in Seattle.
Co-presented by Elliott Bay Book Company, The University of Washington Center for West European Studies at the Henry M. Jackson School of International Studies and UW's Department of German Studies and the Goethe Pop Up Seattle.