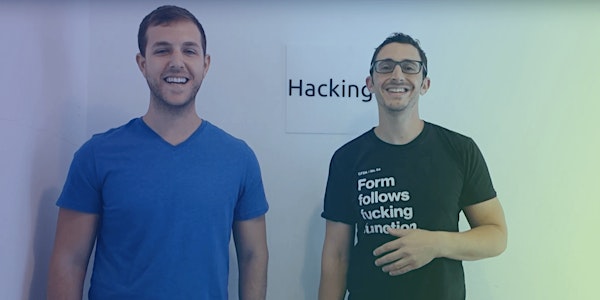 Time to put yourself out there: The Side Project Accelerator Micro-Workshop
When and where
Location
Galvanize San Francisco - Soma 44 Tehama Street San Francisco, CA 94105
Description
Hacking UI is in town, and while we're visiting San Francisco we want to invite you for a FREE event (+ free pizzas and beers on us!)
Note: We are hosting two events! This is one of them. The other is a day after this one (on Thursday the 25th) and it's called "Scaling a Design Team: Insights from talking to world class design leaders". You are more than welcome to check that one out as well and attend both events!

So What is this event about?
_______
"If you don't build your dream, someone else will hire you to build theirs."
– Tony A. Gaskins
For the past 3 years, we (David - a developer and Sagi - a designer) have worked on building and scaling Hacking UI. Through writing and sharing our content + mini products to the community, we started to see passive income.
A month ago we made a bold move and quit our day jobs to work on what was once our side project - full time!
We recently successfully launched the Side Project Accelerator, in which we teach creative professionals how to build and scale their own side projects.
If you're into side projects - you want to be in this event!
After working on Hacking UI for 3 years, we learned that having a personal brand is essential to building an audience and creating a community, which are key ingredients for your side project's success.
In this micro-workshop we'll present and discuss our core philosophy for side projects and talk about mailing lists, content upgrades, audience-driven product development, the dotted line principle, the giver vs. taker approach, and more.

We will then share with you our 7 stage writing workflow and get you on your way to writing an article of your own.
This event will be part lecture / part hands-on experience, and by the end of the night you'll be on your way to publishing your first article, and equipped with all of the tools to build your personal brand.
Now it's your turn! Sign up and start getting yourself out there!
BTW - as we wrote before, the event is totally free and we'll have lots of pizza and beers!

Want to learn more about this topic?
_______
Check out our Side Project Accelerator page, and watch the video there (you're also welcome to sign up to the free email course we provide there about writing your first article.
Check out the Hacking UI story.
The Schedule
_______
6:30 - 7:00pm Food, drinks, & mingling
7:00 - 8:00pm The workshop: Time to puy yourself out there: The Side Project Accelerator
8:00 - 8:15pm Q&A
8:15 - 9:00pm Networking
About the Organizers

_______
Hacking UI is a community for designers, developers and entrepreneurs founded by Sagi Shrieber and David Tintner.
Sagi Shrieber is a designer, writer, and podcaster, former Director of Design at Similarweb, which recently quit his day job to persue his dreams. and now a Co-Founder of Hacking UI & The Side Project Accelerator, Sagi is also the founder of the local popular Israeli design community Pixel Perfect Magazine
David tintner is the former Lead FED at Similarweb , and now a Co-Founder of Hacking UI & The Side Project Accelerator.
Hosted by