Event Information
Refund policy
Contact the organizer to request a refund.
Eventbrite's fee is nonrefundable.
Learn the basics of intermittent fasting and how to get started today! This class includes a presentation, Q & A, and cooking demonstration.
About this event
Yes, you can lose weight, improve your health, and eat the food you love all at the same time!
It's all about when you eat, not what you eat. If you are tired of counting calories, eliminating foods from your diet, or obsessing about food all day, this class is for you.
You will learn:
The health and weight loss benefits of intermittent fasting.
How to lose fat and gain energy while eating foods you love.
How time restricted eating naturally improves your immune system.
How to start fasting and choose a fasting schedule that works for your lifestyle.
Chef/Cooking Instructor Liz Barbour is excited to share the basics of daily fasting to help you reach your health and weight loss goals. Q& A and cooking demonstration of 1 delicious recipe to add to your fasting/feasting plan will follow Liz's presentation.
Liz has been teaching cooking classes since 2004 and practicing time restricted eating (intermittent fasting) since 2017. She has lost 25 pounds and enjoys an active, healthy lifestyle with her husband in New Hampshire. Liz hosts the fasting support group "Live Free and Fast" on Facebook. This class will be recorded and a link will be emailed to you at its conclusion.
To learn more about Liz visit her website: https:/www.thecreativefeast.com
Disclaimer:
I am not a nutritionist or a doctor.▪ Do not use any information I share with you as medical advice.▪ Always work with your health care provider to determine the best eating plan foryou.
People who should NOT fast▪ Those who are underweight or have eating disorders like anorexia.▪ Women who are pregnant or breastfeeding.▪ People under the age of 18.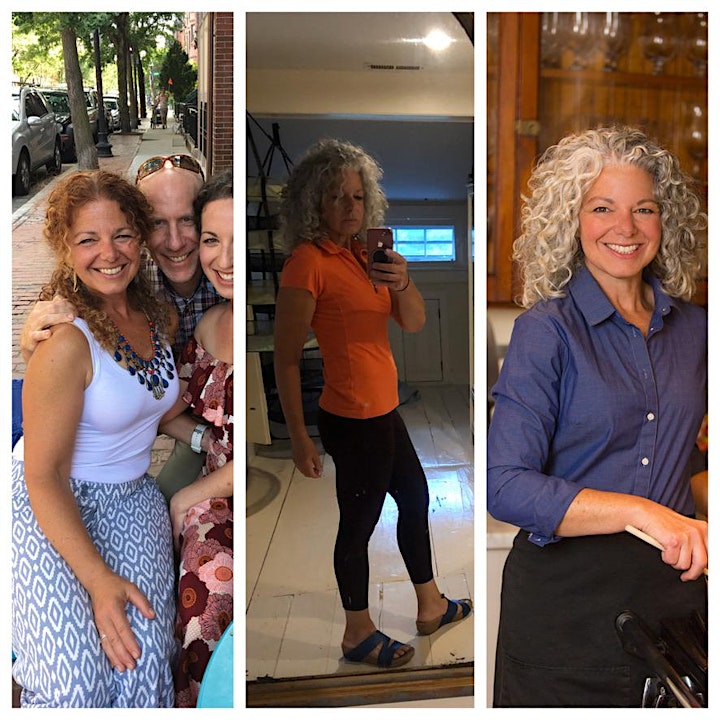 Here are my "before" and "after" photos.
My SW (start weight): 165lbs
My CW (current weight): 140 lbs
My GW (goal weight): 135 lbs
My NSVs (Non Scale Victories)
1. My pant size went from size 10 to size 6
2. My top size went from size M to size S
3. I no longer get sleepy during the day.
4. I don't get tired while driving long distances-which I do for work regularly.
5. My body is leaner and stronger due to the increased growth hormone created during my longer fasts.
6. I haven't been sick in over 4 years.
7. My spirit is lifted and I feel "lighter", more joyful.
8. Overall, I feel younger, stronger, and healthier.
Date and time
Location
Refund policy
Contact the organizer to request a refund.
Eventbrite's fee is nonrefundable.
Organizer of Time Restricted Eating-A Beginner's Guide to Intermittent Fasting
Let's get you cooking! My job, my passion is to teach you lessons that build your confidence in the kitchen. I've spent the last twelve-plus years teaching cooks of all abilites how to prepare flavorful food with a focus on basic cooking techniques, healthy ingredients, and easy to follow recipes. Every class is fun for me and for my students.