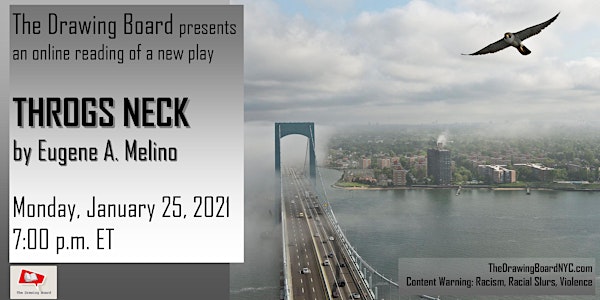 "Throgs Neck" by Eugene A. Melino
The Drawing Board, a lab for new script development, presents an online reading of a new stage play, "Throgs Neck" by Eugene A. Melino.
About this event
Content Warning: Racism, Racial Slurs, Violence
Election morning 2016, Johnny is served divorce papers. Now he must fast track his secret plan to win back his estranged wife and get from under the thumb of his Trumpist father, a wily old fox with shadowy connections to the mob. Like his election hopes, Johnny's plans explode in his face on Inauguration Day.
The reading will be from 7:00 - 8:30 p.m. E.T.
There will be short break, then a discussion, and online hang-out afterwards.
You will receive a confirmation email when you get your ticket.
The day of the event you will receive a reminder email from eventbrite.
You will be able to join the event five minutes prior to 7:00 p.m. through the link on the email.
You may need to have your eventbrite log-in info handy when you join the event, if you are not already logged in.
Eugene Melino was born in the Bronx and has lived in New York City all his life. Both places figure prominently in his work. His poems have appeared in Poeming Pigeon, Contemporary Ghazals, Eastern Structures, Blue Lake Review, Burningword Literary Journal and Poetry in Form (Medium). He attended the Writers Studio, an independent creative writing school founded by the Pulitzer Prize winning poet Philip Schultz. In his final two years, he was a member of Phil's master class. He earned his graduate and undergraduate degrees at New York University, where he majored in English education and also studied journalism, filmmaking and art history. For many years, he worked as a corporate writer. These days, he devotes his writing efforts entirely to poetry, essays and plays.