Thought Leader Series Featuring Steve Wozniak
Description
Steve Wozniak, entrepreneur, philanthropist and inventor of the Apple computer that sparked a global digital revolution, will be the guest speaker at the inaugural USF Muma College of Business Thought Leader Series.
Besides being an electrical engineer, programmer, entrepreneur and the driving engineering force behind Apple, Wozniak is a philanthropist who gives back to the technological community every chance he gets.
Wozniak will be the Thought Leader Series' inaugural speaker. Orginally scheduled for the Marshall Student Center's Oval Theater, the event was moved to the USF Sun Dome to accommodate the tremendous response for tickets. As part of a conversation with USF Muma College of Business Dean Moez Limayem, Wozniak will discuss everything from the need for entrepreneurship in technology companies to business issues in the age of technology. He is also expected to talk about the ways big data and analytics can be used to foster innovation and creativity.
At the conclusion of the event, Wozniak will respond to a limited number of audience questions submitted via Twitter using the event hashtag: #USFMumaTLS.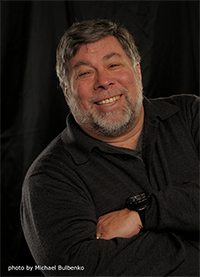 This event is free and open to the public, but reservations are required. This event is expected to sell out, so tickets are limited to two tickets per guest.
FAQs
I saw this event was previously sold out. How are there now tickets available? Due to the tremendous response received about this event, this event has moved from the USF Marshall Center's Oval Theater to the USF Sun Dome Arena. While there is more seating, RSVPs are still REQUIRED for all guests attending this event. Tickets are limited to two per person.
Is this event limited to business majors at the University of South Florida? No. This event is free and open to the public but reservations are REQUIRED and guests may only reserve two seats per guest (names and email addresses are REQUIRED for each attendee).
Where do I park for this event? Guests with USF parking permits should park in the lots available for their designated permit. Guests without USF parking permits will receive parking details via email as the event draws near. This is one reason why it is essential that email addresses are provided for each guest, including "plus one" guests.
Do I have to bring my printed ticket to the event? It is preferred. For speedier check-in, please bring a copy of your printed ticket or have your emailed ticket open on your phone and ready for scanning.
Will there be any opportunities for photos or other interaction with Steve Wozniak? Guests will not be permitted to take photos with the speaker. However, photos during the event will be permitted. Questions for the Q&A session must be submitted via Twitter using the event hashtag: #USFMumaTLS. Questions will be selected at random during the conversation.
What is the dress code for this event? Guests are encouraged to wear business attire but we expect many students will be in student attire as they are coming from class.
How can I contact the organizer with any questions? Email lbriggs@usf.edu.