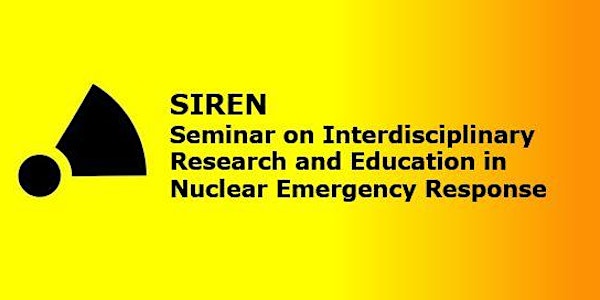 Thomas Wellock (US NRC): "A Figure of Merit: Quantifying the Probability of a Nuclear Reactor Accident"
By Department of Science, Technology, and Society at Virginia Tech
Date and time
Tuesday, October 17, 2017 · 12 - 1:30pm EDT
Location
Virginia Tech Research Center - Arlington 900 North Glebe Road Arlington, VA 22203
Description
Thomas Wellock (US NRC): "A Figure of Merit: Quantifying the Probability of a Nuclear Reactor Accident"

Abstract: In recent decades, probabilistic risk assessment (PRA) has become an essential tool in risk analysis and management in many industries and government agencies. The origins of PRA date to the 1975 publication of the U.S. Nuclear Regulatory Commission's (NRC) Reactor Safety Study led by MIT professor Norman Rasmussen. The "Rasmussen Report" inspired considerable political and scholarly disputes over the motives behind it and the value of its methods and numerical estimates of risk. The Report's controversies have overshadowed the deeper technical origins of risk assessment. Nuclear experts had long sought to express risk in a "figure of merit" to verify the safety of weapons and, later, civilian reactors. By the 1970s, technical advances in PRA gave the methodology the potential to serve political ends, too. The Report, it was hoped, would prove nuclear power's safety to a growing chorus of critics. Subsequent attacks on the Report's methods and numerical estimates damaged the NRC's credibility. PRA's fortunes revived when the 1979 Three Mile Island accident demonstrated PRA's potential for improving the safety of nuclear power and other technical systems. Nevertheless, the Report's controversies endure in mistrust of PRA and its experts.
Dr. Thomas Wellock is the historian at the U.S. Nuclear Regulatory Commission (NRC). At the NRC, Dr. Wellock writes scholarly and popular history on the regulation of nuclear power. He is currently at work on a history of the use of probabilistic risk assessment in the regulation of nuclear power, and recently published a scholarly article on the topic, "A Figure of Merit: Quantifying the Probability of a Nuclear Reactor Accident."
Prior to coming to the NRC, Dr. Wellock was a professor of U.S. history at Central Washington University. He has published two books, Critical Masses: Opposition to Nuclear Power in California, 1958-1978 (University of Wisconsin Press, 1998) and Preserving the Nation: The Conservation and Environmental Movements, 1870-2000 (Harlan Davidson, 2007). He has also published numerous articles on the history of nuclear power and environmentalism.
Early in his career he worked as an engineer at the Davis-Besse Nuclear Power Station and as a reactor test engineer on Los Angeles class submarines. Dr. Wellock has a Bachelor's Degree in Mechanical Engineering, a Master's Degree in History from the University of Toledo in 1989, and Doctorate Degree in History from the University of California at Berkeley in 1995.

About the seminar series: This lecture continues a speaker series featuring leading international experts on nuclear emergency response. Part of an NSF CAREER Award (PI Sonja Schmid) and hosted by Virginia Tech's Department of Science and Technology in Society, with generous support from the Office of the Vice President for the National Capital Region.
Light refreshments will be served.
Graduate students are encouraged to arrive at 12:00 to chat with the speaker before his talk.
The URL to the online version of the event is http://www.ncr.vt.edu/live/ for anyone who'd like to join remotely.
To submit a question to the speaker, please e-mail it to siren@vt.edu.

If you are an individual with a disability and desire an accommodation, please contact Sonja Schmid at 703-538-8482 or email sschmid@vt.edu during regular business hours at least 10 business days prior to the event.
About the organizer
Science and Technology Studies (STS) is a diverse and growing field that examines how science and technology intersect with society, politics, and culture. STS uses the tools of social science, history, philosophy, and policy to understand complex and cutting-edge issues. Graduate students in STS come from a wide range of backgrounds including the natural and physical sciences, engineering, numerous professional disciplines, liberal arts and humanities. We value your real-world experience and help you transform your insights into scholarship. Our graduate program prepares students to advance research and make a difference.
At Virginia Tech's National Capital Region campus the STS program offers Ph.D., M.S., and Graduate Certificate options. We are conveniently located next to the West Falls Church metro, with parking available in the university lot. All classes are offered in the evening, to accommodate working professionals' busy schedules. They are taught in small seminars and offer personal interaction with faculty and peers. Students from all academic and professional backgrounds are welcome.
The STS program accepts new students year-round and offers courses in Spring, Summer, and Fall (browse our website at www.sts.vt.edu for our current courses). You can try out STS even before being accepted to a degree program through VT's Commonwealth Campus program. Any classes taken in this program will count toward your M.S. or Ph.D. requirements. Commonwealth Campus applications can be made up to one week before classes start and do not require the GRE, letters of reference, or official transcripts.
The Department of Science, Technology, and Society at Virginia Tech is part of the College of Liberal Arts and Human Sciences.