Description
WORKSHOP 6: The Frankenstein Sketch Effect.
DATE: Sunday, September 30, 2018, 1:00 pm to 4:00 pm
INSTRUCTOR: Thomas Thorspecken
LOCATION: East End Market and Domu (Upper balcony) 3201 Corrine Dr. Orlando FL 32803

For the second year, Urban Sketchers Orlando is taking part in 10x10, the worldwide initiative to offer educational workshops wherever sketchers live. Launched in celebration of Urban Sketchers' 10th anniversary in 2017, the program brings a variety of courses on urban sketching techniques taught by talented local instructors in their home cities. In 2017, cities around the world began offering 10x10, a series of 10 courses telling the stories of our places. For 2018, Urban Sketchers have a new creative plan of long term workshops.
DESCRIPTION:
When sketching events on location it is sometimes helpful to search for the high ground to get an overview of the scene. From above people are less likely to block your view. This class will discuss how to place figures in the scene as viewed from above. We will discuss perspective, sighting to find angles, human perportions and gesture.

When people move you can piece together individuals from multiple people in the crowd. I often track an individual adding detail to the location where I placed them initially in the sketch. This is a way to "Frankenstein" the scene together. If we were sketching a scene in a movie, this would be the establishing shot. The goal is to utilize the course material to finish one sketch in a two hour time frame.

SUPPLIES:
A sketchbook of your choice, HB pencil, Micron pen or fountain pen with waterproof ink, pentel waterbrush, travel watercolor palette, brown nd black colored pencils, a rag and small water supply. A camping stool is a great addition but not 100% necessary.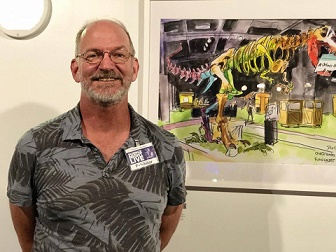 Thomas Thorspecken (Orlando, FL)
Thorspecken is a correspondent for the Urban Sketchers organization since 2009 and has been an official Urban Sketching instructor for two years. An illustrator and journalist he is working in and around Central Florida and has been documenting arts and entertainment for eight years in one sketch a day for his online news site, Analog Artist Digital World. Thorspecken was an animation artist for Disney for 10 years and has taught courses at Full Sail University and Elite Animation Academy. USk Correspondent
CLICK HERE TO SELECT MORE COURSES FROM OUR 10X10 WORKSHOP SERIEs