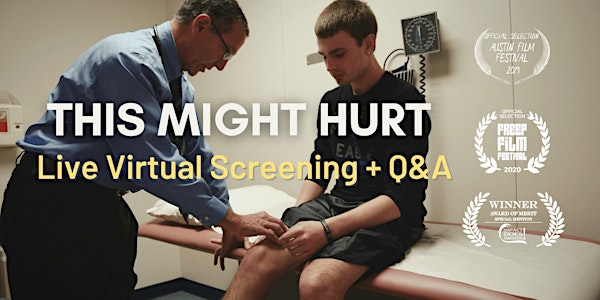 THIS MIGHT HURT | Live Virtual Screening + Q&A
THIS MIGHT HURT | Live Virtual Screening + Interactive Q&A with Dr. Schubiner, directors Kent Bassett and Marion Cunningham
Refund Policy
Contact the organizer to request a refund.
About this event

Virtual Screening of the Film This Might Hurt – Reveals Unique Chronic Pain Treatment
About the Film:
Over 50 million Americans suffer from chronic pain.
Nearly 80% of Americans will experience chronic pain at some point in our lives.
This Might Hurt is a documentary that opens the conversation about how we treat pain in our country by highlighting an emerging treatment, Emotional Awareness and Expression Therapy (EAET). Featured on National Public Radio, EAET has shown to be effective in a large randomized controlled trial and recommended as a "pain management best practice" by the National Institute of Health's task force to combat the opioid epidemic.
Directed by Kent Bassett and Marion Cunningham, This Might Hurt follows a group of patients through their EAET treatment with Dr. Howard Schubiner. Dr. Schubiner has been treating chronic pain for nearly two decades and is a leading researcher in the field of pain medicine.
The film will be followed by a virtual panel discussion which will include Dr. Howard Schubiner, other clinicians and patient advocates from the Pacific Northwest region.
Film Website: https://www.thismighthurtfilm.com/
An email with more information will be sent to you after you register. Details for how to join the virtual screening will be emailed a few days before the event.
***
CE Information:
This screening and Q&A session has been approved for 2 CE credits.
NASW WA State Chapter: Licensed Social Workers, ​​Licensed Marriage & Family Therapists, Licensed Mental Health Counselors
BCPA (Board Certified Patient Advocate)
NOTE: To qualify for CE/CEUs+, you will need to attend the entire session and pass the follow-up survey.
***
FAQs
How do I attend the screening virtually?
Details for how to join the live event will be emailed a few days before the event.
What's the refund policy?
We do not offer refunds, and the Eventbrite fee cannot be refunded. If you are unable to access the screening, email us and we'll try to accommodate.
Is there any geo-blocking for this event?
No, we've made this event accessible across the world—all you need is broadband internet.
Will there be Closed Captioning in English?
Yes, but it requires a workaround. After you reister, email us at tmhfilm@gmail.com for the workaround solution.
Will there be foreign language subtitles?
**Para los que hablan español, podemos poner a su disposición una versión de la película en español, pero debe enviarnos un correo electrónico para obtener un enlace especial. Envíenos un correo electrónico a tmhfilm@gmail.com.
***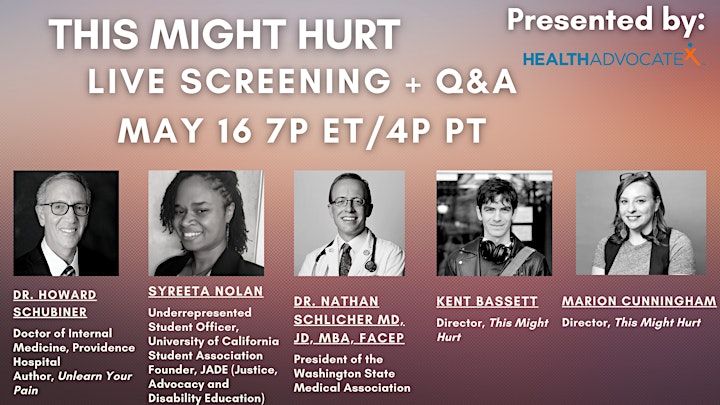 ***
HealthAdvocateX, in partnership with the Washington Patient Safety Coalition, a program of the Foundation for Health Care Quality will host a virtual screening of the film This Might Hurt on May 16, 2021. This will be followed by a panel discussion on pain treatment. Pre-registration is required to obtain a ticket, with a suggested donation of $10-$150.