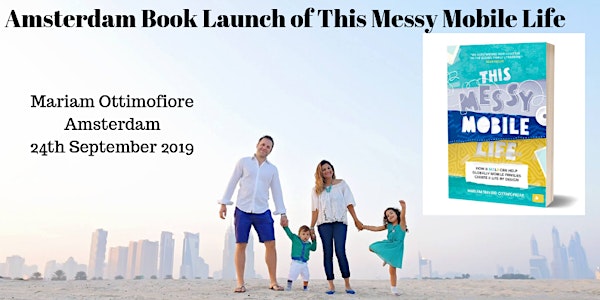 This Messy Mobile Life - Amsterdam Book Launch
Does your expat life feel a little messy? Expat author Mariam Ottimofiore invites you to an informal talk on living a messy mobile life!
When and where
Location
W Amsterdam 175 Spuistraat 1012 VN Amsterdam Netherlands
About this event
Do your family dinners happen in more than one language? Do you celebrate Christmas and Eid? Do you and your family feel at home in more than one country? If so, then you may be a MOLA Family and yes, this multicultural, multilingual, mobile life can get a little 'messy.'
In South America, a mola is a shirt made from intricately stitched layers of patterns and cloth. Worn with pride, it represents who you are – inside and out. Mariam Ottimofiore presents a mola as the perfect metaphor for globally mobile families living between cultures, countries, languages, nationalities, identities and homes, who find their story hard to articulate. She has created the MOLA tool to help global families design and show their stories to the world. She calls this your 'life by design.'
Pakistan-born Mariam is a writer, researcher and expatriate family specialist who grew up and has lived in nine countries. Her husband is German/Italian and together they have raised their children in Europe, Southeast Asia, the Middle East and Africa.
Raw, honest, inspiring and uplifting, This Messy Mobile Life comprises personal reflection, expert advice and survey research to help you take your global family from mess to mola.
Come join Mariam for a casual talk about your messy mobile life at the W Hotel in Amsterdam. You can order drinks at your own cost and have a chance to buy a signed copy of the book (18 Euros, cash only). Although this event is free, please register because spaces are limited.