Sales Have Ended
Registrations are closed
Online registration has now ended; however, we do still have seats available. You may register on-site the evening of the event.
Sales Have Ended
Registrations are closed
Online registration has now ended; however, we do still have seats available. You may register on-site the evening of the event.
Description
THIS EVENT IS BEING RESCHEDULED. WE WILL ANNOUNCE THE NEW DATE SOON. You are welcome to register to show your interest and will then be notified of the new date. If you discover you cannot attend on that date, you can simply let us know.
The GaDOE released the GaDOE Dyslexia Informational Handbook on November 22, 2019, to provide some guidance for local school systems. Our presenter will discuss with attendees the information in the handbook and will leave plenty of time for questions!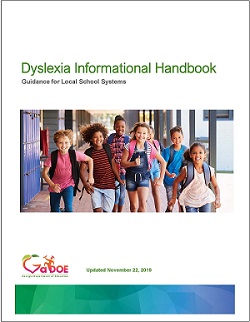 Presenter: Jennifer Hasser, M.Ed., is a nationally recognized advocate, author, and trainer in the field of reading and dyslexia. The parent of a daughter with dyslexia, Jennifer knows firsthand the challenges children and adolescents with learning difficulties face and has devoted her life to leveling the playing field. Currently Executive Director of Kendore Learning and Syllables Learning Center, Jennifer uses her expertise to guide reading remediation and enrichment in both one-on-one and classroom settings. Since 2003, Jennifer has trained more than a thousand teachers in the Kendore/SMART curriculum and helped thousands of students acquire language skills. She is a regular presenter at reading and dyslexia conferences and serves as an educational consultant to schools across the nation. She designs, develops, and implements response to intervention (RTI) plans for public schools.

This Outreach event is brought to you by the South Fulton Parents for Education in partnership with the International Dyslexia Association GA and Decoding Dyslexia Georgia. We would like to thank Fran Warren for arranging for this event to be held at Triumph Transitions Institute. Outreach events are free and open to the public.
South Fulton Parents for Education For more information, contact Fran Warren at southfultonparentsforeducation@gmail.com.
Decoding Dyslexia GA (DDGA) is part of a network of parent-led grassroots movements across the country concerned with the limited access to educational interventions for dyslexia within the public education system. Visit www.decodingdyslexiaga.com.
The International Dyslexia Association (IDA) is a 501(c)(3) non-profit, scientific and educational organization committed to creating a future for all individuals who struggle with dyslexia and other related reading differences so that they may have richer, more robust lives and access to the tools and resources they need. Visit www.DyslexiaIDA.org.
The International Dyslexia Association Georgia (IDA-GA) offers information on dyslexia and evidence-based interventions, referrals, free outreach events, conferences, the Dyslexia Dash, and teacher training scholarships and grants. Visit https://ga.DyslexiaIDA.org.