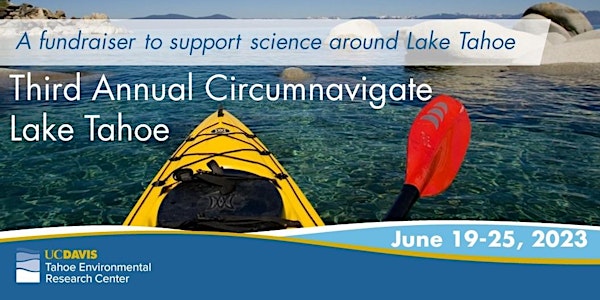 Third Annual Circumnavigate Lake Tahoe for Science
A fundraising event to support science around the lake and beyond while kayaking Lake Tahoe in seven day trip segments
By UC Davis Tahoe Environmental Research Center
Location
Sand Harbor Beach 2005 NV-28 Incline Village, NV 89452
Refund Policy
Refunds up to 30 days before event
Eventbrite's fee is nonrefundable.
About this event
Third Annual Circumnavigate Lake Tahoe for Science
Tour Lake Tahoe like never before!
Join the UC Davis Tahoe Environmental Research Center (TERC) for the Third Annual Circumnavigate Lake Tahoe (TERC CIRC 3) a fundraising event to support science around the lake and beyond while kayaking Lake Tahoe. This kayaking event will take place over seven days, starting Monday, June 19 and concluding Sunday, June 25, 2023.
Many people have paddled Lake Tahoe, but this event is unique. In addition to each day's 6-13 miles of spectacular shoreline paddling, you will get to see, share and learn about Lake Tahoe's ecology, geology and emerging challenges. TERC's scientific experts will illustrate the science being used to restore Lake Tahoe.
Registration
Come for just a day or two, or join the ranks of the epic few who have completed the entire circumnavigation. Space is limited! A description of each day's route will be provided during registration.
Join for a day: $100
Join for two days: $200
Join for three days: $300
Join for four or more: $350
Note: Registration is refundable up to 30 days prior to the event. Eventbrite's fees are nonrefundable.
Paddlers will enjoy:
Complimentary snacks each day.
Shuttle service from takeout points back to put-in points to retrieve your car
Monday, June 19, enjoy a pre-launch coffee/tea and pastries.
Basic strokes demonstration before each launch.
A commemorative TERC CIRC 3 dry bag to keep all your belongings safe from getting soggy.
The unique camaraderie of joining like-minded paddlers in doing a good turn for the lake.
Sunday afternoon, June 25, a complimentary celebratory party with your fellow paddlers to enjoy food, wine, beer, and other refreshments.
Details
Boat selection
The best watercraft for this event is a sit-inside, long, skinny, sea kayak. The ubiquitous sit-on-top plastic kayaks seen everywhere on the lake will work and be safe, but will require more energy to paddle and will be slower. Likewise for pedal kayaks, stand-up paddleboards and canoes. Whatever your boat, you should be able to paddle five miles in two hours or less.
Route
Each day's route will be near shore and extend for between 6 and 13 miles. We will stop for a rest on all but one of the days. The odyssey starts at Sand Harbor, NV, and proceeds counterclockwise around the lake. Route details will be provided after registration.
Note: should weather—especially high winds—be a problem on any given day, that day will be canceled and the successive days modified.
Launches and landings
Paddlers will be shuttled in a bus from takeout to put-in each day, to retrieve their cars. Multi-day paddlers will also be provided with onshore boat storage at each takeout.
AIS Requirements
If you are paddling the Nevada side of the lake, you must obtain an Alien Invasive Species (AIS) sticker. This sticker must be displayed on your boat, per instructions. The cost is $6.
If you are paddling the California side, review and certify yourself and your boat on the Tahoe Keepers.
Safety
All participants are required to wear a flotation device at all times. Group leaders will use two-way radios to communicate with each other and the US Coast Guard. The U.S. Coast Guard Station at Tahoe City will be aware of each day's plans. A first-aid kit and kayak tow ropes will be carried. Experienced kayak tour guides will accompany the group daily; more information to follow.
All participants must be 15 years of age or older. Paddlers below the age of 18 must be accompanied by a parent or legal guardian.
All participants will be required to sign a Waiver of Liability, Assumption of Risk and Indemnity Agreement prior to entry (see details below).
Apparel
Quick-drying synthetics are strongly recommended. Cotton t-shirts, jeans, and such, are slow to dry and could lead to extreme discomfort with Tahoe's low water temperatures in June. A hat and sunscreen are highly recommended.
Resources
Citizen Science App
Please download the Citizen Science Tahoe App beforehand if you wish to participate in the science data collection.
We suggest loading the app and signing up prior to your paddling day. You will receive the confirmation email to continue your sign-up process. Check your spam folder for that email if you don't receive it.
More information about the Citizen Science App.
Lake Conditions
Visit TERC's Lake Conditions real-time data and forecast lake conditions.
Videos
Basic strokes video: short video with important information for efficiency and to prevent injury. Covers forward, backward, and sweep strokes. Pop quiz at the end.
We recommend all participants watch the Safety videos, prior to TERC CIRC 3.
Maps
If interested, participants can purchase or download the Lake Tahoe Water Trail map to learn more about kayaking at Lake Tahoe. Also, check the Weather map and TERC's new lake conditions website ahead of time. A description of each day's route will be provided during registration.
Cleaned, Drained, & Dried Watercraft Only
Keeping aquatic invasive species out of Lake Tahoe is paramount. Visit Tahoe's Self-Inspections for training and best practices for canoes, kayaks, paddle-boards and other hand-launched watercraft.
Support TERC
Help preserve the beauty of Lake Tahoe for future generations with your gift to TERC Research
Support the delivery of public education programs at Lake Tahoe with your gift to TERC Education.
Testimonials
Quotes from last year's TERC CIRC
"Loved the people on the trip! They were like-minded, friendly, and enthusiastic."
"Loved the science and being able to talk with the speakers."
"I've been coming to the lake for many years, and it was great to see the lake from a whole different point of view."
"I particularly loved the on-water lecture from the TERC research boat, the John LeConte."
"The after-party was wonderful. We got to relax and converse with folks we'd been paddling with—getting to know them in a whole new way."
Thank you to our sponsors!
All participants will be required to sign a Waiver of Liability, Assumption of Risk, and Indemnity Agreement prior to entry.
Waiver: In return for being permitted to participate in the following activity or program ("The Activity"), including any associated use of the premises, facilities, staff, equipment, transportation, and services of the University, I, for myself, heirs, personal representatives, and assigns, do hereby release, waive, discharge, and promise not to sue The Regents of the University of California, its directors, officers, employees, and agents ("The University"), from liability from any and all claims, including the negligence of The University, resulting in personal injury (including death), accidents or illnesses, and property loss, in connection with my participation in the Activity and any use of University premises and facilities.
Description of Activity or Program: Kayaking Lake Tahoe
Date(s): June 19 - June 25, 2023
Assumption of Risks: Participation in The Activity carries with it certain inherent risks that cannot be eliminated regardless of the care taken to avoid injury. The specific risks vary from one activity to another, but the risks range from 1) minor injuries such as scratches, bruises, and sprains, to 2) major injuries such as eye injury, joint or bone injuries, heart attacks, and concussions, to 3) catastrophic injuries such as paralysis and death.
Indemnification and Hold Harmless: I also agree to indemnify and hold The University harmless from any and all claims, actions, suits, procedures, costs, expenses, damages and liabilities, including attorney's fees, arising out of my involvement in The Activity, and to reimburse it for any such expenses incurred.
Severability: I further agree that this Waiver of Liability, Assumption of Risk, and Indemnity Agreement is intended to be as broad and inclusive as permitted by law, and that if any portion is held invalid the remaining portions will continue to have full legal force and effect.
Governing Law and Jurisdiction: This Agreement shall be governed by the laws of the State of California, and any disputes arising out of or in connection with this Agreement shall be under the exclusive jurisdiction of the Courts of the State of California.
Acknowledgment of Understanding: I have read this Waiver of Liability, Assumption of Risk, and Indemnity Agreement, fully understand its terms, and understand that I am giving up substantial rights, including my right to sue. I confirm that I am signing the agreement freely and voluntarily, and intend my signature to be a complete and unconditional release of all liability to the greatest extent allowed by law.