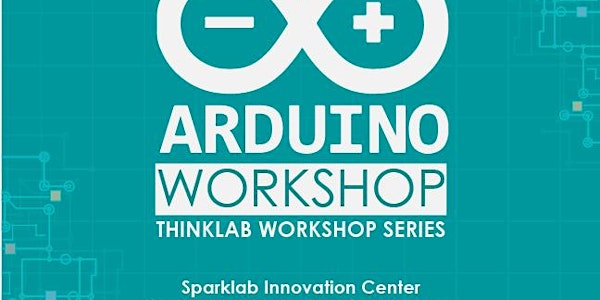 Thinklab Gizduino EX Workshop Aug 2017
When and where
Location
Sparklab Innovation Center 118 Matahimik Street Teacher's Village, Diliman Quezon City, 1101 Philippines
Description
New Schedule Summary: August 26 and Sept. 2 2017 (Saturdays)
Our Gizduino EX workshops are back this 2017, let us start the year right with an AWESOME Learning Experience at THINKLAB. Fee is Php5,500.00, inclusive of a take-home Gizduino kit, lunch and certificate.
There will be hands-on activities throughout the workshop, each participant gets to use and take-home a Gizduino Microcontroller and workshop kit!
Title: Gizduino EX - Arduino Microcontroller Programming and Applications Workshop (Two-Day Comprehensive Workshop)
Time: 10:00AM to 5:00PM, Registration starts at 9:45am

Fees
Earlt bird rate: Php 5,500
Student Rate: Php 5,000
Regular/ Walk in rate: Php 6,000
Venue: SPARKLAB INNOVATION CENTER, Diliman, Quezon City

Description: A hands-on workshop on microcontroller programming, its fundamental routines, and popular microcontroller applications
Format: Lecture discussion and hands-on exercises
Equipment: Participants are advised to bring their own laptops to be able to perform the hands-on activities. In case you are not able to do so, please advise us at least 2 days prior to the workshop. Materials will be provided by ThinkLab.
Personnel: 1 Lecturer and 1 Assisting Facilitator
Platform: Arduino Microcontroller
Language: C Programming Language
SCHEDULE: 9:45AM to 10:00AM
Topics Covered:
Introduction to the Arduino Microcontroller platform
The Gizduino Microcontroller
Interfacing Fundamentals
Arduino C language
Serial Communication
Digital Input/Output
Advanced Digital Input/Output
Interfacing with LCD Display
Analog Input/Output
Analog to Digital Conversion (Analog Input)
Digital to Analog Conversion (Analog Output)
Interfacing with Motors
Using Wireless Communication devices
Using the Bluetooth Shield
FREEBIES AND GIVEAWAYS :
GIZDUINO Microcontroller and Cable
Basic workshop kit
CERTIFICATE of course completion
Lunch for two-days
SOFT COPY of lecture slides, software and sample codes used in the exercises
---
Payment Details:
1. Down payment will be required upon reservation. The remaining balance will be paid on the workshop date.
You can also make a reservation via bank deposit:
STEPS FOR SECURING SLOTS:
1. Deposit the reservation fee (P 1,500.00) on the Thinklab / Sparklab Bank account:
BANK: Rizal Commercial Banking Corp. (Diliman Business Center)
ACCOUNT NUMBER : 7-590-41793-3
ACCOUNT NAME : SPARKLAB
BANK: BANK OF THE PHILIPPINE ISLANDS (BPI – LOYOLA KATIPUNAN)
ACCOUNT NUMBER : 3081-1159-49
ACCOUNT NAME : GSMETRIX TECHNOLOGY SOLUTIONS, INC.
2. Email a scanned copy of the deposit slip to secretariat@thinklab.ph with the following information:
TITLE OF WORKSHOP:
DATE(S) OF WORKSHOP:
FULL NAME OF PARTICIPANT:
EMAIL:
CONTACT NO (MOBILE):
SCHOOL / COMPANY:
YEAR & COURSE / POSITION:

If you wish to reserve multiple slots, kindly specify the above details (names, contact information, school/company) for all the interested participants, as well as how many slots to reserve.
3. Send a message to 0917-643-1161 that you have deposited the reservation fee and emailed the scanned copy of the deposit slip.
4. Upon receipt, we will be sending you an email/text to confirm your reservation. In case you fail to receive a confirmation from the secretariat, kindly follow up or re-send your registration info.
==============================
For inquiries and other concerns you may contact us at:
email: secretariat@thinklab.ph or info@sparklab.ph
Add us up on FACEBOOK : http://www.facebook.com/thinklab.secretariat
Like our FACEBOOK PAGE : http://www.facebook.com/thinklab.ph
Or message us thru SMS : 0917.643.1161
Or give us a call at : (02) 508.7955
=============================