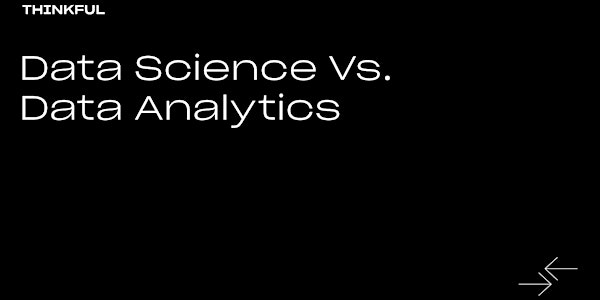 Thinkful Webinar | Data Science vs. Data Analytics
Description
Join us as we put two high-paying careers head to head in the ultimate showdown to determine which one is right for you.
Data Science and Data Analytics aren't just buzzwords. They are currently two of the hottest and most in-demand professions. Wondering which one best suits you? Join us as we break down the specifics of each, and help you determine which one is your ideal next career choice.
We'll start by going over the differences between the two careers. Then, we'll walk you through how to get the skills to be successful in each, and discuss the different jobs that will be available to you once you've acquired those skills.

What you'll learn:
Why data skills are in such high demand
What data analysts and data scientists do every day
Which career could be a better fit for you
And so much more...
How to join us: Once you register with Eventbrite, you will receive an email with the links to the live webinar from BigMarker. If you do not receive your link, please email ivy@thinkful.com.
Sponsored by Thinkful:
This workshop is proudly sponsored by Thinkful, the #1 rated coding boot camp on CourseReport. Thinkful is a new type of school that brings high-growth tech careers to ambitious people everywhere. Thinkful provides 1-on-1 learning through its network of industry. To find out more schedule a call HERE