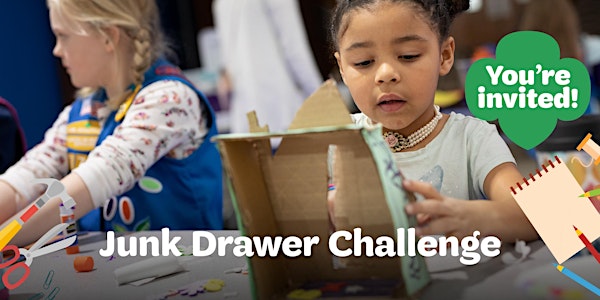 Think like an Engineer Virtual Sign-Up Event-Shoreview
Dear future Girl Scouts, you're invited to a Think like an Engineer- Junk Drawer Challenge Virtual Event!
About this event
During this free virtual program, girls will have the opportunity to put on their virtual thinking caps and think like an engineer. She'll learn what an engineer does, how they solve problems and complete a design challenge using items commonly found in a junk drawer or around the house. Supply ideas include paper clips, tape, rubber bands, tape, newspapers, empty toilet paper rolls and cereal boxes.
Parents and caregivers—please stay online with your child through the entire event. After the activity, will we get to know each other and discuss local troop options in your community.
This is a free event and open to all girls who are not yet in Girl Scouts.
Registration is required. Once you register, you will receive a confirmation email with the Zoom link to join. This event is for girls and families in the Girl Scouts of Minnesota and Wisconsin River Valleys council area only.
Feel free to share this invitation page with other families interested in joining.
If you have questions, don't hesitate to reach out at girlscouts@girlscoutsrv.org or by calling us at 800-845-0787. We look forward to meeting you!