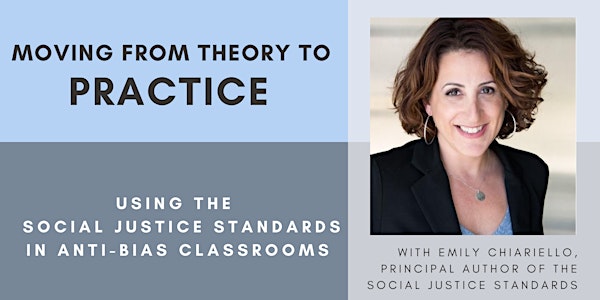 Theory to Practice: Using Social Justice Standards in Anti-Bias Classrooms
Moving From Theory To Practice: Using the Social Justice Standards in Anti-Bias Classrooms
About this event
Workshop Title: Moving From Theory To Practice: Using the Social Justice Standards in Anti-Bias Classrooms
Date: Friday, February 26, 2021
Time: 12:30-3:00 PM (Hawaii Standard Time)
2:30-5:00 PM Pacific / 4:30-7:00 PM Central / 5:30-8:00 PM Eastern
Venue: Online Via Zoom
Cost: $25
The Learning for Justice (formerly Teaching Tolerance) Anti-bias Framework and Social Justice Standards are a unique set of benchmarks to guide anti-bias education at every grade level and promote a spectrum of engagement with critical issues both in and outside of the classroom. Organized into four domains—identity, diversity, justice and action—the Framework includes anchor standards and grade level outcomes for students in K-2, 3-5, 6-8 and 9-12 classrooms.
Led by the Standard's author, Emily Chiariello, this workshop will provide an introduction to the Framework as well as a deeper dive into each of the four interlocking domains—identity, diversity, justice and action. With textual and curricular examples of each standard, participants will gain an understanding of how to integrate elements of both prejudice reduction and collective action into their work as social justice educators. This workshop is interactive and will engage participants with a combination of visual and multimedia content and online features such as chat, polling and break out rooms.
PARTICIPANTS:
This workshop is designed for K-12 educators who are involved in planning and/or delivering instruction.
OBJECTIVES:
Participants will be able to:
Explain the goals of anti-bias education.
Access and use the K-12 Social Justice Standards.
Identify age-appropriate outcomes for anti-bias education at every grade level.
Describe and distinguish teaching and learning about identity, diversity, justice and action.
AGENDA:
The Framework
Understanding by Design; Louise Derman Sparks; 4 domains
Sorting activity
Identity Domain
Peeling Back the Onion activity
Explain/Examples of standards 1-5
Discuss in breakout rooms
Diversity Domain
Circle of Friends activity
Explain/Examples of standards 6-10
Discuss in breakout rooms
BREAK
Getting from Identity and Diversity to Justice and Action
Justice Domain
Doing Justice activity
Explain/Examples of standards 11-15
Discuss in breakout rooms
Action Domain
Speak Up! Activity
Explain/Examples of standards 15-20
Discuss in breakout rooms
ABOUT THE FACILITATOR:
Emily Chiariello is an independent consultant specializing in diversity and equity in K-12 education. With two decades of experience as a classroom teacher, teacher trainer, curriculum designer, content developer and writer, Emily has worked with non-profit organizations such as One World Education, the Children's Defense Fund's Freedom Schools program and the Southern Poverty Law Center's Teaching Tolerance Project (now Learning for Justice). While at Teaching Tolerance, Emily was the chief architect of the award-winning literacy-based anti-bias K-12 curriculum, Perspectives for a Diverse America and principal author of the Social Justice Standards, a first-ever set of benchmarks for anti-bias education. Emily designed instructional tools such as Civil Rights Done Right and Reading Diversity and was central to the development of resources like Teaching 'The New Jim Crow' and Critical Practices for Anti-bias Education. Emily has authored articles about the school to prison pipeline, culturally competent instructional coaching, white racial identity and diverse literature. Today, Emily supports K-12 schools, districts, universities, non-profits, publishers, museums and media companies across the country. She helps clients build capacity to promote equity and support diversity, whether in the work they do directly with students and communities or through the products and services they provide to educators. To learn more about Emily and her work, visit http://www.chiariello-consulting.com/new-page.