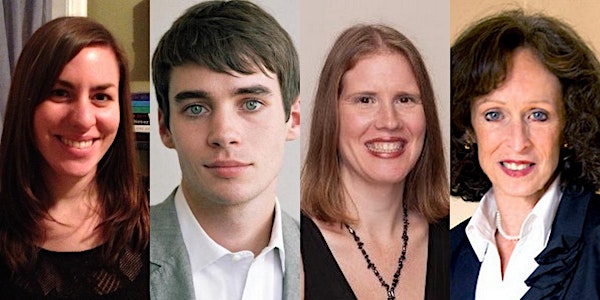 THE YA TODAY: AN EDITOR, AGENT, AND BLOGGER DISCUSS THE BOOK, THE AUDIENCE,...
Event Information
Location
Your Expert Nation
817 Broadway
5th Floor
New York, NY 10003
Description
Join us IN PERSON or via LIVESTREAM on WEDNESDAY, JUNE 15!
Emilia Rhodes, Senior Editor at HarperCollins Children's Books, Literary Agent Peter Knapp of New Leaf Literary & Media Inc., Book Blogger Katiebabs of Babbling about Books, and More, and Marketing Director Bridget Marmion, Founder and President of Your Expert Nation, will go behind the scenes of this thriving segment of publishing and the phenomenon of the crossover book.
Join us, wherever you are in the world! Tickets available for our NYC conference room or remotely via LIVESTREAM. To join us online, simply purchase the "Remote Access" ticket and we'll email you the code and link and the instructions you need 48 hours before the event.
This event is for any writer, agent, media, marketing or publicity pro who wants to stay on top of the YA market, or for anyone who wants to learn more about how this part of publishing works.
Are you wondering if your book is right for the YA market, the fastest growing market in publishing? How best to position yourself and your work for those agents, editors, readers? What is most important to know about crossover success stories?
Certainly the "crossover" book isn't new, with stunning successes including Wonder, The Book Thief, and huge bestsellers further propelled by movies like The Hunger Games and Maze Runner, and the phenomenon who is John Green (The Fault in Our Stars).
Grab a ticket today, and join us on WEDNESDAY, JUNE 15, for the rare opportunity to hear an editor, agent, blogger and marketing director cover this important topic and share their hard-won expertise.
Here is what we'll cover:
THE YA TODAY: DEFINING THE BOOK, THE AUDIENCE, THE CROSSOVER.
• How do you know if your book is suitable for the YA audience?
• Are there certain criteria a book has to meet in order to be classified as YA?
• What is the age range of the YA audience?
• What makes a good adult-YA crossover title?
• Is it true that the line between YA and adult is blurring?
• Marketing/publicizing your book to the YA audience: MUST DOS FOR 2016: Five Important Basics
• The associated How Tos, and What Not-To-Dos of editorial/submission, marketing/publicity
Our Panel and Moderator:
Emilia Rhodes is a Senior Editor at HarperCollins Children's Books where she edits young adult and middle grade fiction. Emilia has worked with New York Times bestselling and award-winning authors, including Christopher Pike (Thirst), L.J. Smith (The Vampire Diaries), Adi Alsaid (Let's Get Lost), Claudia Gray (A Thousand Pieces of You), Sophie Jordan (Reign of Shadows), John Kloepfer (The Zombie Chasers), and Carrie Arcos (Out of Reach). Find Emilia on Twitter: @emiliarhodes.
Peter Knapp is an agent at New Leaf Literary & Media, where he represents middle grade and young adult fiction. He is lucky to work with both bestselling and award-winning authors, including New York Times bestseller Soman Chainani (The School for Good and Evil series), Newbery Honor-winning and bestselling author Kathryn Lasky (author of over 100 books, including the Guardians of Ga'Hoole series), Lambda-nominee Will Walton (Anything Could Happen), and many more. Previous to joining New Leaf, he worked at The Park Literary Group, and prior to that he was a story editor at Floren Shieh Productions, consulting on book-to-film adaptations.
Blogger Katiebabs: Kate Garrabrant is a Reviewer and Book Blogger with over twenty years of knowledge and experience regarding the romance and young adult genre. Kate, best known as "Katiebabs" is also author, KT Grant with currently thirty published books and short stories. Kate has been reviewing books since 2000, and owns and operates Babbling about Books, and More, a book blog since 2008. Babbling has become a permanent fixture in the online publishing community with over 20,000 visitors a month.
Bridget Marmion, Panel Moderator, spent over a decade each at Farrar Straus Giroux, Random House and Houghton Mifflin, mostly as SVP, Marketing. At FSG and Houghton, Bridget oversaw both adult and children's book marketing. In 2012, she launched YOUR EXPERT NATION, Inc., a full-service marketing firm.
The Conference Room Confabs Series
THE YA TODAY is part of a series of Conference Room Confabs Your Expert Nation hosts every other month. A video recording of the last Confab, Can I Write That While They're Still Alive?, is now available for sale on the Your Expert Nation website.
Please email richardpkelley@gmail.com with any questions.
Date and time
Location
Your Expert Nation
817 Broadway
5th Floor
New York, NY 10003