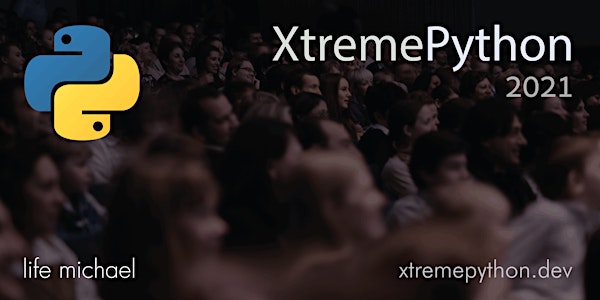 The XtremePython Online Conference
XtremePython is an online conference that focuses on the Python programming language!
Refund Policy
Contact the organizer to request a refund.
About this event
The XtremePython online conference is organized by developers for developers! It includes 10 small sessions (30min each). The timetable was carefully planned in order to allow developers from all over the world to take part. The focus of this conference is the Python programming language (especially advanced and new topics). This conference is not for software developers that don't have a background in the Python programming. More information at https://xtremepython.dev.
Once the tickets sale for this event ends, we will send an email to all participants with the link to connect using Zoom, a link to connect the WhatsApp group we will create, and a link to join the dedicated group on Linkedin, a group that will allow all participants (both speakers and attendees) to interact before, during and after our event.
The premium hybrid ticket is limited to 10 seats. Buying this ticket will allow you to join us and meet us in person in the meeting room (in WeWork Herzliya Pituach) from where the online conference will be orchestrated. The premium hybrid ticket includes a business lunch that will be picked by each participant and delivered through the 10bis.co.il website (with a budget of 65 shekels). The premium hybrid ticket is limited to COVID-19 vaccinated (with Pfizer or Moderna three shots) people only. Israeli TAV YAROK approval will be sufficient as well.