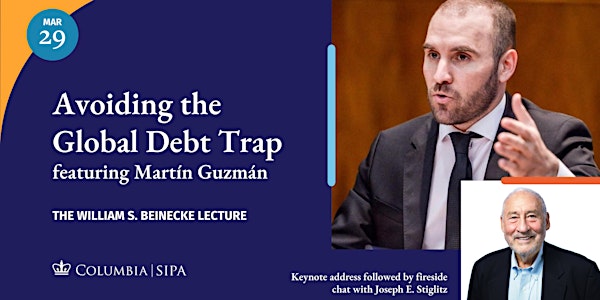 The William S. Beinecke Lecture featuring Martín Guzmán
Avoiding The Global Debt Trap: The William S. Beinecke Lecture featuring Martin Guzmán and Joseph E. Stiglitz
By Columbia University | SIPA
When and where
Date and time
Wednesday, March 29 · 1 - 2pm EDT
Location
International Affairs Building Room 1501 420 West 118th Street Room 1501 New York, NY 10027
About this event
The Covid-19 pandemic, which coincided with a quantitative loosening and lowering of interest rates, led to public debt piling up across the globe, but especially in the Global South. The war in Ukraine only compounded the problem, as interest rates rose, further increasing borrowing countries' vulnerability to default. As the dollar appreciates in value, countries across the globe face looming external debt crises, which reinforces the uneven power dynamics of the international system. Martin Guzman has firsthand knowledge of such crises. From 2019 to 2022, he served as Argentina's Minister of Economy, where he managed a sovereign debt crisis that included the second largest debt restructuring in history. Guzman will share his thoughts on how countries can manage these crises going forward. He also will address ways to make the global financial system and its regulatory frameworks more fair going forward.
Guzman is the William S. Beinecke Visiting Professor of Public Policy at the School of International and Public Affairs. He is also a Professor of Money, Credit, and Banking at the National University of La Plata, Argentina. He is the co-President of the Initiative for Policy Dialogue (IPD), an academic center at Columbia University Business School, which works to broaden dialogue and explore trade-offs in development policy by bringing the best ideas in development to policymakers and that strives for a more equitably governed world by democratizing the production and use of knowledge. He has served as editor-in-chief of the Journal of Globalization and Development and is a member of the editorial board. He holds a PhD in economics from Brown University (2013).
Keynote address followed by fireside chat with Joseph E. Stiglitz, University Professor
About the organizer
About the School of International and Public Affairs: For more than 75 years, SIPA has been educating professionals who work in public, private, and nonprofit organizations to make a difference in the world. Through rigorous social science research and hands-on practice, SIPA's graduates and faculty strive to improve social services, advocate for human rights, strengthen markets, protect the environment, and secure peace, in their home communities and around the world. For more information, please visit sipa.columbia.edu.