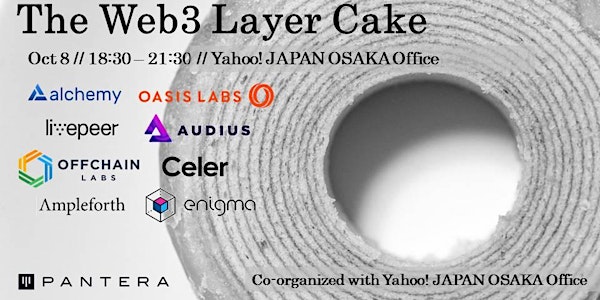 The Web3 Layer Cake: Audius, Enigma, Celer, Livepeer, Alchemy, Pantera...
Explore the layers of Web3 with a slice of locally-made layer cake and technical talks from leading companies, projects, and Pantera Capital
When and where
Location
Yahoo! JAPAN OSAKA Office Grand Front Osaka Tower-A37 4-20 Ofuka-cho Kita-ku Osaka, Osaka 530-0011 Japan
About this event
** NOTE: We have limited seating available - only the first 100 people to arrive will gain entry. You may be turned away at the door if we have reached maximum capacity. We appreciate your understanding. **
Participating companies include:
Co-organized with Pantera Capital and Yahoo! JAPAN OSAKA Office
Light refreshments will be provided, including the popular Japanese layer cake, baumkuchen.
Please note RSVP does not guarantee entry. Only the first 100 people to arrive will gain entry.
Schedule
6:30 - 6:45pm: Doors open
6:45 – 7:00pm: Introductory remarks from Pantera Capital, Yahoo! JAPAN OSAKA, and The DECK
7:00 – 7:15pm: Ampleforth: The First Sound Money with Elastic Supply, Brandon Iles, CTO at Ampleforth
7:15 – 7:30pm: Transactional Privacy for Ethereum with Enigma, Can Kisagun, Co-founder / CPO at Enigma
7:30 – 7:45pm: Celer Network: Bringing mass adoption and developer monetization to every blockchain, Junda Liu, Co-founder at Celer Network
7:45 – 8:00pm: Building Scalable Blockchain Infrastructure with Alchemy, David Tran, Lead Engineer at Alchemy
8:00 – 8:05pm: Pantera Introduction, Franklin Bi at Pantera Capital
8:05 – 8:30pm: Panel Discussion: The Challenges of Building and Scaling on Ethereum
Roneil Rumburg, CEO at Audius
Doug Petkanics, CEO at Livepeer
Dawn Song, CEO at Oasis Labs
Ed Felten, Co-founder at Offchain Labs
Moderator: Franklin Bi, Pantera Capital
8:30 – 8:45pm: Panel Q&A
8:45 - 9:30pm: Happy hour / Reception
Speakers & Sponsor Bios (to be updated):
Ed Felten (Co-founder/Chief Scientist, Offchain Labs): Ed Felten is the Robert E. Kahn Professor of Computer Science at Princeton University. He formerly served in the White House as Deputy United States Chief Technology Officer. He is a member of the National Academy of Engineering, and co-author of the leading textbook on cryptocurrencies.
Doug Petkanics (Founder/CEO, Livepeer): Livepeer is a decentralized video infrastructure protocol and platform that has been live on the Ethereum network since April, 2018. Doug is the author of the Livepeer protocol and MerkleMine distribution algorithms, both of which have been focused on designing incentives for wide and active participation in decentralized networks. Previously Doug has served as Founder and VP Engineering at Hyperpublic (acquired by Groupon) and Wildcard. He has a BSE in Computer Science from University of Pennsylvania where he focused on research related to decentralized systems including the Bittorrent protocol.
Brandon Iles (Co-founder/CTO, Ampleforth): Ampleforth is an independent commodity-money, like Bitcoin or gold, but with near-perfect supply elasticity, like fiat. It is the first sound money with elastic supply. The unique movement pattern and monetary qualities of the AMPL token make it ideally suited for the following use cases: 1) Near Term: Diversification in cryptocurrency portfolios; 2) Medium Term: As reserve collateral in decentralized banks; 3) Long Term: An alternative to central-bank money. Brandon spent over 5 years in Google's Search Ranking and Machine Intelligence groups and later worked in Uber's Ranking and Relevance team. He loves the intersection of Systems, Data, and Intelligence. He holds a BS and MS in Computer Science from Rice University.
Can Kisagun (Cofounder and CPO, Enigma): Enigma is helping secure the decentralized web. Founded at MIT in 2015, our protocol allows smart contracts to use private and sensitive inputs, solving the privacy problem for blockchains. Can Kisagun is the cofounder and CPO of Enigma. Previously he founded Eximchain, a blockchain-based supply chain solution. Can holds an MBA degree from MIT Sloan School of Management and worked as a consultant at McKinsey & Company for 3 years. Can also holds a BSc in Industrial Engineering degree from Northwestern University.
David Tran (Lead Engineer, Alchemy): Alchemy powers the core infrastructure for leading blockchain companies around the globe, enabling them to build better products and user experiences through next-generation blockchain infrastructure platform and developer tools. David wrote the first line of code for the Alchemy Platform, which has since served over 20B queries. Before that, he was a 2x startup founder and CTO.
Joe Lau (CTO, Alchemy): Joe Lau is the cofounder and CTO of Alchemy, the world's leading blockchain infrastructure platform. He was recognized by Forbes 30 Under 30, received his BS and MS in Computer Science at Stanford, and formerly worked at Google, Pinterest, and LinkedIn. He's a serial entrepreneur and formerly co-created Down To Lunch (#1 in the App Store social category, featured in New York Times business cover story). He's been featured in many news outlets including the New York Times, Forbes, Business Insider, and Techcrunch.
Dawn Song (CEO, Oasis Labs): Dawn Song is Professor in Computer Science at UC Berkeley. She is also founder and CEO of Oasis Labs, creating privacy-first cloud computing on blockchain. She has received numerous awards including the MacArthur Fellowship and Guggenheim Fellowship.
Pantera Capital is an investment firm focused exclusively on ventures, tokens, and projects related to blockchain tech, digital currency, and crypto assets. As the first U.S. Bitcoin investment firm, Pantera Capital is one of the largest institutional owners of cryptocurrencies.