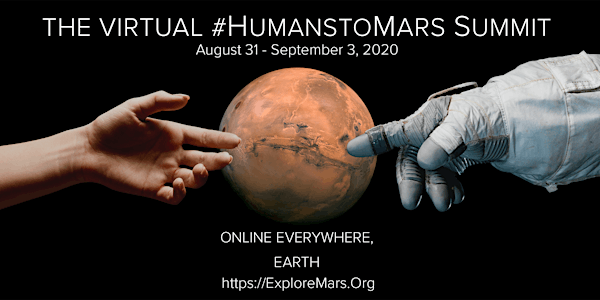 The Virtual 2020 Humans to Mars Summit
The Humans To Mars Summit embodies the core mission of Explore Mars, Inc. to advance humanity to the Martian surface by the 2030s.
Refund Policy
Contact the organizer to request a refund.
Eventbrite's fee is nonrefundable.
About this event
The 2020 Humans to Mars Summit (H2M)
The Humans To Mars Summit (H2M) Is The Largest Annual Conference In The World Focused On The Achievable And Sustainable Human Exploration Of Mars.
H2M Features Experts And Luminaries From Relevant And Diverse Fields, Including Senior Nasa, Industry, And Policy Figures, As Well As Representatives From The Entertainment, Technology, And Innovation Industries, Stem Education Professionals, And Members Of The General Public.
Through Consensus Building In The Space Community And Inspiring The General Public, The Goal Of H2M Is To Advance The Prospects For The Human Exploration Of Mars In The Early To Mid-2030S.
Join us for 'Virtual' H2M 2020!
As a result of the ongoing COVID-19 crisis and with the desire to assure the health and safety of our attendees, speakers, sponsors, and other guests, the 2020 Humans to Mars Summit will now be virtual.
Just a few of the many exciting topics that will be discussed include:
The World Goes to Mars: A panel discussion about the convoy of international missions that will be sent to Mars in 2020 and beyond
Space Exploration: A Unique Opportunity for Diversity and Equality
Lessons from COVID-19 – And How to Apply to Mars Exploration
The Moon in 2024/Mars in 2033: Opportunities and Challenges- A look at current Architecture
Managing Planetary Protection
Inspiring the Future: The Power of Mars and STEAM
Influencing Mars: Utilizing social media to get humans to Mars
Entry, Descent, and Landing on Mars
In Situ Resource Utilization (ISRU) and Surface Power on the Moon and Mars
The Human Factor: Maintaining Human Health on Mars Missions
Selecting Landing Sites for Humans on Mars
Creating Reliable Environmental Control and Life Support Systems (ECLSS)
In addition, Virtual H2M 2020 will feature online social activities, special guests and musical acts, and ongoing interviews by our Master of Ceremonies Mat Kaplan.
Speakers will include:
James Morhard (NASA; Deputy Administrator)
Representative Kendra Horn (Chair, Subcommittee on Space and Aeronautics, US House Science, Space and Technology Committee)
Kathy Lueders (NASA, Associate Administrator, HEOMD)
Lori Glaze (NASA, Director, Planetary Science Division)
Charles Bolden (Former NASA Administrator)
Emily Calandrelli (@TheSpaceGal, Science Communicator)
Alan Stern (Planetary Scientist; Principal Investigator, New Horizons mission)
Sian Proctor (Geoscientist, Analog astronaut, Explorer)
Mat Kaplan (Planetary Radio)
Mary Lynn Dittmar (Coalition for Deep Space Exploration)
Tim Cichan (Lockheed Martin)
Vera Mulyani (Mars City Design)
Clive Neal (University of Notre Dame)
Karina Perez (AIA; Manager, Strategic Initiatives)
Joe Cassady (Aerojet Rocketdyne)
Tanya Harrison (Planet Federal; Planetary Scientist)
Janet Ivey (Explore Mars, Inc.; President)
>> Full Speaker List: https://www.exploremars.org/summit/speakers/
>> Full Agenda: https://www.exploremars.org/summit/agenda/
Space is vast, but tickets are limited. Register today!
Any members of the press interested in attending H2M virtually should contact us at press@exploremars.org.
"Our intention for the Explore Mars 2020 Humans to Mars Summit is to further expand our organization's efforts to highlight our commitment to public outreach, STEM education and at the same time foster and celebrate humanity's diversity," said Janet Ivey, President of Explore Mars. "I am exceedingly proud that in these very trying times for all humanity, Explore Mars is taking the lead in utilizing the tools of modern technology to provide the 2020 Summit in a format that can be readily viewed by people of all ages and backgrounds and from all around the world."
Details regarding the H2M 2020 web platform as well as a detailed agenda will be made available in the upcoming weeks. Meanwhile, plans are underway for the 2021 Humans to Mars Summit that will take place on May 11-13, 2021 at the National Academy of Sciences Building in Washington, DC. More details on this event will be announced during the virtual 2020 H2M.