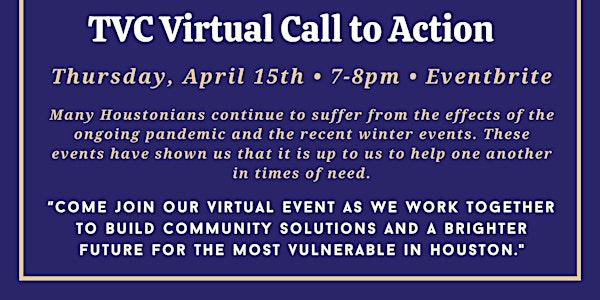 The Village Connect Virtual Community Call to Action
A virtual conference where we discuss TVC's next chapter and how YOU can become involved in our fight against homelessness in Houston.
When and where
Date and time
Thursday, April 15, 2021 · 5 - 6pm PDT
Refund Policy
Contact the organizer to request a refund.
Eventbrite's fee is nonrefundable.
About this event
Over the past few years, our community has been beset by many challenges. In 2017, it was Hurricane Harvey; in 2020, it was and still is the ongoing coronavirus pandemic; and just recently, we dealt with one of the worst winter storms we've faced in recent history. During all of this, there has been one positive constant: the community's willingness and determination to help and heal those in need. For TVC's part, we have had the privilege to work with many of you to host a variety of projects aimed at responding to these challenges by serving those who struggled the most, the homeless of Houston. All of these events wouldn't have been possible without YOU. In response to the most recent winter events, where we all suddenly faced dire situations without water, food, power, or all 3, we would like to do something a little different. We know that the winter catastrophe hit a bit closer to home for us in the Houston community because we ALL experienced lack of essential resources for a few days up to a week. That is why we'd like to call upon you to be part of our community solutions team.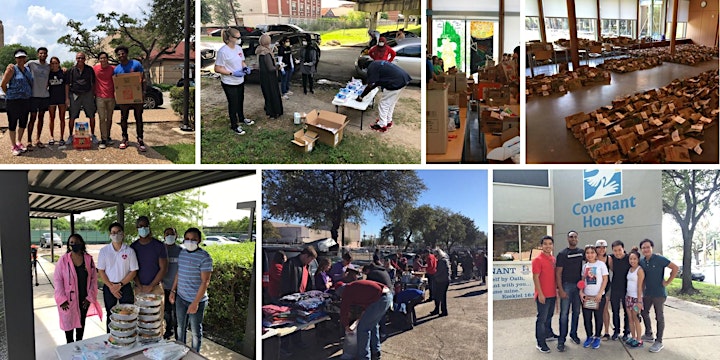 The community solutions team is a coalition of volunteers frustrated about the status quo and would like to change the landscape for those in search of stability and sustainability in their lives. As we have all undoubtedly experienced during the storm, being without water, food, and power is a harsh and desperate reality. Imagine being without these resources for weeks and months on end. This is what it is like to experience homelessness. We firmly believe that the answers to these problems lie within the community as the community has time and again, come together to lift each other up and support each other after each disaster. Now, there is a platform by which you can develop your own projects, execute them, and directly affect positive change in your community. Come join us for an intro video call on Thursday, April 15 from 7-8pm CST, so that we can discuss how we can, together, build a stronger, stable, and more just community.