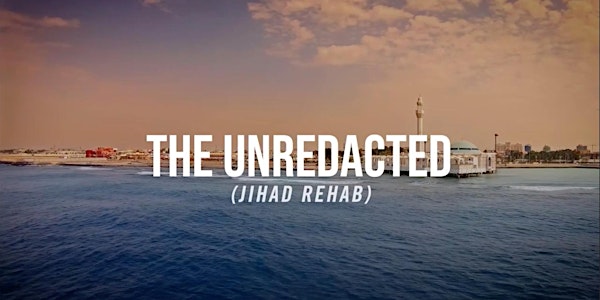 The UnRedacted, with Meg Smaker in Conversation with Sebastian Junger
'The UnRedacted': Journey inside the world's first rehabilitation center for "terrorists'.
By Bronx Documentary Center
Date and time
Tuesday, June 6 · 6:30 - 9:30pm EDT
Location
Bronx Documentary Center Annex 364 E. 151 St. The Bronx, NY 10455
About this event
Join the BDC for a screening and discussion of Meg Smaker's documentary, The UnRedacted, a film that focuses on a group of Yemeni men that were trained by al-Qaeda, imprisoned in Guantanamo, and then sent to the world's first rehabilitation center for "terrorists," located in Saudi Arabia. Filmed at the rehab center over three years, with unprecedented access, this film is a complex and nuanced exploration of the men we have heard so much about but never heard from.
The screening of The UnRedacted will be followed by director Meg Smaker in conversation with author Sebastian Junger and an audience discussion.
Bios
Meg Smaker received an MFA in Documentary Film from Stanford University. As a filmmaker, Meg likes to explore controversial subjects from unorthodox viewpoints. Her films have won numerous awards, including Best Short Documentary at SXSW (South By Southwest) and a Student Academy Award. Meg was featured in the Hollywood Reporter's "Next Gen" issue as one of the film industry's most promising new nonfiction filmmakers, and in 2021 Filmmaker Magazine named her one of the "25 New Faces of Independent Film." The Unredacted premiered at Sundance in 2022 to rave reviews from film critics.
Sebastian Junger is the #1 New York Times Bestselling author of The Perfect Storm, Fire, A Death in Belmont, War, Tribe and Freedom. As an award-winning journalist, a contributing editor to Vanity Fair and a special correspondent at ABC News, he has covered major international news stories around the world, and has received both a National Magazine Award and a Peabody Award. Junger is also a documentary filmmaker whose debut film Restrepo, a feature-length documentary (co-directed with Tim Hetherington), was nominated for an Academy Award and won the Grand Jury Prize at Sundance. Junger has since produced and directed three additional documentaries about war and its aftermath. Junger is the founder and director of Vets Town Hall.