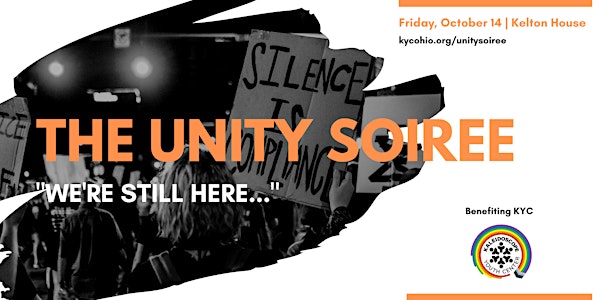 The Unity Soiree
Join Kaleidoscope Youth Center on Friday, October 14th, 6-8pm at the Kelton House Museum & Garden, in support of LGBTQIA+ youth in Ohio!
When and where
Location
Kelton House Museum & Garden 586 East Town Street Columbus, OH 43215
About this event
Over the past two years, we've seen upwards of 250 anti-LGBTQIA+ bills introduced to state legislatures, many in our very own state of Ohio. These ill-informed, biased, fear-based, and egregious attempts at governing are forcing public conversations discussing the private lives, bodies, and ultimately, the humanity of our youth.
Enough is enough.
Kaleidoscope Youth Center (KYC) stands for the humanity, dignity, and belonging of each and every young person in Ohio and beyond; and we are committed to disrupting that which causes harm.
There are many working hard to silence and virtually erase our existence, and yet…we're still here!
Join us on Friday, October 14th, for an evening in community, as we celebrate how far we've come. Stand with us as we continue to do the work necessary to create the world we know is possible.
Additional Details:
MC'ed by The Buckeye Flame Editor, Ken Schneck, The Unity Soiree will feature music from Urban Strings, a Keynote address from 2022 KYC Community Freedom Fighter Award honoree, LuSter P. Singleton (He/They), a traveling exhibit from the Gay Ohio History Initiative (GOHI), the announcement of our Andrew Levitt Spirit of Kindness honoree, a 50/50 raffle, plus so much more! Plus, complimentary food and drinks, and dessert from Plenty O'Cookies!
ttire is casual, but you're encouraged to wear your favorite advocacy-related shirt, hat, pin, etc!
There will also be plenty of opportunity to support LGBTQIA+ youth across Ohio, including a silent auction, 50/50 raffle, and more!
—------------------
The Unity Soiree is the cornerstone fundraising event for Kaleidoscope Youth Center. 100% of proceeds raised during this event will support LGBTQIA+ young people across Ohio.
Special thanks to our 2022 sponsors, including:
Bath & Body Works Foundation
Big Lots Foundation
Edward Jones Financial Advisor David C. Cunningham, CFP, ADPA
Kroger
Nationwide
Abbott
Julie Cline
Pathways Financial Credit Union
EY
Mandate to Elevate