The Ultimate Year Workshop 2020 - Goal Setting, Pr
About this Event
Gain 2020 Vision and Have Your Ultimate Year! Transformation Specialists Scott Epp, Nicole Epp, Luke Ashcroft and Greg Beech invite you to Your Ultimate Year Workshop!
This year we also have a Musical Special Guest. Rising Australia Music Artist Billy Otto who will be playing 2 live sets of music.
A lot can Happen in a Year
In one year you may have found that you have gone through a lot of transitions and change. You may have had loss in some way or challenges in relationships, work, spirituality or more. Maybe, you've had a great year but you want to achieve new levels in 2020. Whatever your 2019 has been like, we encourage you to take the opportunity to be intentional about your future. Book off 1 Feb and Learn and Grow with us. How will it feel to look back at the end of 2020 and know that you really did have an ultimate year? It will feel amazing, won't it!
About this Workshop
The Ultimate Year Blueprint© was developed by Scott Epp in 2011 for his Abundance Coaching clients and now we run this workshop every year on the first Saturday after Australia Day.
More than a workshop, this is a mastermind. You will be motivated and inspired by the executives, business owners, professionals, people who care about their Health & Wellness and like-minded people who are already committed to attend. Network with winners, draw inspiration from their experience and motivation from their success.
Prepare to be inspired through our proven process that will help you create your vision board and plan your ultimate year based on YOUR priorities. The intention of this workshop is to create awareness, plan for success and take focused action.
This workshop will inspire and empower you to:
Discover your ONE Commitment for the Year
Learn the 7 Powerful Keys to Create your Abundance Mindset
Uncover the blocks and limiting beliefs that are holding you back from ultimate success
Navigate through The Ultimate Year Blueprint©
Mastermind with growth-minded inspiring people
Create your Ultimate Year Life Priorities©
Create your Ultimate Year Vision Board© ($50 Value) - We include white A2 size cardboard and 1000s of creative supplies of all kinds.
We include a professionally designed and printed Ultimate Year Journal© ($20 value) for your next 12 months and we will teach you the strategies and keep you accountable to your goals for the year.
Life is an adventure with obstacles, challenges, and incredible possibilities. We know that most people would love to live an epic life. This workshop is your opportunity to spend a focused day that has proven success in helping our clients create their ultimate years. Since 2011 our clients and workshop attendees have launched into their new year with new clarity, vision, inspiration and plans. These people have had ultimate success by getting married, starting families, buying homes, changing careers, traveling the world, creating wealth, starting businesses and restoring their most important relationships.
You will create an inspiring graphical vision board and strategic plan for your ultimate year in the following areas:
• Your Health and Well-being Pillar of Life©
• Your Love and Relationships Pillar of Life©
• Your Work and Finances Pillar of Life©
• Your God and Spiritual Pillar of Life©
• Purpose and Meaning Epicentre©
Your ticket price is only $70 for General Admission (Early Bird Tickets are only $60 and are ONLY available until 1 January 2020.) All tickets include your Ultimate Year Journal and 1000's of vision board supplies that you can choose from to make your Ultimate Year Vision Board.
The Workshop is on 1 February 2020 from - 9:30am – 6:30pm (Registration starts at 9:15am) at The Juniors Malabar - upstairs in The Sky Room. The workshop starts at 9:30am. There is free parking on location and on neighbouring streets.
You will have an Ultimate Year! Get the right start and the right plan with the right people by attending this workshop!
To secure your seat book tickets on this page. If you want more information email Scott at scott@abundancecoaching.com or call 0481-307-778.
Meet your Leaders
We respect people of all faith traditions and want to let you know in advance about our faith. All of the workshop leaders have a coaching heart and their love for others comes from their foundation of their faith in Jesus. The presence of God is a catalyst in the peace, clarity, compassion, strategy, direction and transformation that is woven through your Leaders and The Ultimate Year Blueprint©. Scott Epp is the headline leader of this workshop and he specializes in empowering people to become their authentic amazing best! He is the creator of The Ultimate Year Blueprint©. Originally from Canada, Scott has over 10,000 hours of Professional one-on-one coaching experience and he has led 1000's of people around the world with his Keynote Talks and Corporate Training Workshops. Scott and Nicole Epp are the founders of Abundance Coaching and Breakthrough Corporate Training. As a married couple Scott and Nicole are Australia's Senior Life Languages Communication Coaches and they lead Life Languages Relationship Workshops. Nicole has been teaching and inspiring people around the world and she has a passion to see people live their full potential. Luke Ashcroft has over 25 years of Personal Training experience. He has trained celebrities, athletes, executives and more. Luke is the creator of the 21 Day Weight Loss Program, The Owner of OutX Fitness, Life Languages Communication Coach and Corporate Trainer. Read More about Billy Otto in FAQ 5.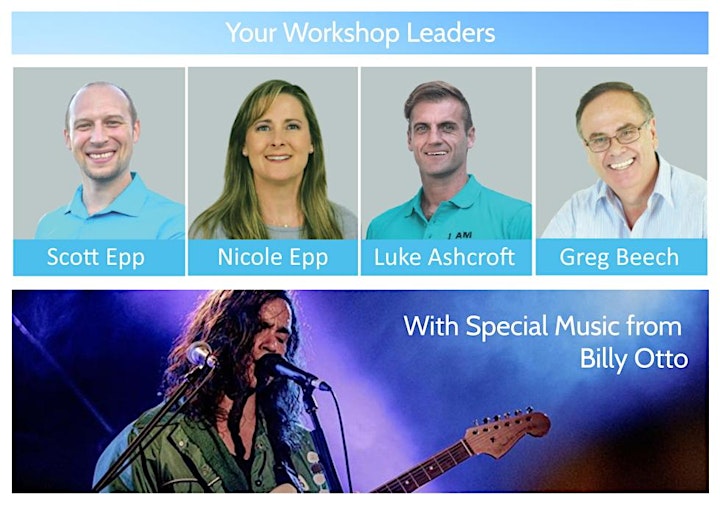 FAQ - 1: What are people saying about The Ultimate Year Workshop?
Great question! Let's hear some testimonies:
FAQ - 2: How does the workshop run?
Thanks for asking :) We answer this question in this video.
FAQ 3: Can you tell me more about the venue for this workshop?
The venue for The Ultimate Year Workshop is The Sky Room at The Juniors Malabar. The Sky Room has room for over 100 people with classroom style (tables) set up so that everyone has space to be creative and plan during the workshop. The Sky Room has a high ceiling, a lot of natural light and it looks out over Malabar Beach. There is plenty of free parking spots in the parking lot at The Malabar Juniors and on neighbouring streets. There are bus stops nearby as well. We will provide a free coffee and tea urn service during the morning but we do not include food/lunch. There will be a lunch breakthrough 12:30 - 1:30pm where you can go to the restaurant and bar in the venue or restaurants nearby or even go for a short walk to Malabar Beach. Unfortunately, there is NO elevator or wheelchair access for The Sky Room. Please call Scott (0481 307 778) if you have questions about this.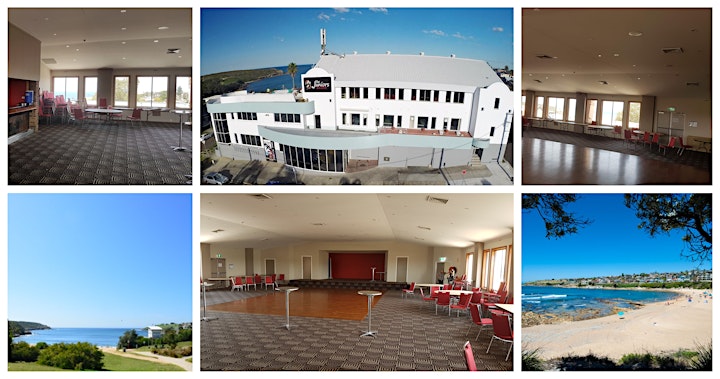 FAQ 4: Can you tell me more about The Ultimate Year Vision Board Activity?
This part of the workshop is so much fun. Through the day you will get inspiration, clarity and direction with your goals and priorities as well as strategies to stay accountable. The vision board is your opportunity to activate your creativity. Nicole Epp leads this activity and she is super creative. We have invested in 1000s of supplies. We're not just talking about magazines - we have everything from pictures, quotes, backing paper, scrap paper borders, foam boards, stickers, fancy paper and pretty much everything you need for inspiration. Buying these supplies would simply not be cost effective for one person but we have enough supplies for everyone that attends. We also include a white A2 size cardboard for your vision board base. The supplies and this activity is valued at $50. The Vision Board Activity is set to run from 4:30 - 6:30pm and we have the venue for longer is you need. Also , you will be entertained during this session as Billy Otto will be playing one of his music sets during The Ultimate Vision Board Activity.
Get inspired - people who have created their Ultimate Year Vision Board have lived what they envisioned!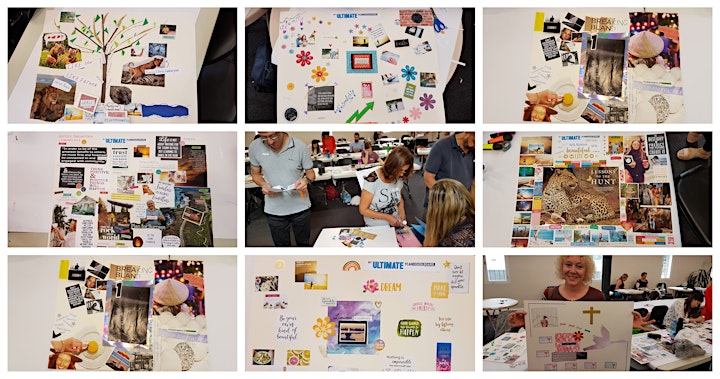 FAQ - 5: Can you share more about Billy Otto?
Billy will be playing 2 sets of music (one set after lunch and the second set during the Vision Board Activity.) The Ultimate Year workshop is inspirational and creative and Billy's music compliments the dreamer and creator in all of us. Billy is friends with Scott and together they are aligned with entrepreneurial thought, influencing people positively and their desires to make a difference in the world.
From the moment he starts playing it's evident that Sydney-based artist Billy Otto is a product of the Newcastle music scene. With his confessional lyrics, sun-drenched vocals and earnest desire to inspire his audiences, it doesn't take long to feel enamoured with the exquisite, ethereal sound he's crafted over the past seven years. Billy has traveled around the world, writing and performing across 25 countries. Time abroad enabled Otto to build a name for himself in international waters, returning home with dedicated fan bases in Brazil, U.S.A, Sweden and Japan. "The way I've built things is all word of mouth, social media, DIY shows and self curated events," Otto explains." In Chicago we would take over art spaces and loft apartments. One show I created was in collaboration with TOMS shoes. In Japan I launched my first album, Floating Now, at surf bars in Chiba and just made contact with a promoter through a friend who worked everything out at established coast vibe bars and cafes."My previous album got picked up on Brazilian radio and TV in Sao Paulo, and then the ball just started rolling. My last tour in Brazil was fire … taking over basketball courts and local town halls and theatres." If you find yourself sitting at work, school or on public transport with your eyes closed floating through a fairytale world where peace, love and harmony rule the elements, don't be alarmed… that's just the Billy Otto effect. Billy's song 'Can't take the Ocean Out of Me' is the featured song the #fightforthebite campaign accross Australia. He has also recently released his latest single 'Chemical.'
This song by Billy is called: 'Winter.'
Terms & Conditions
This is a goal setting, prioritising and personal development workshop led by Scott Epp, Nicole Epp and Luke Ashcroft. We make no claims that you will achieve your goals. You agree to grant permission to Scott Epp, Nicole Epp and Luke Ashcroft and Abundance Coaching Pty Ltd to use any footage or videos taken at this workshop for the purposes of advertising and marketing.
Gain 2020 Vision and Have Your Ultimate Year!
To secure your seat book tickets on this page. If you want more information email Scott at scott@abundancecoaching.com or call 0481-307-778.