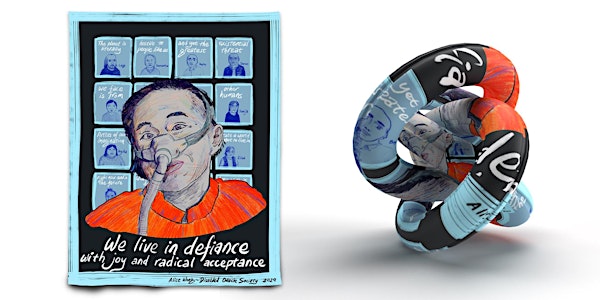 The Things We Made Next // Artists Talk
Topic: The Things We Made Next, future thoughts, today's possibilities
About this event
Alex K, our Keeper of Time, will transport us between the design states of 2021 and 2029. Hear from our curator, Elliat Rich and The Things We Made Next designers as they share their insights and reflections across time, space, politics and community.
Panelists: Alex K, Elliat Rich, Alison Page, Su san Cohn, Ella Cutler, tessa Zettel, Damien Wright.
Access: Discussion will be Auslan Interpreted, Live Captioned, and recorded with Closed Captions.
Lead Image Credits: Artwork on the left by Joshua Santospirito, image design on the right by Elliat Rich.
IMAGE DESCRIPTION On the left is a poster featuring an Asian woman from the shoulders up, wearing an oxygen mask over her nose and a bright red shirt, in front of a series of tiled, blue thumbnail illustrations of a diverse range of people. Below her in white writing on black backround is the statement 'we live in defiance with joy and radical acceptance'. On the right is a design object resembling bangles coiled infinitely around one another, made from the poster and picking up on the blue, black and red colours from the left hand image.