How are successful companies built? What are the characteristics of successful entrepreneurs? What was different in their endeavor?
About this event
These questions motivated us to invite successful Iranian-American entrepreneurs, who have all built category-defining tech companies, to share their stories from when they were a student until today. We will learn about their journey towards success and discuss how their experiences shaped their entrepreneurial path.
We are incredibly proud to have "Keyvan Mohajer" as our second speaker:
Keyvan is the Founder and CEO of SoundHound, an audio and speech recognition company that develops voice-recognition, natural language understanding, sound-recognition, and search technologies. SoundHound's Houndify Voice-AI Platform powers products by prominent companies around the globe, including Mercedes-Benz, Hyundai, KIA, Pandora, Mastercard, Deutsche Telekom, Snap, VIZIO, and Stellantis. Before SoundHound, Keyvan founded several companies starting at the age of 19. Keyvan has a Bachelor's degree in Electrical Engineering from the University of Toronto and Master's and Ph.D. in Electrical Engineering from Stanford University.
Zoom Webinar information will be sent via email before the event.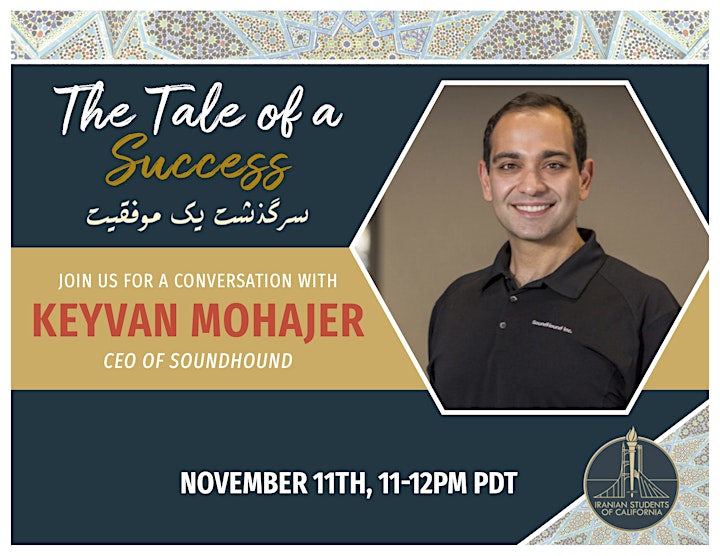 Organizer of The Tale of a Success with Keyvan Mohajer
The ISC is an independent, non-partisan, religiously unaffiliated, voluntary, collaborative coalition among Iranian Student Organizations from 10 universities across California (and growing), who have come together in an attempt to bring together students of Iranian heritage across the state through community-building, advocacy, and mentorship. We also wish to create a deeper integration of Iranian students with the Iranian community in the U.S. We strive to be a thriving student-led organization, focused on the betterment of academic, professional, and cultural experiences of Iranian students in California.