The Synchronicity Supercharger - How to See & Create More Magic & Synchronicity In Daily Life

Friday, March 11, 2016 at 6:30 PM

-

Sunday, January 12, 2020 at 11:30 PM (GMT)
Event Details
THE 28-DAY SYNCHRONICITY SUPERCHARGER - 
HOW TO SEE & CREATE MORE MAGIC & SYNCHRONICITY
A 28-DAY ONLINE SYNCHRONICITY ACCELERATOR PROGRAMME
WHAT IS THIS EVENT?
The first event was a Teleseminar/Webinar where I shared information about some of the 14 essentials to creating a more synchronistic life, and delving into a bit of the history and background to this phenomenon known as synchronicity.  If you missed the live call, a replay link and access to the mp3 download is below.
Launching in March 2016 is the 28-Day eCoaching Programme designed to help you bring these concepts and ideas to life with a series of Daily Exercises and a series of additional supporting processes.
HOW LONG WILL THE eCOACHING EXERCISES TAKE TO COMPLETE?
For those of you that know me, you also know that I am a Learning Strategist and that I teach PhotoReading and Accelerated Learning, so I have distilled the 14 Steps to Heightened Synchronicity down to the essentials and each eCoaching Exercise will require about 5 minutes per day to read and implement, 10 minutes if you want to make a meal of it.
WILL ECOACHING EXERCISES REALLY WORK?
Designed in alignment with my Magic & Gratitude eCoaching Programme, client feedback is below, I have found that these 14 and 28 day Programmes really do pack a punch and allow people to make a significant change and transformation in a short space of time.
WHAT ELSE IS INCLUDED IN THE ECOACHING PROGRAMME?
Alongside the Daily Synchronicity Exercises, there will also be a live Teleseminar and some additional clearing and meditation processes.
YOUR FREE INTRO TELESEMINAR RECORDING
If you missed the 75 minute Intro Teleseminar you can listen to the replay or download the mp3 recording here. No password is required. 
WHY SYNCHRONICITY?
Many people have been asking me recently about how I see or experience so many synchronicities in my daily life, and whether it's a process which can work for anyone.
My answer to that is 'Yes' I do believe the same stuff can, and most likely is happening for everyone, so during this live Teleseminar I will be sharing some of the background to what I believe synchronicity is, and looking at some of the ways that you can invite more of it into your daily life.  I was of course already excited about this Programme, and then I came across a quote from Deepak Chopra which reminded me of the power of being in flow with synchronicity and the additional benefits it can bring.  He said:
"According to Vedanta, there are only two symptoms of enlightenment, just two indications that a transformation is taking place within you toward a higher consciousness. The first symptom is that you stop worrying. Things don't bother you anymore. You become light-hearted and full of joy. The second symptom is that you encounter more and more meaningful coincidences in your life, more and more synchronicities. And this accelerates to the point where you actually experience the miraculous."
Deepak Chopra, Author, Synchrodestiny
HOW CAN YOU TAKE PART IN THE eCOACHING PROGRAMME?
If you are reading this Eventbrite page, you have the technology to be able to take part in the 28-Day eCoaching Programme.  You will receive a series of Synchronicity Supercharger eCoaching Exercises.  Each is designed to take around 5-10 minutes to complete, longer if you wanted to stay with the practice and use it like a meditation process.  There will also be a live Teleseminar which you can dial into by phone or listen in via online Webinar.
CAN YOU PROVE THE SYNCHRONICITY EXISTS?
It has a similar conversation this morning where someone was asking why people who are single and looking and doing 'all the right things' still hasn't met anyone.  My answer regarding synchronicity is similar to what I shared in response to that, part of which is that none of us really knows for sure which the grand design is, so I believe that it partly comes down to what you believe and what you put your focus on.
Because they often go unnoticed I started a page where I share some of those that happen to and around me: /facebook.com/the synchronicityfiles I've not captured them all because the recording of them would be somewhat like a full time job however you will get the gist of what I'm talking about.
I very much look forward to connecting with you if you can join us. 
WHAT DID I COVER DURING THE LIVE CALL/WEBINAR?
Things I'll be sharing and talking about on the call include:
What is synchronicity?

What are the origins of this phenomenon?

Is there a difference between synchronicity and coincidence?

How do synchronicities show up?

What are the ways in which you can get more of them to show up for you?

How can you become more tuned in to noticing them?

Does synchronicity work like the Law of Attraction bringing negative synchronicities if you are in a negative headspace?
I will also be answering your questions about this phenomenon.
WHAT DID THE INTRO TELESEMINAR PARTICIPANTS EXPERIENCE?
I had some amazing updates and messages both during and after the first live Teleseminar call
"This webinar is amazing & loving the synchronicity topic!" 
"You must stick with this programme - it is just so cool and deliciously gorgeous." 
"I'm so overwhelmed and uplifted!  Feels like weight off my shoulders. Thank you for the second session and following thro with the Huna clearing!!!  That was amazing -gobsmacked! Kept smiling! My intrigue question, answered! 
Hope to see you, in the future 
Love, Light & Blessings to you."


We also had some very cool things happening as a result of conversations before the call . . . . .

Ammana Shaka "I heard most of it but the synchronicity example I would have shared was the very thing that took me away from the call. ..on Friday at work I said out loud a few times that I was looking for a painter ...till I even said: "I'm just putting it out there and I'm sure it'll come back to me ...I kid you not ...not 20 mins later a colleague came back to her desk and said to me "Guess what I just saw on the notice board by the photocopier? ...a leaflet for a painter decorator...and he is based in your area Northolt....you couldn't make it up ...so he turned up at 7.10 this evening to give me a quote."

And some really cool stuff happening in the 15 minutes between the main Synchronicity Teleseminar and the start of the Synchronicity Meditation call . . . . .

"Thank you for the webinar and the Huna. In the break between the first and second session I went into our kitchen where my son was unpacking the dishwasher. He asked me if I knew where one of the knife covers was that had been missing for a couple of weeks I replied I didn't but it would be really good to find it. I then came back upstairs to sit at my desk and listen to the next session. There on the desk in front of me was the knife cover?????? I had been sitting at this desk most of the day and not seen it Not the most exciting of items but omg the synchronicities have already started. Thank you thank you thank you."

And, I think that all synchronicities are exciting, because they are such a wonderful indication that you are in flow with life, as part of synchronicity is about creating the space where your inner and outer world coincide in the most amazing ways.
CAN YOU REALLY CREATE A LIFE WITH MORE SYNCHRONICITY & FLOW?
Below is a summary of my Magic & Gratitude eCoaching Programme which has been running and changing lives for since 2013.  I knew that it was possible to create more magic and synchronicity in life so I wanted to know if it was possible to show other people how to do it much more easily.
The Synchronicity Supercharger Programme will follow a similar format and has been designed in the same way.
A small selection of feedback from some of the previous participants about how their lives changed, often with just days of starting the Programme. 
THE MAGIC & GRATITUDE PROGRAMME . . . .
A NOTE FROM OPRAH WINFREY ABOUT THE POWER OF GRATITUDE
Oprah Winfrey says in this Super Soul Sunday interview with Elizabeth Lesser:
"Practicing gratitude. I've said this many times, and I can't say it enough and I'm gonna say it again in case you didn't hear me the first time, or you didn't try it. Gratitude is the single best way I have ever discovered of changing your personal vibration. You can INSTANTLY do it with gratitude."
If you want to get on that path and learn how to instantly change your vibration and do it in a way that has proven to be fun, easy, and effortless, then do join us on this magical and life changing Programme and journey.
WHO CAN JOIN THIS PROGRAMME & WHEN?
This is both a Live Teleseminar* and eCoaching Programme.  Because you receive the daily Magic & Gratitude Practice Exercises via e-mail you can join at anytime from wherever you happen to be in the world as long as you have e-mail access.  
DOES AN ONLINE PROGRAMME REALLY DELIVER?
People have asked if you can really get a sense of magic, connection, and gratitude from an onlne group.  This is what is just one of the many similar posts from a member of the Magic & Gratitude Group:
"Thank you so much for these readings and for your positive and encouraging words!  I ended a week filled with happiness and positivity and hope and I am so, so ready and grateful to welcome more amazing greatness in my life. Just like the cards say, I too have a strong feeling that 2015 is a year of abundance of health, wealth and happiness !!!  I wish words could express how I truly feel, but the level of gratitude and excitement exceed the power of words  My WOW is THANK YOU, THANK YOU, THANK YOU  Wishing you all a great week and an amazing start of the year"
WHAT CAN YOU EXPECT TAKING PART IN THIS 28-DAY PROGRAMME?
I discovered from creating and running the first 28-Day Daily Magic & Gratitude eCoaching Programme back in February 2013 that this approach, although seemingly remote because it essentially takes place online via e-mail and Facebook, could still be life changing and deeply personal and impactful.  One of the members of the Gratitude Facebook Group recently posted this:
"Oh, guys, you have no idea how much I needed these last postings ... WOW ... I'm speechless, but extremely grateful ... It feels so good to be part of this group ... You all are amazingly warm special people. Strong individually, a force as a group! Thank you! Thank you! Thank you!" 
This is from someone who had never personally met the other people within the secret Facebook Accountability Group.  They went on to say: 
"The magic power of one's mind is beyond imagination if and only if there is both consistent belief and constant appreciation ... There is good in every situation, choosing to see it is the hard part, but once we learn to do so, giving thanks becomes first nature  ... I'm very excited by the Magic workshop and I thank you Marilyn for the time and effort you're putting into it for all of us."
People's dreams were coming true within a few short weeks of joining the eCoaching Programme:
"Wow Marilyn!  I am truly happy for Sonny and I am happy for myself, happy to be a part of your Magic circle. It is so wonderful to read how people's lives change in such wonderful way and mine will never be the same thanks to you my dear!!!  THANK YOU Marilyn Devonish the words could not describe how amazing, empowering. life changing and truly magical your course was!!  Please keep on doing your magical work. YOU are an inspiration. Big warm hug xxxx
God bless you Marilyn
Hugs and love" 
Ana Capone xx
Wishes were being granted:  
We had one member of the group focus on creating the finances to be able to take some time off to get their 'head sorted out.'  A couple of months later someone sent them a cheque in the post, out of the blue, completely unprompted, just so that they could do exactly that.  One of the things I hear most often from my clients is:
"Wow.  You are not going to believe this!" 
Career goals were being attained: 
One of my Gratitude & Magic Programme participants was focused on reviving part of their career.  As the miraculous changes unfolded this is what they had to say on some of those changes: 
" . . . . . More has evolved since then, but I can wholeheartedly recommend Marilyn's excellent coaching programme based around Rhonda Byrne's 'The Magic'. It is a simple, easy to follow and practical programme spread over a month which can deliver amazing results. Marilyn's supportive, holistic & experienced coaching combined with the simple exercises make for a fun, insightful & powerful coaching course, which (if followed) will deliver some remarkable results.  One of the very best programmes I have ever done, in large part, due to Marilyn's experience & combination of skills. Highly recommended."  BEN BROPHY
Lives were being changed within weeks of taking part in the Magic & Gratitude Programme: 
"I hope you don't mind, I just wanted to give you an update of my progress. 
Where to begin, Magic is happening everywhere - I am so much more aware of not just the big things that are happening but I'm stopping to appreciate the small magic that happens everyday. I'm also so enjoying telling people around me about the magic that they are creating. I've definitely been raising some smiles along the way and my comments are always appreciated, which makes me feel amazing.
Some HUGE manifestations this week and I can't wait to tell you when everything is signed and sealed. A few months ago I never believed it could happen." 
I know it sounds miraculous, and there are a ton of other stories just like this from participants on my Magic & Gratitude Programme, Mind Body Spirit Energy Fest Workshop, TranceFormation™ Programme, and Breakthrough Coaching Programmes. 
WHAT DO YOU RECEIVE EACH DAY?
Based on this now tried and tested model, every day for 28 days you will receive a Daily Exercise e-mail.  It will give you an overview of what you will be doing or focusing on that day.  That is followed by a step by step outline of what to do and how to put the exercise into practice.
An example is outlined below: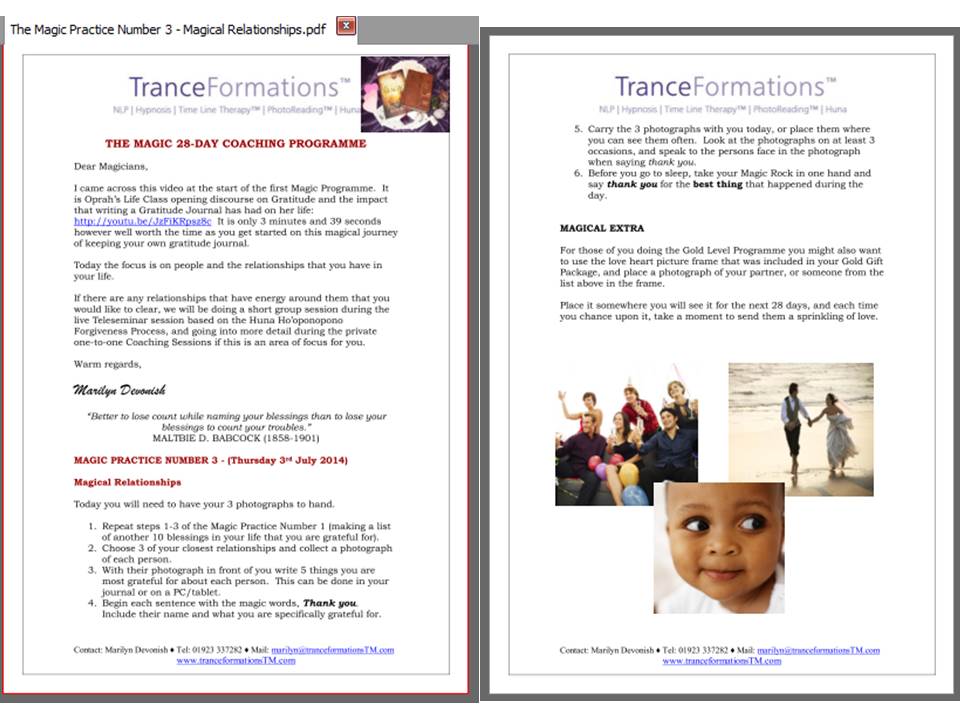 WHAT ELSE IS INCLUDED? 
There are 3 levels of participation available with The Magic & Gratitude Programme:
Basic

Silver

Gold
The Basic Programme includes:
The 28-Day eCoaching Programme delivered directly to your e-mail inbox.

Live Teleseminar Call (for those taking part in the March/April 2015 version).

Access to the private Lifetime Facebook Coaching Group.
The Silver Programme includes: 
The 28-Day eCoaching Programme delivered directly to your e-mail inbox.

Live Teleseminar Call (for those taking part in the March/April 2015 version).

Access to the private Lifetime Facebook Coaching Group.
A Private one-to-one 45-minute Coaching Session with Marilyn Devonish

Copy of The Magic book by Rhonda Byrne.
The Gold Programme includes: 
The 28-Day eCoaching Programme delivered directly to your e-mail inbox.

Live Teleseminar Call (for those taking part in the March/April 2015 version).

Access to the private Lifetime Facebook Coaching Group.

 
Two Private one-to-one 45-minute Coaching Sessions with Marilyn Devonish

Copy of The Magic by Rhonda Byrne

Copy of the Secret Gratitude Journal

Private Clairvoyant and Psychic Telephone Reading

The Magic Gift Parcel worth over £100 and counting . . . . .
Private one-to-one Sessions can be booked separately and are £150 per session and £190 for 90-minutes. 
The private Coaching Sessions are done via telephone or Skype.
If you have any further questions or queries e-mail: marilyn@tranceformationsTM.com
Have questions about The Synchronicity Supercharger - How to See & Create More Magic & Synchronicity In Daily Life?
Contact Trance Formations TM
When
Friday, March 11, 2016 at 6:30 PM

-

Sunday, January 12, 2020 at 11:30 PM (GMT)
Add to my calendar
Organizer
Trance FormationsTM offers Training, Coaching, NLP Facilitation, PhotoReading and Accelerated Learning & Development courses to corporations and individuals.
A pioneer in cutting edge change technologies, and with over 20 years industry experience, Trance Formations offers Coaching and Events that enable people to tap into their own innate potential.
Contact Information:
For details of PhotoReading one to one coaching sessions and corporate training courses, you can contact Marilyn Devonish on: 
Tel: +44 1923 337282
E-mail: Marilyn@tranceformationstm.com  Web: www.tranceformationstm.com