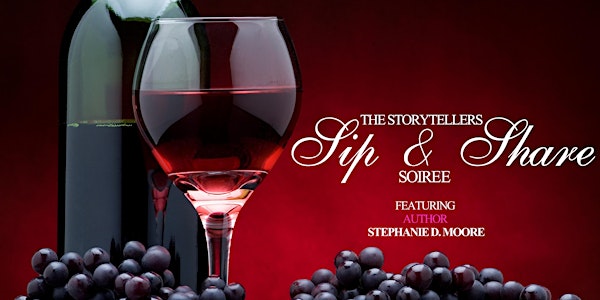 The Storytellers Sip and Share Soiree
When and where
Location
Smart Choice Tax Services 6723 East Shelby Drive Memphis, TN 38141
Description

"Oklahoma Author Stephanie D. Moore to Hold 'The Storytellers Sip and Share Soiree'
Wine Tasting and Brave Chapter Reading"
Contact: Stephanie D. Moore | 405.306.9833 | Moore@StephanieDMoore.com
Memphis – September 12, 2015
Stephanie D. Moore, Author of 'ECHOES: Tired, Worn Out and Over It, Ignoring the Echoes and Listening to God's Voice' to hold a special wine tasting and brave chapter reading at Smart Choice Tax Agency on September 27th from 4 – 7 PM.
Stephanie D. Moore is the owner of Moore Marketing and Communications in Oklahoma City. She is a campaign manager to a local attorney running for a state seat, a publicist to a national recording artist who recently recorded a song with Snoop Dogg and has just finished writing her third book.
In Echoes: Tired, Worn Out and Over It, Stephanie unwaveringly tells the deep, dark and gritty secrets of her past that most women would shudder to share. As the echoes of her past continue to haunt her and seemingly define her, Stephanie spirals down a path of self-destruction, self-hate and selfish desires. Tired, worn out and over it, she finally opens the Bible and discovers that God's Word has the power to not only save her, but transform her thinking as well. Her bravery and transparency combine to create an authentic road map for anyone to find Christ and self-love.
"My life has afforded me the opportunity to do a lot of things, some of the most tragic and horrific situations plummeted me into a future of greatness I couldn't imagine. No one I know would imagine a former gang member, former rape victim or former drug addict to become and do all that God has allowed me to do and be," says Stephanie.
Stephanie has created several community based programs. One program for teen girls called, 'She's a BOSSE (a BOSSE is beautiful oasis of success, style and elegance). The program holds annual etiquette cliniques and seasonal cliniques throughout the year on health, beauty, self-esteem and suicide awareness. She also has a similar program for boys called 'Grindaholix: Young Men on the Rise' and another for women called, 'KYSE: Kiss Your Self-Esteem'.
"Stephanie is such an inspiration. She's a fighter. She never gives up… She helps others get ready for where they are going in life. I am proud to be not only her client, but also her friend and biggest supporter," says Charmin Williams, owner of Core Connect Works.
The Storytellers Sip and Share Soiree will be held on Sunday, September 27th at the Smart Choice Tax Agency from 4 PM – 7 PM. For more information, visit www.stephaniedmoore.com.
###
Moore Marketing and Communications is a marketing and public relations firm dedicated to helping clients share targeted messages in a unique way. We also help our clients become an authority in their field by utilizing new and traditional media via strategic plans. Marketing services we offer include but are not limited to graphic design, web design, social media messaging and brand management. Stephanie has worked in various traditional media (television/print/web) forums for more than 10 years. Oklahoma City is a Nielsen #41 Market.
Moore@StephanieDMoore.com (405) 306-9833 @thatprchick