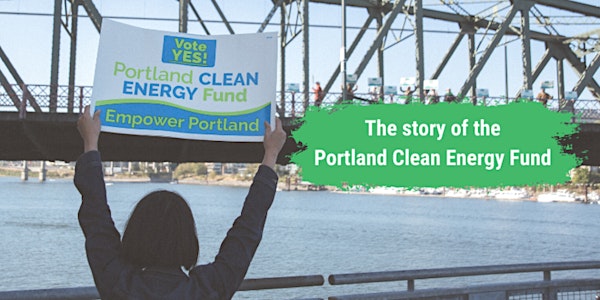 The Story of PCEF: From Campaign to Implementation
Join us for a webinar to explore the story of the Portland Clean Energy Fund ballot measure initiative from campaign to implementation!
By Just Solutions Collective
Date and time
Friday, January 7, 2022 · 1 - 2pm PST
About this event
In 2018, Portland voters overwhelmingly approved the Portland Clean Energy Fund (PCEF) ballot measure initiative, establishing a permanent climate justice fund that raises $60 million a year for energy efficiency projects, renewable energy projects, job training and apprenticeship programs, that prioritize low-income and BIPOC communities that have been excluded from the green economy.
If you're interested in learning more about PCEF and exploring how you might be able to replicate or adapt this model for your own context, this webinar is for you! In this webinar, we'll hear from community organizers who helped lead the campaign, as well as from city staff and community members who have been implementing PCEF.
Some questions we'll explore include:
How was the PCEF coalition and policy built and what were the values that held it together?
What lessons have been learned about both the campaign and implementation?
What would it take to replicate this model in your own context?
How has the PCEF campaign and now the implementation of PCEF helped BIPOC/frontline community-led orgs build political power?
Presenters
Khanh Pham, co-founding leader of PCEF coalition; State Representative for Oregon House District 46
Anissa Pemberton, Coalition of Communities of Color, Environmental Partnerships Manager
Jaimes Valdez, City of Portland, PCEF Org Development and Policy Manager
Maria Sipin, PCEF Grant Committee member