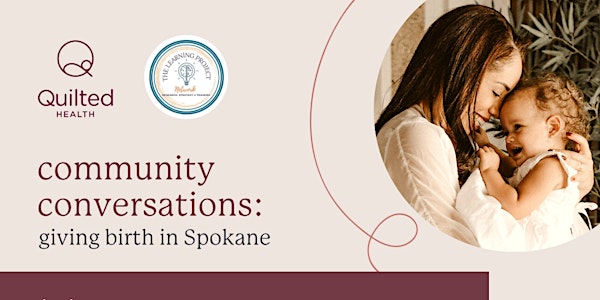 The State of Birth in Spokane: Community Listening Session
We invite you to participate in community listening session about the current state of birth in Spokane!
When and where
Location
Spokane Public Library - Central 906 W Main Ave Spokane, WA 99201
About this event
The Learning Project Network (TLPN) and Quilted Health (QH) are hosting a community listening session to learn more about the current state of birth for communities in Spokane. We are looking for all birthing people, parents, providers, and community partners to share their thoughts, experience, and solutions for change -- join us!
In preparation for the listening session, how would you answer the following question: If you could reimagine, what would you want pregnancy and birth support look like in Spokane for birthing people?
TLPN and QH are interested in hearing directly from the community about the following:
Discussing and designing solutions to address the overarching needs for birth support in Asheville
To better understand existing resources available to BIPOC birthing people
Areas for growth and solutions for improvement
Please bring your ideas, questions, thoughts, and feedback about emerging community needs and your experience. Participants will receive a $25 gift card for their participation.
Food will be provided, kids are welcome. Please include the childcare supports and dietary preferences needed when you register.
For more information, Erin Lee at (360)209-4458 | erin@quiltedhealth.com.
Sign language and interpreter services will be provided upon request with notice as far in advance as possible. If these or other accessibility accommodations are needed, please call Erin Lee at (360) 209-4458.