About this Event
Creating Your Company Culture and Building a Green Team
A sustainable business should have the support and approval of its employees, stakeholder and the community it operates in. Sustainable businesses treat employees fairly and are a good neighbor and community member, both locally and globally. This session is particularly important for start-ups and small business as they are just starting to create their company culture and policies.
Topics Covered
Creating your corporate culture – your Green Team
Diversity, Inclusion and Equity
Company benefits
Community Engagement
Global Considerations, Supply chain
Impact on Society
Content
How to create a Green Team and what does it do. Team of one, no worries – how to leverage associations and community partnerships to build capacity
Focus on benefits and retention: parental leave, flex/remote work, engagement, work for a business with a purpose
How to be a good neighbor and community member – volunteering, giving back, local hiring, empowerment zones
Different viewpoints: Why diversity and inclusion can help your business succeed and grow
The supply chain and global considerations – what you need to know and why it matters
Know your product's impact on society– Human rights, animal rights, public safety and well-being
This workshop is the fourth in a series of sustainable business workshops. Other topics such as governance, ESG, marketing and social entrepreneurship will be covered in the remaining workshops. You may attend one, a few, or all of the workshops and can view the full schedule below: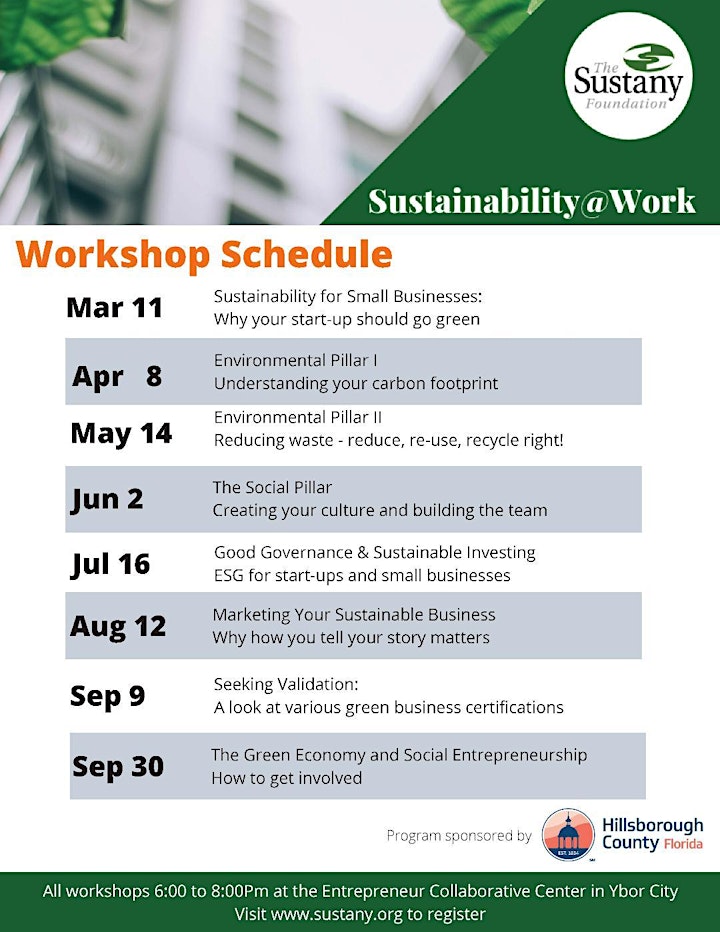 About the Program
Sustainability @Work is a series of workshops designed for start-ups and small businesses interested in learning more about how to become more sustainable and why it is not only important, but profitable. Each workshop will cover an important aspect of becoming a sustainable business.
The workshops are designed as stand-alone sessions and attendees may choose to attend one or all of them depending on their particular challenge or interest. The program is also designed to work as a cohesive series so a participant attending all sessions will be well prepared to create a comprehensive sustainability plan or work towards one of many certifications in the industry upon completion.
Attendees who are interested in pursuing a certification or getting a more formal assessment are eligible to apply for a free one-on-one consultation.
THIS PROGRAM IS MADE POSSIBLE WITH THE GENEROUS SUPPORT OF HILLSBOROUGH COUNTY GOVERNMENT