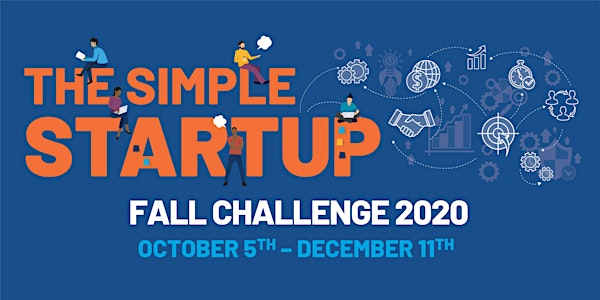 The Simple StartUp Fall Challenge 2020
Help your 10 -18 year old learn life skills that matter by starting a business over a 10-week entrepreneurship program.
Refund Policy
Contact the organizer to request a refund.
Eventbrite's fee is nonrefundable.
About this event
Gift Your Teen Future-Proof Life skills
This Fall, give your 10 -18 year old the gift of life skills that are the hallmarks of entrepreneurship that will remain relevant and life-changing no matter how Artificial Intelligence develops, or what happens in the global economy.
Help your child be ready for their future by arming them with the ability to think creatively, solve problems, and secure their financial future.
What Your Child Will Accomplish
By the end of the 10-week digital course, your child will have a business that will begin to earn an income. They will also be equipped with the financial lessons to manage and grow that income responsibly.
What They Will Learn That They Won't Get In School
At The Simple StartUp Fall Challenge, your child will be guided through how to start a business of their own using The Simple StartUp model, as well as learning how to start and running their first business.
It's Project-Based Learning taken to the next level, where your child will learn actionable life-skills to captain their own enterprises, but also, chart the course of their own lives.
The skills they will hone include:
Identifying problems and then proposing solutions
Breaking down a solution into a series of goals and actionable steps
Organizing themselves to fill different roles within a business
Planning for expected and unexpected events, both financially and logistically
Analyzing themselves to find strengths and weaknesses. Then moving to capitalize on their strengths while improving or minimizing weaknesses.
Designing a viable product or service with a little to no startup cost involved
Researching an idea and producing usable data to support the desire for a product or service, or the need to change aspects of the idea to cater to the market.
Find ways to fulfill the needs and wants of customers through being flexible and dynamic in their approach.
Work on communication, orally, written, and with body language
Explore different ways of determining value and using this to construct a pricing model
Learn how to bring value to customers to create a desire to purchase their idea.
We will wrap up the fall challenge with a business pitch where participants can share their business, what they have accomplished so far, and how they plan to grow for the future.
How to Reserve Your Child's Spot
Because I want to be able to offer individualized attention, we need to limited the number of spots available in the course.
If you would like to register, please reserve now with EventBrite.
Early Bird Promo!
If you register by August 31st, get $10 off of your registration! Early birds get the savings. Use the code EARLYBIRD10 during registration.
When, Where, and Other Important Details
October 5th - December 11th.
Online! There will be 1 video lesson and 1 Live Webinar Session each week.
Registration is $80 (unless you register early and save!)
Open to all residents of the US and Canada only for now
Included in your registration:
A copy of The Simple StartUp: A Beginner's Guide To Starting A Business [student edition]
Access to all lessons and webinars (including replays)
Individualized feedback and responses to questions from Rob Phelan
FAQs
When will the live webinars be happening? And what happens if I can't make it then?
The webinars will be on Thursdays at 7PM EST for about 30-60 minutes depending on the number of questions from business owners. Each webinar will be recorded and emailed out to all course participants to watch back or catch up on if the live event had to be missed for any reason.
Will I be able to complete this course if I am in school during the Fall?
Since school is going to look very different this year compared to previous years, I wanted to create a digital course that could fit into everyone's schedule. With one video lesson per week and one webinar which will occur after school hours, the course should be able to fit into your schedule. You also have the flexibility to commit as much time as you would like to it. The business idea you choose will dictate the time needed to build your business.
What do I do if I am planning on a vacation during the course?
Totally ok! The video lessons will be emailed out on Mondays, and can be completed at your own pace, though the experience will be most effective if business owners are keeping up with the pacing of the course. Lessons can be watched and then activities completed whenever there is space in your schedules. The webinars will be recorded and can be watched back at a different time if being on the live stream is not an option. If you can devote small chunks of time to working on your business during vacation, great! If not, not big deal, but you'll need to try and catch up as fast as you can when you get back!
What is the time commitment like for this course?
Each video lesson will be around 30 minutes in length and will have activities to go with them that will help your business develop and grow. Webinars will be between 30-60 minutes and may have calls for action depending on the questions asked and topics for the week. After that, it comes down to personal motivation and drive. The more productive time you put into a business, the more success you are likely to experience.
Why I am the right person to help your teens fire their imaginations and discover their entrepreneurship power.
Hi everyone! My name is Rob Phelan and I will be your teen's guide through this summer experience. On top of being a high school personal finance and math teacher, I am part of the ChooseFI International Foundation Personal Finance Curriculum team, a NCFE Certified Financial Education Instructor, and the author of The Simple StartUp: A Beginner's Guide To Starting A Business.
I am the perfect person to help your kids become entrepreneurs and here's why:
When I was in 10th grade, my business studies teacher ran an entrepreneurship project that probably had the biggest impact on my education to date. It is one of my clearest memories from high school and the one I go back to when I am asked for my most influential life moments. In this project, two of my friends and I started a baking company where we sold cookies, brownies, and slices of cake to the students and staff in my school. Over 8 weeks we made over €500 (did I mention this was in Ireland?!) and acquired priceless skills and experience in the process. So I've been there. I've been a teen who started a business with no prior business experience or knowledge. My parents are both employees and did not own their own businesses at the time. All you need is some guidance and encouragement.
Once I became a personal finance teacher later in my career, I came back to the lessons I learned in my own school experience and I became driven to share the benefits of entrepreneurship with my students. Since starting, I have guided the creation of over 60 student businesses which have actually started and generated income. Some of them have even gone on to compete at local and state competitions!
What I quickly realized was that I was not alone in this desire to share entrepreneurship with our school-aged youth, and most personal finance curricula existing at the time did not include entrepreneurship as part of the course, even though increasing your income is one of the core pillars needed to improve your financial well-being and pursue Financial Independence. I was motivated to create a resource that could help parents and teachers bring the experience of an entrepreneurship project to their teens, and The Simple StartUp was born.
The Simple StartUp was published in February 2020, and has already begun impacting the lives of teens around the country (and some adults too!). Now I am even more passionate about getting out there and helping to change the lives of the youth in this country through my work with the ChooseFI International Foundation and The Simple StartUp.
This summer experience is a way for me to help parents at home, who maybe don't have the time, resources or interested school district, to give their children a chance to start their own business and learn the multitude of life skills and professional skills that come as a result. What is most exciting for me is I get to leave the confines of my classroom and work with students from all across the country.
I'm so excited to see what your child can create.
You can email me with any questions at rob@thesimplestartup.com.
Testimonials
The Simple Start Up business camp was full of information and helpful for starting a business. I would give this a ten out of ten. - Aleah (participant)
Great class. I learned about things I didn't even know I needed to start a business. Rob teaches you to evaluate your product and customer just like larger businesses run by adults. - Becky (participant)
I'm glad this camp gave me an opportunity to show me how I can make money in a way that I want to. Even though I haven't made a sale in the time frame of the camp that doesn't mean I should stop trying and I won't. I found with most video lessons I had trouble retaining everything that was said but that could just be me. Overall, I think this camp is a great way to start a business for anyone who's interested. – AJ (participant)
This camp gave me the skills and encouragement that I needed to start a jewelry business. I was able to become profitable and raise money for a non-profit! – Marina (participant)
It was fun and taught me a lot. – Dylon (participant)
I really liked the Simple Startup. It helped me learn how to start a business, and everything that comes with that. It gave me more appreciation for all of the entrepreneurs in the world. I liked making the postcards for my postcard making business, Postcards By Ella Rae. It was also interesting to learn about the money aspect of my business. I had fun, and thank you for this experience, Rob! – Ella (participant)
I really enjoyed this camp it was an amazing experience and I plan on using all that I learned to make my simple start up better. – Charlotte (participant)
About the organizer
The Simple StartUp's mission is to help first time entrepreneurs learn the knowledge and skills needed to start a business through simple business projects.