Actions and Detail Panel
The Seeds of Our Future: AgTech and the Connected World
Mon, Apr 3, 2017, 7:00 AM – Thu, Apr 6, 2017, 5:00 PM PDT
Description
Silicon Valley Forum is thrilled to welcome you to the 2017 AgTech Immersion Program—a one-of-a-kind opportunity to learn about some of the hottest topics in the agriculture industry today, right from the heart of tech innovation in Northern California.
Held from April 3rd-6th, 2017, the AgTech Immersion Program includes four full days of activities with leading AgTech companies. Topics and site visits will including automated farms, food safety and traceability, controlled environments, UAV, and much, much more. Program attendees will have the opportunity to meet and network with peers, prospective clients, and industry experts. The immersion program concludes with Silicon Valley Forum's AgTech conference on April 6th, where industry leaders will discuss AgTech's potential to connect and change the future of food—as well as the challenges and opportunities that lie between the world we know and the future we hope for. #SVAgTech17
PROGRAM INCLUDES:
• 9-12 pre-arranged activities (visits/talks/meetings)
• Transportation to all locations
• Lunch and snacks during the immersion days
• Admission to full day AgTech conference on April 6th
Please note: Arrangement and payment of hotel accommodation is the responsibility of the participants. For information and a list of hotels close to the pickup location, please email Klaus Wehage (klaus@siliconvalleyforum.com).
WHY PARTICIPATE?
• Learn about the latest tech trends in AgTech
• Meet key industry stakeholders
• Gain connections to the Silicon Valley ecosystem
• Compare notes with fellow peers, sharing insights and business cards!
• Listen to prominent speakers in the field of AgTech innovation
• A chance to featureyour company at a demo table at the AgTech Conference on April 6th
• Opportunities to speak on a conference panel - contact Klaus for more details!


SPEAKERS (more to be announced!)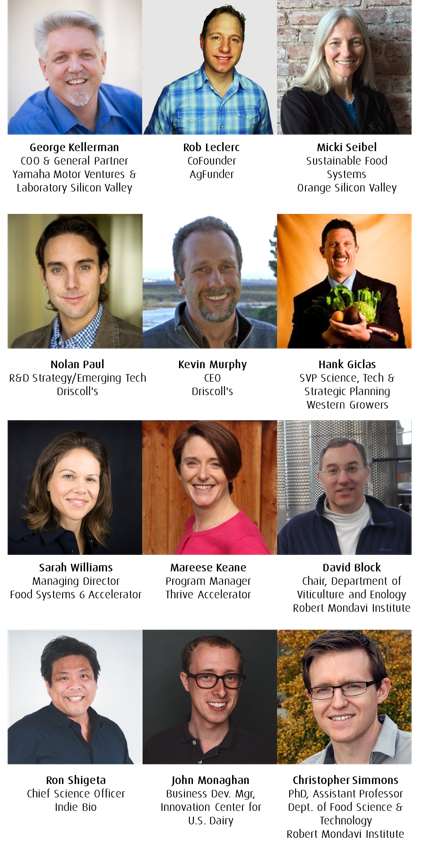 AGENDA- Click to Enlarge
subject to change


Accomodation Recommendations
For your comfort and convenience we recommend booking hotel rooms close to the pickup location at the historic InterContinental Mark Hopkins Hotel. The hotel is conveniently located a short 10 minute walk from Union Square.
The bus will leave ON TIME, so we kindly advice you to be punctual. Below, please find our top three hotel recommendations as well as a map (with address) showing the pickup location on all four days.
• InterContinental Mark Hopkins on 999 California Street, San Francisco (Exact Pickup location) - Insert dates and discount will be applied

• Galleria Park Hotel on 191 Sutter St, San Francisco (13 minutes walking distance to pickup location; 5 minute car ride) - Galleria Group Code: SILICON

• Triton Hotel on 342 Grant Ave, San Francisco (11 minutes walking distance to pickup location; 4 minute car ride) - Click Link and it will direct you to the dates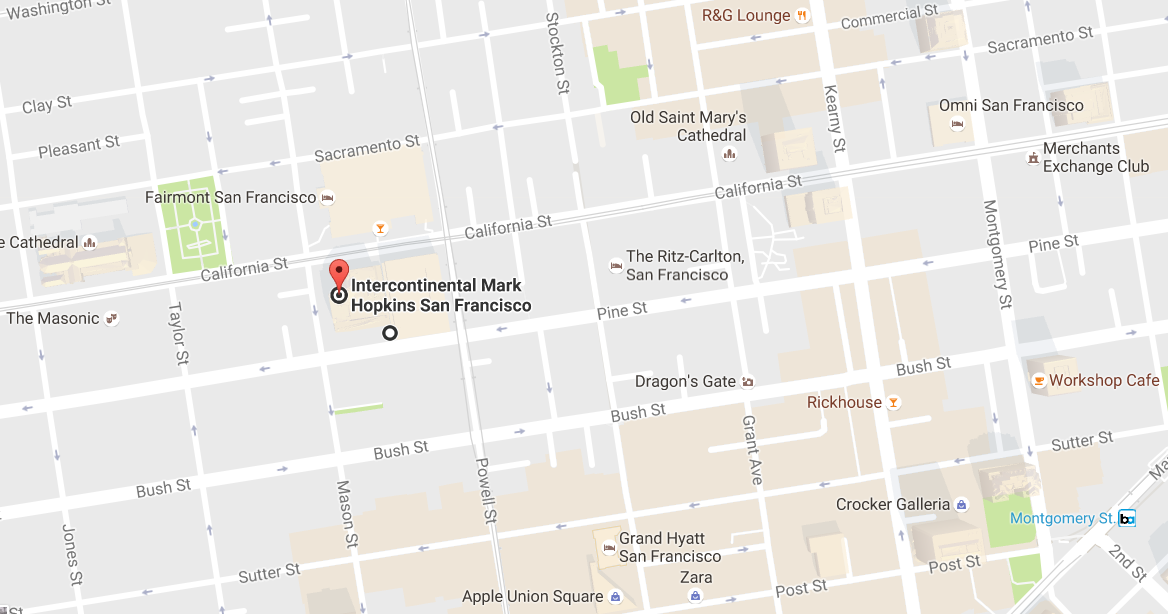 Premier Partner

Hosting Partners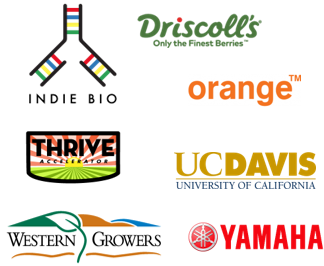 Community Partners

---

For the best in Silicon Valley events.