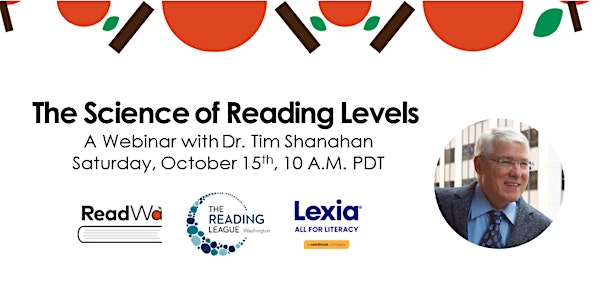 The Science of Reading Levels with Dr. Tim Shanahan
Dr. Tim Shanahan will present The Science of Reading Levels on Saturday, October 15th, at 10:00 A.M. PDT.
About this event
Read Washington is thrilled to present our next live webinar, The Science of Reading Levels, with Dr. Tim Shanahan, sponsored by The Reading League Washington and Lexia Learning. Join us on Saturday, October 15th at 10:00 A.M. PDT.
For more than 70 years, educators have espoused and adhered to the idea that students need to be taught reading at their so-called "instructional level." The idea was that if texts were too easy or too hard for students, then they would not make optimum gains in learning to read. On the other hand, if placed properly in the right text levels (levels at which they could read with relatively high degrees of reading fluency and comprehension) then learning would be expected to progress at an appropriate pace. This approach had led to widely used assessment and instruction regimes that have turned out not to be in line with a "science of reading." This presentation will explore how we got here and what the research says that we should be doing in terms of monitoring student reading progress, text levels, and teaching students to read text.
Timothy Shanahan is Distinguished Professor Emeritus at the University of Illinois at Chi­cago where he was Founding Di­rector of the UIC Center for Literacy. Previously, he was director of reading for the Chicago Public Schools. He is author/editor of more than 200 publications on literacy education. His research emphasizes the connections between reading and writing, literacy in the disciplines, and improvement of reading achievement.
Tim is past president of the International Literacy Association. He served as a member of the Advisory Board of the National Institute for Literacy under Presidents George W. Bush and Barack Obama, and he helped lead the National Reading Panel, convened at the request of Congress to evaluate research on the teaching reading, a major influence on reading education. He chaired two other federal research review panels: the National Literacy Panel for Language Minority Children and Youth, and the National Early Literacy Panel, and helped write the Common Core State Standards. He was inducted to the Reading Hall of Fame in 2007, and is a former first-grade teacher.
This webinar will be recorded. Registration cost includes access to the webinar recording and presentation materials. Attendance of the live webinar will be limited to the first 1,000 participants to join the session. ALL registrants will receive the recording.
Your registration confirmation email will provide the Zoom webinar link.