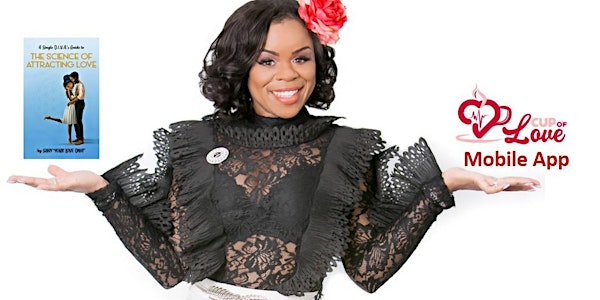 'The Science of Attracting Love' Book and 'Cup of Love' App Launch Party
Location
75 John Wesley Dobbs Avenue Northeast
Atlanta, GA 30303
Sales Have Ended
Ticket sales have ended
Thank you for registering! Doors open at 2:30p. Please arrive early to get a good parking space. If you have a free ticket and will not be attending, please email us at shaybetterllc@gmail.com so that we can make room for another guest. You are in for the time of your life and we look forward to seeing you.
Description
This book and app launch party will be unlike any launch you've ever experienced! If you are single, unhappily commited or tired of dealing with the drama of dating, join us for this free event! There will be a DJ, Wine & drinks, food, entertainment and so much more! Shay Your Love Diva will share her journey in a heart jerking, powerful talk that is sure to touch your mind and heart. Get tickets today before we are sold out!
About The Book:
I have been shot in the chest, had a heart attack at 30, almost died in 
childbirth, and unknowingly married a married man; however, my most challenging life lesson was learning how to heal childhood trauma and debilitating beliefs so that I could attract a healthy, whole, loving relationship -- and do it as a single, divorced mother of two! After extensive research on dating and relationships, in search of the secrets of attracting love, my life transformed when I went on a spiritual, self-healing journey while applying the advice in this book, so that I could attract the right man God selected for me. I married my soulmate, who happened to be my high school sweet heart and life long friend, two years later. In this book, I share this journey and the lessons I learned with you, and give advice mixed with old school rules, the science of human behavior, and the 
Law of Attraction to help empower singles seeking true love while navigating the dating scene.
This is the first dating advice book to provide the science behind the advice while presenting it from a positive-energy point of view. 
The world of singles need a metaphysical dating guide that helps single women attract healthy relationships while guiding them to avoid the pitfalls.
About The App:
The companion app, Cup of Love, was created to help peolpe seeking love and a better quality of life to stay in the power of attracting what they desire. The free application provides the user with daily affirmations that assist with the attraction process.
About the Author:

Shay Levister, also known as 'Your Love Diva', is a certified dating and relationship coach, author, and speaker with a thriving coaching practice. Shay has published magazine articles, and has been a guest on radio and television shows. She has spoken around the world and has coached several celebrity clients and helped them attract love.
Parking:
First come, first serve parking. Please bring $5 dollars for parking!
Doors open at 2:30p!
Get event updates at : https://www.instagram.com/shayyourlovecoach/