Multiple Dates
The Round: Elena Loper, Mike Sampson, Brittany Drew (IN-PERSON, DISTANCED)
Experience a new form of wellness event held safely at various venues around Seattle. Clear stress, refresh your mind, spark your creativity
About this event
The Round (192)
with Elena Loper (of Dravus House),
Mike Sampson (Dusty)
& live painter Brittany Drew
---------------------------------------------------
Safe, distanced, very small music and arts experiences
See COVID Safety Info at the bottom of this page under Abbey Arts Presents
Thanks for helping keep our community safe!
---------------------------------------------------
"In Dravus House, Elena Loper's honeyed vocals and intricate finger-style guitar are a perfect complement to Cooper Stoulil's emotive electric guitar picking. Together, they craft intimate compositions full of grace and elegant introspection. In Dravus House's music, Loper's vocals, songwriting, and guitar playing weave together with Stoulil's emotive electric guitar picking in the style of folk duos such as Gillian Welch & David Rawlings, the Weepies, and the Milk Carton Kids. Their sound is also influenced by Irish and American folk music, 20th century icons such as Joni Mitchell and Nick Drake, along with 90s alternative rock such as The Innocence Mission. According to sound engineer Johnny Bregar, 'Loper's unique melodic sensibility is reminiscent of Joni Mitchell and trans-Atlantic modality"' "
-Artist Bio
"[Dusty] is an alternative rock three-piece based out of Seattle, Washington. Dusty draws influence from Rock, Americana, Garage, Jazz, and many other styles."
-Artist Bio
"I am a Traditional Art and Computer Graphics artist who loves games, music, illustrated art, photography and the outdoors. These origins to my art influence me greatly.
My professional work thus far has been Texturing for Feature Films and Surfacing for Blizzard Entertainment's Overwatch Shorts. I have fun creating visual effects assets, game assets, and animation style assets. A different challenge is fun! "
-Artist Bio
Venue Preview: https://www.instagram.com/seattlewellnessevents/
@ Ballard Homestead, 6541 Jones Ave NW, Seattle
7p show, 6:45 doors open
All ages, seated
All attendees will be asked to offer Focus Group feedback after the show or via email.
--------------------------------------------------------------------------
About Seattle Wellness Events
Creative Spark (Experiences & Classes to boost creativity) brings you all new events adapted to historic spaces, and presented with all public health safety in mind.
Experience a new form of event held safely at various venues around Seattle. Clear stress, refresh your mind, spark your creativity with live music, multi-arts, yoga, sound baths, creativity classes, and more.
Bring your pod and enjoy a relaxing and very very small "house concert" type music experience with local LIVE musicians. Small groups will be distanced in a large space with many large windows open and all Public Health & safety guidelines followed.
Bring your quiet picnics and enjoy the show! Some snacks/nonalcoholic beverages may be available for purchase at the venues, but no other food or bar service at these shows, audience is welcome to bring quiet picnics.
Audience size will be in the 30 person range to start (below 25% capacity), in large spaces rated for 180-260 people normally. Various creative activities will be included in the lobby. Some shows may be hosted outdoors when noted and weather permitting.
Pods will be spaced out in chairs & benches. Tickets for tables are limited.
Please check your ticket for your seating.
More info via www.instagram.com/seattlewellnessevents
--------------------------------------------------------------------------
THE ROUND
has been held live in Seattle, WA (USA) every month for 192 months in a row and features local and touring artists
Music | Poetry | Visual | Collaboration
Songwriters/bands sharing their music, alternating with a poet,+ visual artists creating live.
All together to create a unique evening of high quality & collaborative arts.
www.abbeypresents.org and www.theround.org for more 
--------------------------------------------------------------------------
EVENT & VENUE INFO:
Please refrain from talking or texting during the show.
Please enter quietly if the show has already begun.
Please leave quietly, it's a very quiet neighborhood.
For ADA information at Ballard Homestead, please see www.ballardhomestead.org/rent or email arts(at)fremontabbey.org
--------------------------------------------------------------------------
ABOUT ABBEY ARTS, SEATTLE:
NONPROFIT 501C3, NON-RELIGIOUS, EST. 2005
Presenting welcoming music, arts & cultural experiences for people of all ages & incomes.
Home Venue: Fremont Abbey, 4272 Fremont Ave North, Seattle, WA 98103 / 206-414-8325 Ballard Homestead: 6541 Jones Ave NW, Seattle | + UHeights Auditorium, St Mark's Cathedral, & more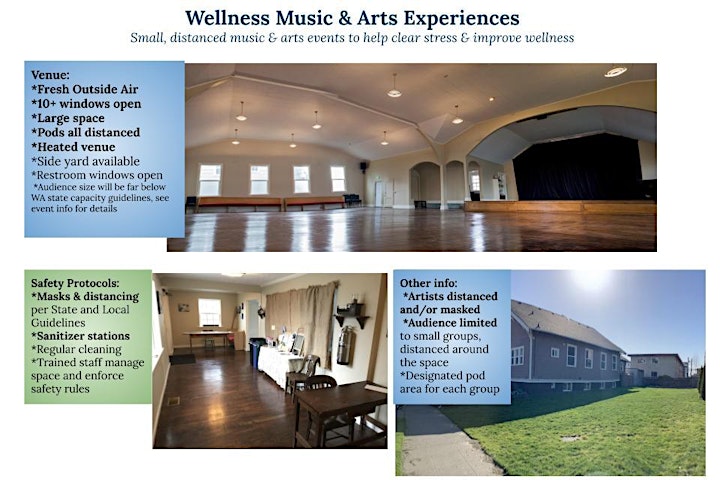 Organizer of The Round: Elena Loper, Mike Sampson, Brittany Drew (IN-PERSON, DISTANCED)
COVID Safety Info:
All state and local health guidelines must be followed
12+ windows open and lots of fresh air flowing
Musicians & attendees must pre-screen and be free of any symptoms
Masks are required for any indoor locations except when eating/drinking
Safe distance of 6 feet or more required for all participants/pods
Musicians will distance further when singing
Individual events may have additional safety measures in place
-----------------------
ABBEY ARTS, SEATTLE:
NONPROFIT 501C3, NON-RELIGIOUS, EST. 2005
Fremont Abbey | Ballard Homestead | St Mark's Capitol Hill | The Auditorium @ UHeights |  & more
Independent nonprofit, non-religious, all ages/incomes. 
Low Fee Tickets! No hidden high fees like Ticktmstr. :-)
  (Note: Comedy shows may have different ticketing fees)
[ Click here to subscribe to our optional text messages. ]
[The views and opinions expressed at events are those of the artists and performers and do not necessarily reflect Abbey Arts. About Page | Respect Policy.]
Refunds may be available per event settings.
No refunds due to support act changes.
Tickets for rental events may be via their website.