Learn the best practices that you can adopt today to build cloud solutions and easily launch a successful cloud business
About this event
Embarking on your journey to build a million-dollar cloud-ready business starts with building your co-sell partnership with Microsoft. Entrepreneurs, are you ready?
Join us on Friday, July 23 at 9:00am PST to learn the best practices that you can adopt today to build cloud solutions and easily launch a successful cloud business in partnership with Women in Cloud and Microsoft.
Ask your questions directly to the industry leaders and Women in Cloud entrepreneurs that have developed innovative cloud solutions for the enterprise ecosystem to understand best practices to uplevel your cloud business.
At this event you will learn:
How to get rapid access to Microsoft for Startups
How to get your product in front of the customer via cloud marketplaces
How to build a cloud solution for the enterprise ecosystem
How to get access to Fortune100 leaders
How to strategically partner with Microsoft
How to get access to Investors for enterprise solutions
How to get scholarships to participate as a Canadian company
Get access to the ultimate enterprise selling toolkit to kickstart your cloud business
Meet the Speakers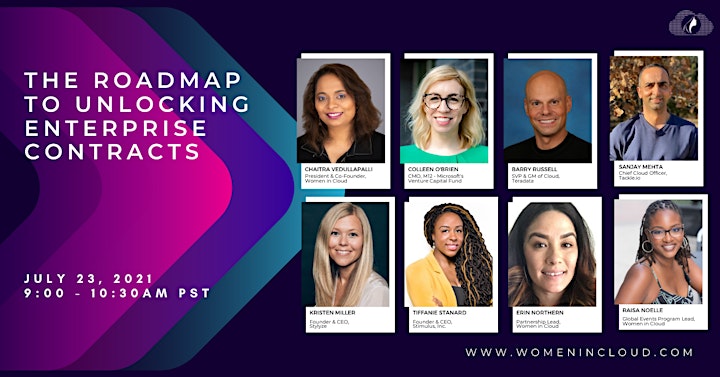 Organizer of The Roadmap to Unlocking Enterprise Contracts