Description
It's no secret that technology is transforming the building process from start to finish. Making it possibly to build smarter, with greater efficiency and effectiveness.
One area of innovation enabling this growth: Automation and Robotics. This includes the adoption of drones, machine fabrication, autonomous equipment, A.I. and machine learning.
At BuiltWorlds this April, we'll be examing these topics in comprehensive detail with some of their earliest adopters, including pioneering companies like Full Stack Modular, Piaggio Fast Forward, Construction Robotics, DIRTT and more.
Automation and Robotics isn't 10 years away. It's here now.
---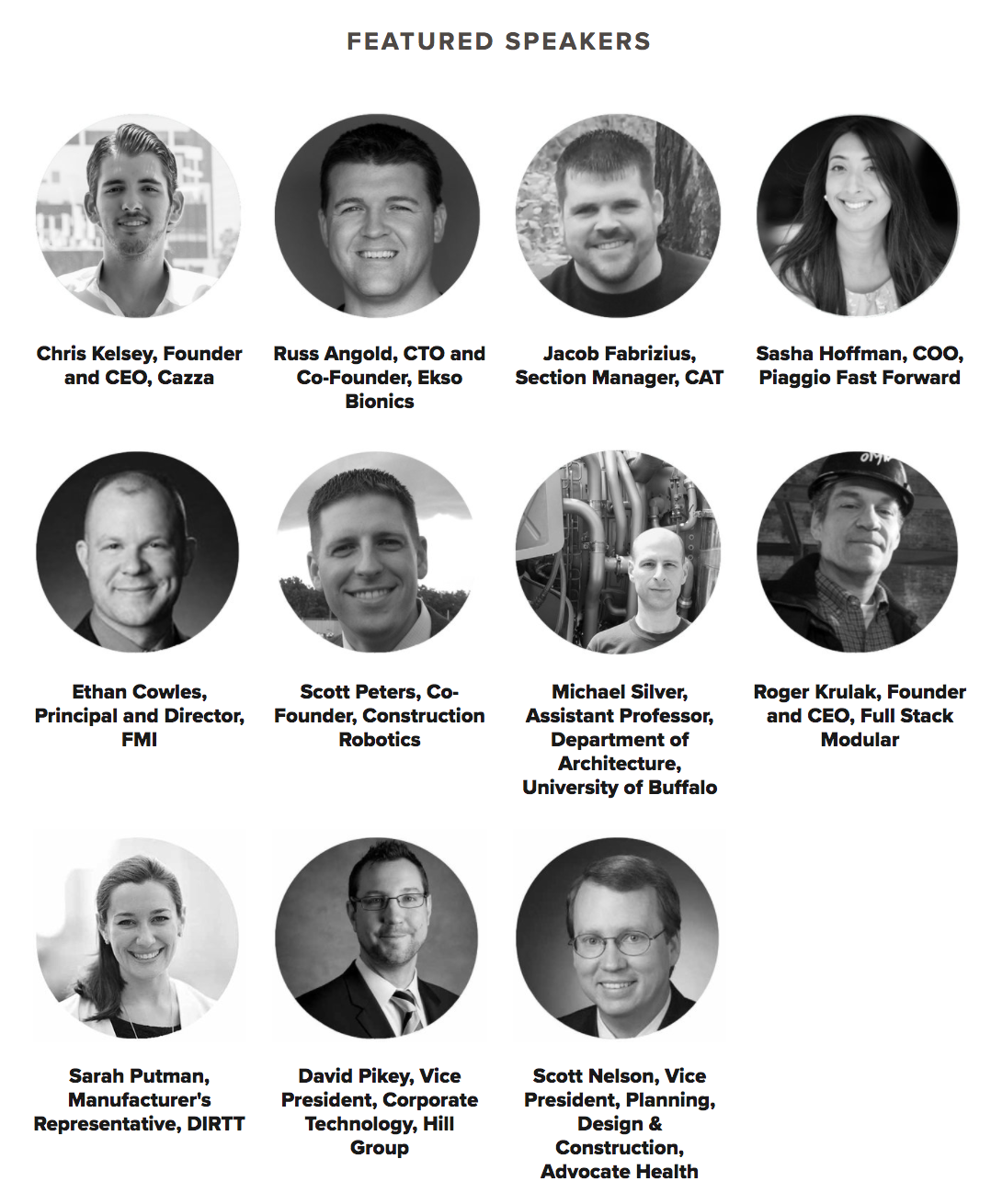 CONFERENCE SCHEDULE
Continental Breakfast and Networking | 7:30 AM – 8:30 AM
Opening Remarks | 8:30 AM – 8:45 AM
Topic: The introduction will focuses on the scope of the problem and highlights a few of the initial hints at a solution
Opening Keynote – Overview | 8:45 AM – 9:05 AM
Speakers: Chris Kelsey, Founder and CEO, Cazza
Topic: Chris will introduce his efforts to create the world's next-generation automated construction and 3D printing technologies to make construction faster, more cost-effective, and environmentally friendly. He will explore his recent work printing fully operational buildings in Dubai as well as exciting new initiatives currently underway.
Panel I – New Initiatives In Adjacent Industries | 9:05 – 9:35 AM
Speakers: Russ Angold, CTO and Co-Founder, Ekso Bionics
Jacob Fabrizius, Section Manager, CAT
Topic: Each speaker will spend ten minutes sharing their work with automation, 3D printing, and robotics. They will then participate in a moderated conversation that will explore ways in which these technologies have entered – or may enter in the future – the construction industry. In doing so, they will consider some of the barriers that might currently exist to entry, the challenges that must be overcome, and the ultimate horizon for a return on investment that might be made.
Panel I – Solo Presentation I | 9:35 – 10:00 AM
Speaker: Sasha Hoffman, COO, Piaggio Fast Forward
Break | 10:00 – 10:20
Solo Presentation I – Design Process, Software, Fabrication, and Construction | 10:20 – 10:40 AM
Speaker: Ethan Cowles, Principal and Director, FMI
Solo Presentation II – Automated and Robotic Fabrication, Assembly, and On-Site Installation | 10:40 – 10:55 AM
Speakers: Scott Peters, Co-Founder, Construction Robotics
Topic: Scott will discuss how Construction Robotics has developed SAM as a robotic bricklayer as well as a new product that will soon be brought to market. He will explore the process of creating the product, challenges of introducing the product to a traditionally conservative industry, and the success stories encountered along the way. In doing so, he will discuss new efficiencies that have resulted, some of the technological challenges, the effect that robotics has had on the labor force, and the next wave of development he sees taking place in the field.
Solo Presentation III - New Robotics Research Initiatives at University of Buffalo | 10:55-11:10
Speakers: Michael Silver, Assistant Professor, Department of Architecture, University of Buffalo
Conversation - Collaboration Between Construction Robotics and University of Buffalo | 11:10-11:25
Speakers: Michael Silver, Assistant Professor, Department of Architecture, University of Buffalo Scott Peters, Co-Founder, Construction Robotics
Panel II – Case Studies At Three Scales | 11:25 AM – 12:00 AM
Speakers: Roger Krulak, Founder and CEO, Full Stack Modular
Sarah Putman, Manufacturer's Representative, DIRTT
Dave Pikey, Vice President, Corporate Technology, Hill Group
Topic: This panel will explore modularization at different scales of the building. Dave will discuss the Hill's work prefabrication mechanical units in their fabrication shop as well as their work fabricating complete modular bathroom units. Sarah / Drew will discuss DIRTT's panelized modular systems, their fabrication techniques, the role of VR and software in the design process, and their strategy for install the work on site. Roger will explore his work building large modular apartment buildings with Forrest City Ratner and his new initiative, Full Stack Modular. Together, the panel will discuss how these initiatives come together in a completed project, the benefits that result, and the next steps they each see within the industry.
Closing Keynote | 12:00 pm – 12:30 pm
Speaker: Scott Nelson, Vice President, Planning, Design & Construction, Advocate Health
Topics: The conference will conclude with a keynote case study of how Advocate Health has used modularization and prefabrication in their projects with increasingly frequency over the last decade.
Closing Remarks, Breakout, Lunch, and Networking | 12:30 PM – 1:30 PM