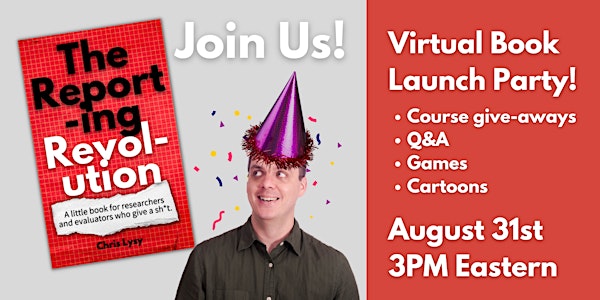 The Reporting Revolution - Virtual Book Launch Party
Join us on August 31st at 3PM as we celebrate the launch of my newest book, The Reporting Revolution!
About this event
Come join us for a launch party! We'll have fun with a Q&A, games, cartoons, and course/consulting giveaways worth hundreds of dollars.
About The Reporting Revolution
Why are we still reporting like it's 1999? Short answer: nobody cared about our work enough to force us to change. In this dangerous little book, data analyst turned professional information designer, and sometimes cartoonist, Chris Lysy attempts to lead his fellow researchers and evaluators out of the late 90s and into the present.
If a PDF report falls in a forest, and nobody posts about it on social media, will it be read?
The kind of stuff you'll find in this book:
The real reasons why people find our evaluation and research reports super boring.
Why we need to move from the noun report to the verb report.
The big 3 audiences we should serve with our reports.
Why we should leave the funnels to marketers and go for a splash instead.
Some actual modern reporting strategies.
How to reduce HiPPO problems.
How to fight the good fight with the status quo.
A pretty informal writing style with conjunctions and stuff that clearly shows no actual academic publisher was involved with the production of this book.
Lots of pictures.
A handful of cartoons.
Probably a few typos.
A coupon code that gives you a $99 companion course for free.
And more!