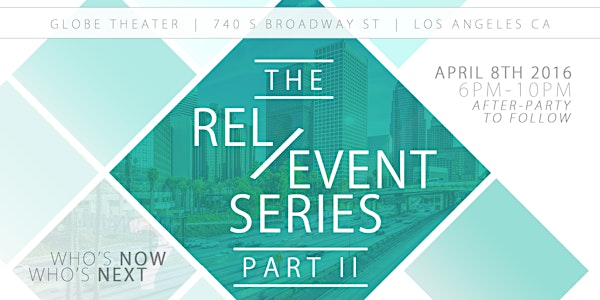 The Rel/event Series Part II (Hollywood Panel)
Event Information
Location
Globe Theater
740 South Broadway
Los Angeles , CA 90014
Description
Continuing our celebration of who's who in entertainment, The Rel/event series is back with Part II! Join us to connect with fellow creatives, get insight into the entertainment industry, and build relationships with Hollywood's most illustrious producers, writers, and casting directors
Join us immediately following at The Reserve in Downtown LA at 650 S Spring Street, Los Angeles, CA 90014.
from 10:00pm-2:00am with DJs Minh & Amy Pham!

SEATING FOR THE PANEL EVENT IS FIRST COME FIRST SERVED.
Lineup:
Film & TV Production (Moderated by Max Timm, Director of Community a Outreach at International Screenwriters' Association) :
-Tommy Harper, COO of Bad Robot, Executive Producer, "Star Wars: Episode VII - The Force Awakens," "Star Trek into Darkness," "Mission Impossible: Ghost Protocol"
-James Skotchdopole, Producer, "The Revenant," "Birdman," Brad Pitt's "War Machine," Executive Producer, "Django Unchained"
-Alex Ott, Co-Producer, "Suicide Squad"
-Kevin Clark, Executive Director, Association of Film Commissioners International
-Patrice Avery, Head of Studio/Producer at Halon Entertainment, "Jurassic World," "Avatar," "Hunger Games: Mocking Jay 1&2," "Star Wars: The Force Awakens," "Ghostbusters" 2016
-Adi Shankar, Film/Digital Producer, Bootleg Universe, "Power/Rangers" short, "The Grey," "Killing Them Softly"
Screenwriters (Moderated by Jen Grisanti of Jen Grisanti Consultancy):
-Doug Jung, Screenwriter, "Star Trek Beyond"
-Alan Wenkus, Academy Award-nominated Co-Executive Producer/Writer, "Straight Outta Compton"
-Joshua Allen, Story Editor, "Empire"
-Stephany Folsom, Screenwriter, "1969 A Space Odyssey," "Thor: Ragnarok"
-Frankie Lindquist, Literary Manager/Producer, Scooty Woop Elite
-Jason Seagraves, VP of Production & Development, Cross Creek Pictures ("Black Mass," "Pride and Prejudice and Zombies," "Black Swan")
Talent Representation (Moderated by Laura Prudom, News Editor at Variety Magazine):
-Joanne Horowitz, Manager (Kevin Spacey, Scott Eastwood)
-Ashwant Venkatram, Entertainment Lawyer, PeopleTree Legal
-Miles Cooley, Entertainment Lawyer, Kelley Drye & Warren LLP (clients have included Rihanna, Jay Z, 50 Cent)
-Carol Bodie, Manager, Art2Perform (Ruby Rose)
-Brittany Bell, publicist, Rogers & Cowan (clients have included Big Sean, O'Shea Jackson, Jr.)
Casting Directors (Moderated by Diane Gordon, freelance reporter, Variety, NY Mag, Vulture) :
-Gohar Gazazyan, Casting Director, "The Walking Dead," "Gotham," "Halt and Catch Fire"
-Kerry Barden, Casting Director, "Jessica Jones," "Spotlight," "Sisters," "Pitch Perfect 2," "Dallas Buyers Club," "Monster's Ball"
-Jackie Sollitto, Casting Associate at David Rapaport Casting, "The Flash," "Supergirl," "Arrow"
-Carla Hool, Casting Director, Netflix's "Narcos," "Eastbound & Down" season 2, "Despicable Me 2"
-Marci Liroff, Casting Director, "E.T.," "Blade Runner," "Mean Girls," "Footloose," "Pretty in Pink"
Talents to Watch (Moderated by Jennifer Buonantony of Press Pass LA) :
-Rebecca Reid, Actress/Comedian, "New Girl," "I Live with Models"
-Jazmyn Simon, Actress, "Ballers"
-Jerry Purpdrank, Viner, Digital Influencer
-Alex G, musician
-Stephen Rider, Actor, "Daredevil" Season 2
Join us for our official After Party immediately following the event at The Reserve cocktail club from 10pm-2am (walking distance from The Globe).
Event history: The first Rel/event on October 2nd was held at The Attic in Hollywood and celebrated current and future buzzworthy projects, featuring producers, actors, agents, and casting directors from Star Wars: Episode VII - The Force Awakens, The Flash, Supergirl, Deadpool, Gambit, Batman vs. Superman, Suicide Squad, Empire, American Horror Story, Zoolander 2, Jane the Virgin, Creative Artists Agency, and more. The evening was headlined by illustrious producer Lauren Shuler Donner (X-Men franchise, including the upcoming Deadpool and X-Men: Apocalypse) and moderated by Laura Prudom, News Editor of Variety Magazine.
Win free entry @ShoreScripts 2016 Feature, Short + TV PilotContests when you register for The Rel/event! http://goo.gl/dHBGhq


For Sponsorship, media, and gift bag inquiries contact Emily@thereleventseries.com. To receive text alerts for exclusive promos, updates, and other news contact Erman@thereleventseries.com.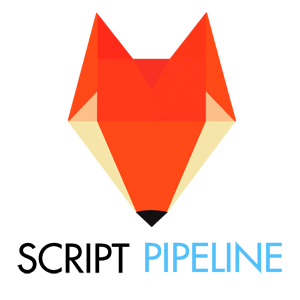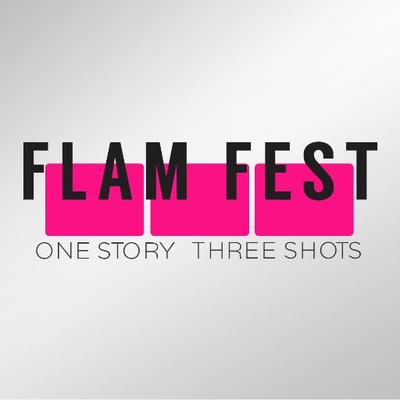 Date and time
Location
Globe Theater
740 South Broadway
Los Angeles , CA 90014