Description
12:30-1:15 Olive Oil 101 and Tasting (Nancy Jenkins)
With over 200 varieties and 2,500 years of history and culture there's a lot to learn about olive oil. Hear the best ways to shop for, store and cook with olive oil and then learn to taste and identify aromas of different regions and grades from a leading authority on olive oil and the healthy Mediterranean diet. (Includes a guided tasting of 4 olive oils)

1:15-2:00 Celebrating Sustainably (Evan Mallett and Barry Estabrook)
A self-professed comfort-food-loving chef and an outspoken critic of the industrial food system discuss how important it is to understand what our food choices mean vis-a-vis the local food movement, New England seasonality, the quest for sustainable meat and building community around the holiday table.

2:15-2:45 Pairing Cheese and Wine (Adam Centamore)
Broaden your palate and enhance your appreciation for amazingly flavorful combinations while learning the art and science behind pairing two of the most delicious foods on the planet. (Includes tasting of 3 pairings. 21+)

2:45-3:30 Oysters at Home (Jeremy Sewall)
Learn to Select, Store, Shuck and Sauce for the holidays from acclaimed chef and restaurateur at the forefront of the current oyster revival. (Includes hands on oyster shucking lesson and oyster tasting)

3:45-4:15 A Global Peace (Richard Sobol)
Experience the moving story with a message of unity aimed at young readers through words and pictures of a Ugandan coffee collective that brings together Muslim, Christian and Jewish communities. (Family friendly)

4:15-5:00 Kids Bored on Christmas Vacation? Get Them Into the Kitchen! (Lauren Stein and Christine Chitnis)
Simple healthy recipes for the family that kids can help make over winter vacation. Meals, snacks and sweets. (Includes tasting. Family friendly)

5:15-6:00 The Brass Sisters Behind Bars (Marilynn & Shiela Brass)
The Brass sisters are behind bars for the holidays. Cranberry, White Chocolate, And Walnut Bars, that is. These recipes and others in their latest cookbook can also be cut into a variety of shapes to make them special for the holidays. (Includes tasting.)

6:15-7:00 An Old World Hanukkah (Jeffrey Yoskowitz)
Explore the old traditions around Hanukkah and trace the origins and centuries-long culinary journey of the latke as we know it today. Try a delicious modern twist on the time honored techniques and ingredients of the latke and a primer on sour cream and appleasuce, its traditional accompaniments. (Includes tasting.)
---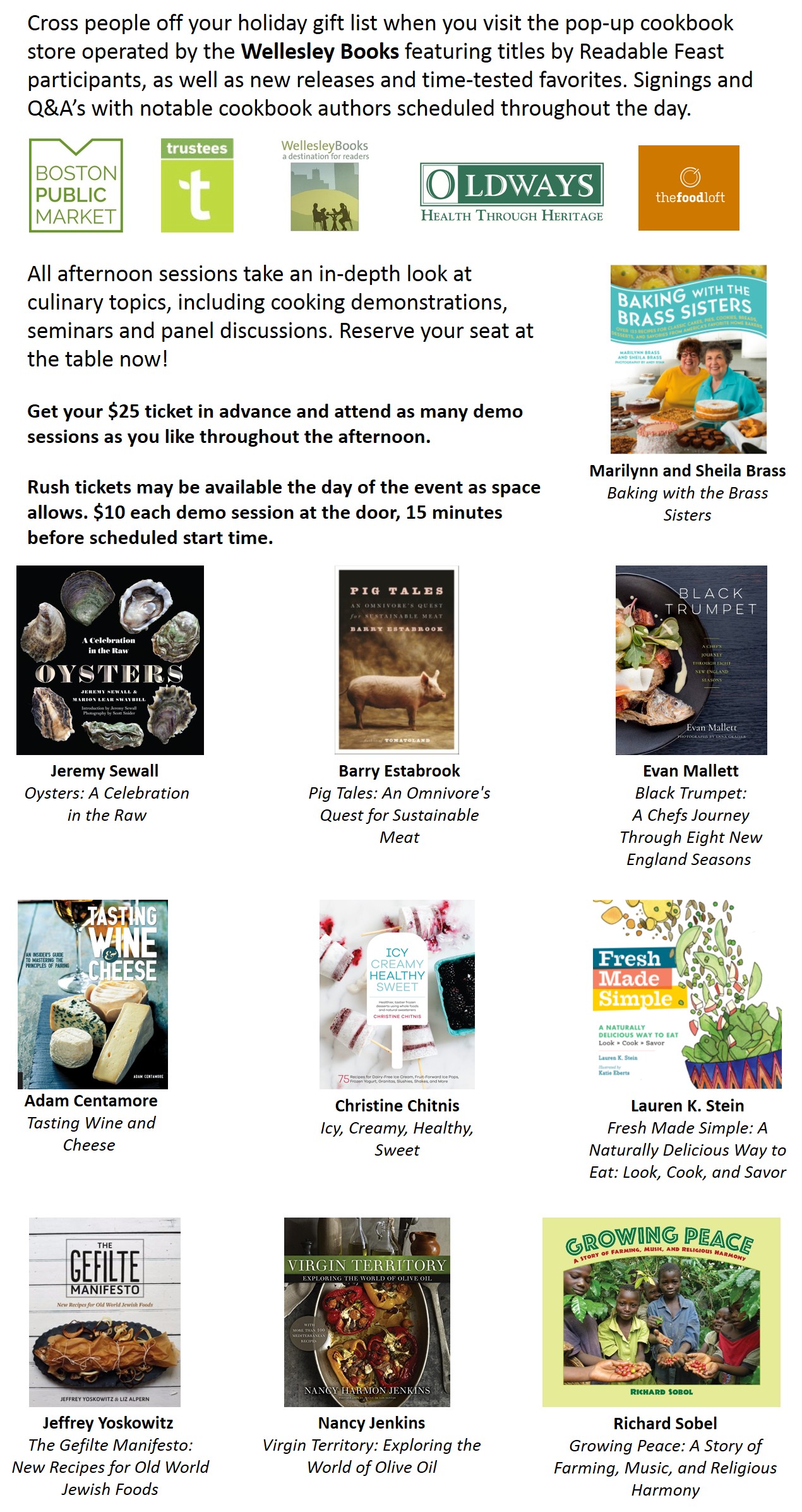 ---
Visit www.thereadablefeast.com for details.